The Mughal Influence on Vaisnavism, Part 39
BY: SUN STAFF - 27.3 2019
Assembly Hall at Fathepur Sikri
A serial presentation of the Mughal effect on Vaisnava society.
As is the case with all of the Mughal emperors from Babur to Aurangzeb, there is a great deal of historical commentary written in a strongly pro-Muslim voice that seeks to paint the glories of these Mughal rulers, taking every opportunity to make out that they were 'good' or 'kind' or somehow charitable to the Hindus in India. Of course, every historical record of the bloody battles undoes this effort at whitewashing. By studying the actual records of death and destruction of citizens, temples and deities, we can see that none of these Mughals were compassionate or "pro-Hindu". Quite the contrary.
In the case of Akbar's establishment of the Ibadatkhana at Fathepur Sikri, and the reports of his grand expression of religious tolerance and intellectualism, his piety and desire to build bridges between all purveyors of Truth, we must read these glowing reports through the filter of a broader history, tempering Akbar's religious altruism with his obvious thirst for power, wealth, and glory.
Sometime around 1570 A.D., Akbar began construction of the Ibadatkhana, and by 1575, he was holding regular religious discussions there every Thursday night. At first the debates were confined to Muslim Sunni participants only. The Mullas argued and shouted at one another, abusing one another even in Akbar's presence, and the emperor is said to have been disgusted by their arrogant performances.
By 1578, Akbar had opened up the venue, inviting members of other faiths to join the assembly, discussing and debating the merits of their own religions. He invited Hindus, Jains, Jews, Zoroastrians, Christians, Sufis, and even Atheists to participate.
Among the representatives of Vedic culture were Purushottama das and Devi, who explained sanatana-dharma. Maharji Rana, a Parsi, introduced Zoroastrianism. Among the Jain scholars were Bhanu Chandra and Upadhayaya, along with the Christian Jesuits Monserrate and Aquavivia, the latter being represented in the painting shown in our last segment.
The religious debates at the Ibadatkhana were described in this rather saccharine passage by court historian Abu'l Fazl:
"On 20 Mihr, Divine month [3 October 1578] and in that ibadatkhana (house of worship), the lamp of the privy chamber of detachment was kindled in the banqueting-hall of social life. The coin of the givers of wisdom in colleges and cells was brought to the test. The clear wine was separated from the lees, and good coin from the adulterated. The wide capacity and the toleration of the Shadow of God were unveiled. Sufi, philosopher, orator, jurist, Sunni, Shia, Brahman, Jati, Sevra [Jain monks], Charbak, Nazarene, Jew, Sabi (Sabian), Zoroastrian, and others enjoyed exquisite pleasure by beholding the calmness of the assembly, the sitting of the world-lord in the lofty pulpit (mimbar), and the adornment of the pleasant abode of impartiality. The treasures of secrets were opened out without fear of hostile seekers after battle. The just and truth perceiving ones of each sect emerged from haughtiness and conceit, and began their search anew. They displayed profundity and meditation, and gathered eternal bliss on the divan of greatness."
While Akbar made a great show of appreciation for intelligent religious discourse, he did not surrender to any of these other religions, preferring instead to stray from his own Islamic roots into a contrived personal philosophy that many describe as Akbar's own religion. In fact, the emperor's Tauhid-i-Ilahi (Divine Monotheism) was not so much a religion as a personal philosophy or path comprised of various elements from other faiths, primarily Islam, Vedism and Sufism. Many years later Akbar's "religion" became known as Din-i-Ilahi (din meaning 'faith'). He was particularly known for his adoption of darshan, borrowed from Vedic culture, and he began granting darshan to his subjects mimicking the way a properly religious Vedic king might have invited darshan of himself, as the local representative of the Deity.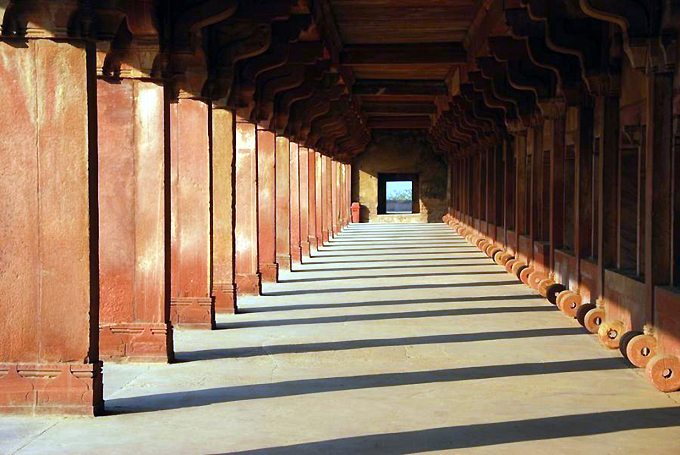 Diwan-i-khas, Fatehpur Sikri
Between 1579 and 1582, Akbar's fundamentalist Muslim critics took every advantage of the goings on at Ibadatkhana to call Akbar's allegiance to Islam into question. A great deal of political ugliness followed, which we will talk more about in the segments to come. Suffice to say, by 1582 Akbar had to discontinue his religious salons in order to quiet his critics.
Although Akbar's efforts to nurture religious tolerance and the exchange of intellectual philosophical discourse may appear to be laudable acts of piety, throughout these same years, Akbar continued to support a harem in which hundreds of beautiful women were kept for his pleasure.
Although he was illiterate even at the end of his life, Akbar was said to have had an excellent memory and ability to recite scriptural passages and religious poetry, such as the works of Rumi and Hafiz. He had many of these works translated from Hindi into Persian.
Following his establishment of the Ibadatkhana, Akbar became known for balancing his work on matters of state with higher pursuits, finding time to deal with the problems of his people and hear from his governors while sleeping only briefly each day, and performing various religious activities like attending assemblies, reciting religious literature, etc.
In fact, Akbar's daily pastimes became very reminiscent of the man who initially inspired him to build the assembly hall at Fathepur Sikri -- Sulaiman Kararani, the Governor of Bengal. You will recall that Sulaiman Kararani became famous for his nightly offering of prayers in the company of some 150 prominent religious personalities, staying up all night listening to religious commentaries, offering morning prayers, then dealing with the business of state.
While imitation is the best form of flattery, it is unlikely that Akbar wished to be seen as anything other than the originator of such a pious and highbrow lifestyle – certainly not a follower in the footsteps of his Governor in Bengal.