Nepal in the Mahabharata Period, Part 19
BY: SUN STAFF - 5.11 2018
Bhimasen
Sri Krsna's liberation of Banasura, the Yadava dynasty's presence in Nepal, and the events that preceded and followed.
Today we complete our survey of Bhima of Pandu's influence on the spiritual culture of Nepal with the Bhimsena Temple in Old Pokhara. Pokhara is a fairly sizeable city about 200 km. west of Kathmandu, in the Kaski district. Three of the ten highest mountains in the world — Dhaulagiri, Annapurna I and Manaslu — are situated within 30 miles of the city, and the northern skyline of Pokhara offers a breathtakingly close view of the Himalayas.
Just 45 miles east of the 7.9 quake's epicenter, Pokhara was very fortunate to sustain just a few cracked walls.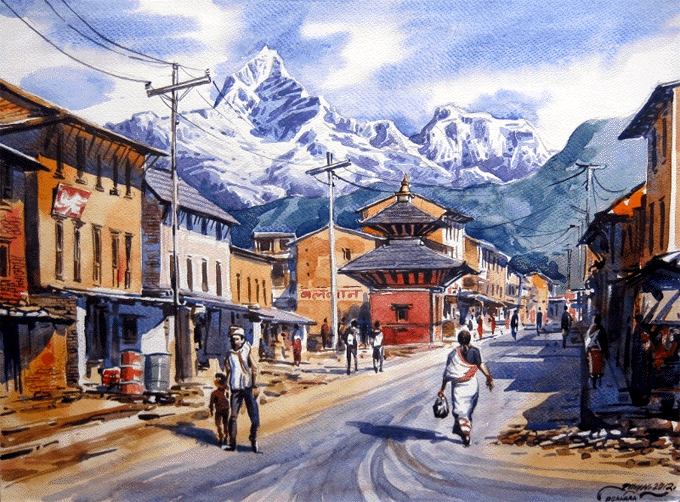 Bhimsen Tole, Pokhara
Painting by Ishan Pariyar
Because of its close proximity to the Annapurna mountain range, the city of Pokhara is a base for trekkers as well as a destination site for pilgrims and tourists.
There are many medieval temples in Pokhara, including a Radha-Krishna temple, Gita Mandir, Sitadevi temple and of course, the Bhimsen temple. Many old brick Newari houses are still standing, although the city is now quite modern.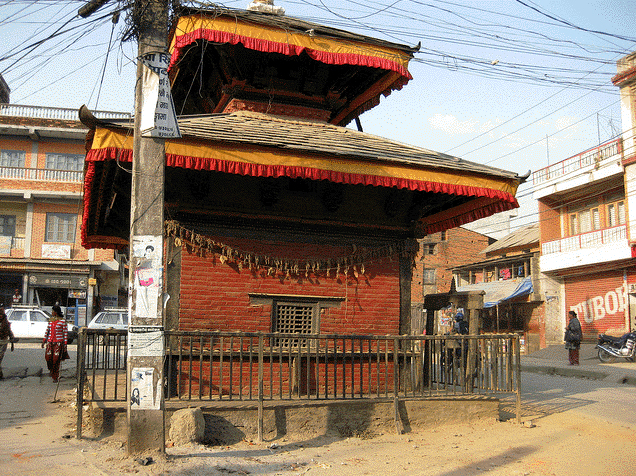 Bhimasena Temple in Old Pokhara
The Bhimsen Temple is on the northern side of Pokhara, in the Old Pokhara section of the city, on the Bhairab Tole (road). The current structure is just two hundred years old, but the original temple is said to have been the oldest temple in Pokhara. The current pagoda-style mandir is just 18 ft. long, 12 ft. wide and about 24 ft. high.
The wooden struts supporting the temple roof are unique, given that the structure was built in the 19th Century. They are covered in elaborately carved erotic scenes, in a Tantrik style typically found further south, in India, but not so much in Nepal.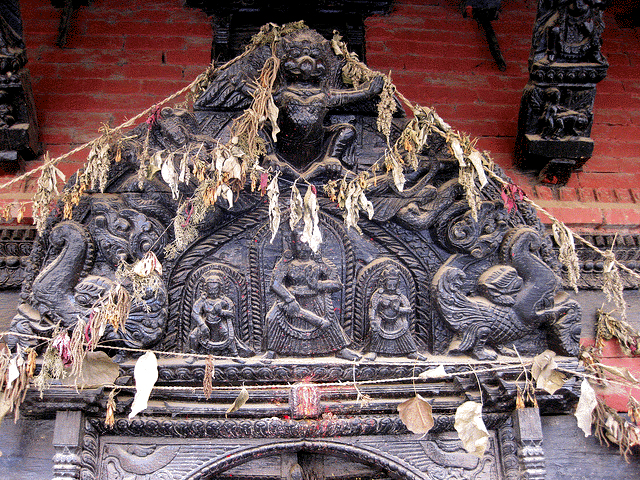 Bhimasena Temple Lintel
The main temple lintel is quite traditional, with a central image of Bhima holding his mace. He is flanked by smaller male and female figures, perhaps his consort and an attendant. On either side are two large makaras, and above him is a beautiful Garuda.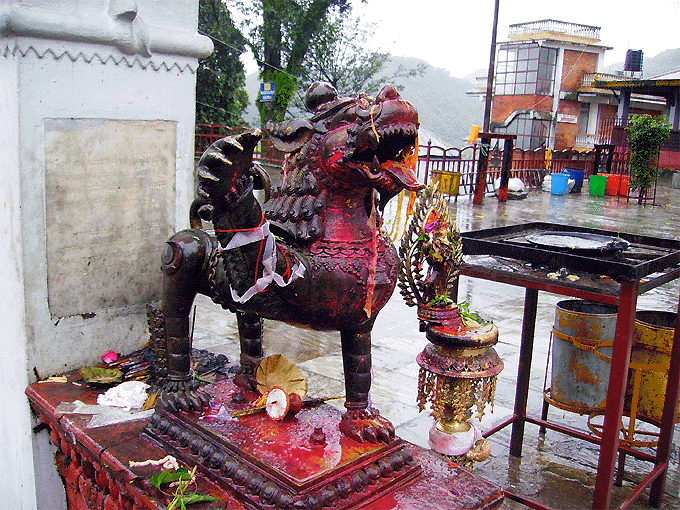 Bhimasen Lion in Pokhara