Narasimha: The God of Yoga
BY: DHRUVA DAS - 7.5 2020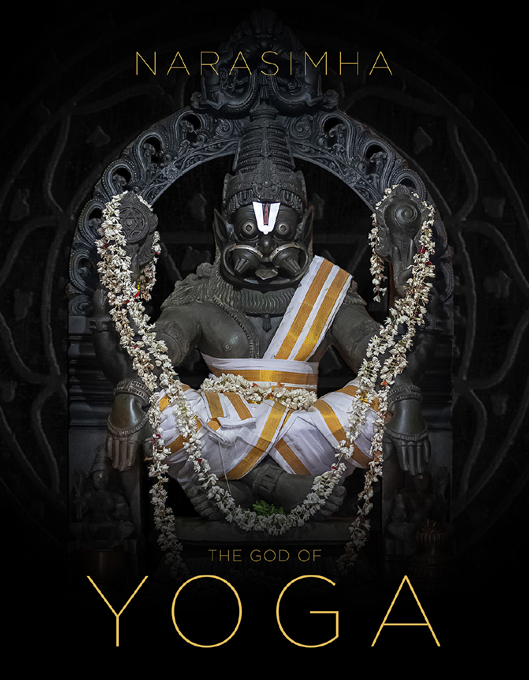 Dearest Narasimha Bhaktas, I am pleased to announce the well-anticipated, forthcoming second volume of the Narasimha the Divine Protector book series:
Narasimha: The God of Yoga and His Mysterious Culture
This book will focus on Narasimha as the God of Yoga and how yoga originated from His appearance. His worship, Art, devotees, mantras and more mysterious temples.
It is going to be the same scale as the first book: Narasimha the lost temples but will have an additional hundred plus pages. The first book was incredible but this book is going to be a spectacular offering to the Lord and His devotees.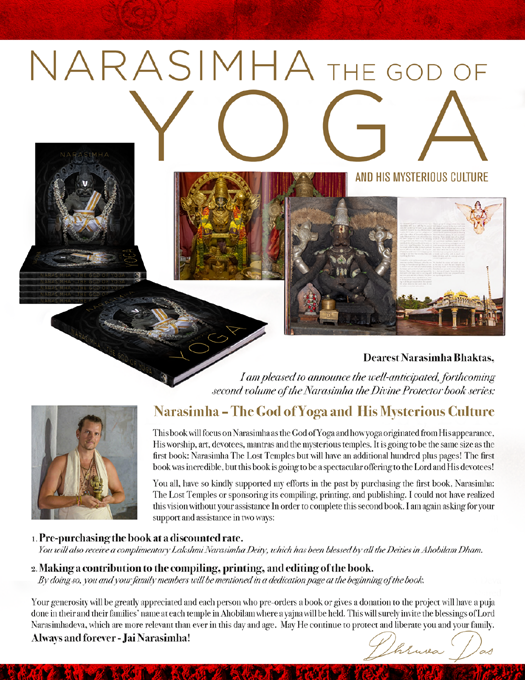 You all have so kindly supported my efforts in the past by purchasing the first book, Narasimha: The Lost Temples or sponsoring its compiling, printing, and publishing. I could not have realized this vision without your assistance.
In order to complete this second book, I am again asking for your support and assistance in two ways:
1. Pre-purchasing the book at a discounted rate. You will also receive a complimentary Lakshmi Narasimha Deity which has been blessed by all the Deities in Ahobilam Dham.
2. Making a contribution to the compiling, printing, and editing of the book. By doing so, you and your family members will be mentioned in a dedication page at the beginning of the book.
Your generosity will be greatly appreciated and each person who pre-orders a book or gives a donation to the project will have a puja done in their and their families' name at each temple in Ahobilam where a yajna will be held. This will surely invite the blessings of Lord Narasimhadeva, which are more relevant than ever in this day and age.
May He continue to protect and liberate you and your family.
Always and forever Jai Narasimha
Dhruva das
Please contact Narasimhabhakta@gmail.com