Official Response to the Peacock Documentary "Krishnas: Gurus. Karma. Murder."
By Anuttama Dasa, Minister of Communications for ISKCON - 27.10 2023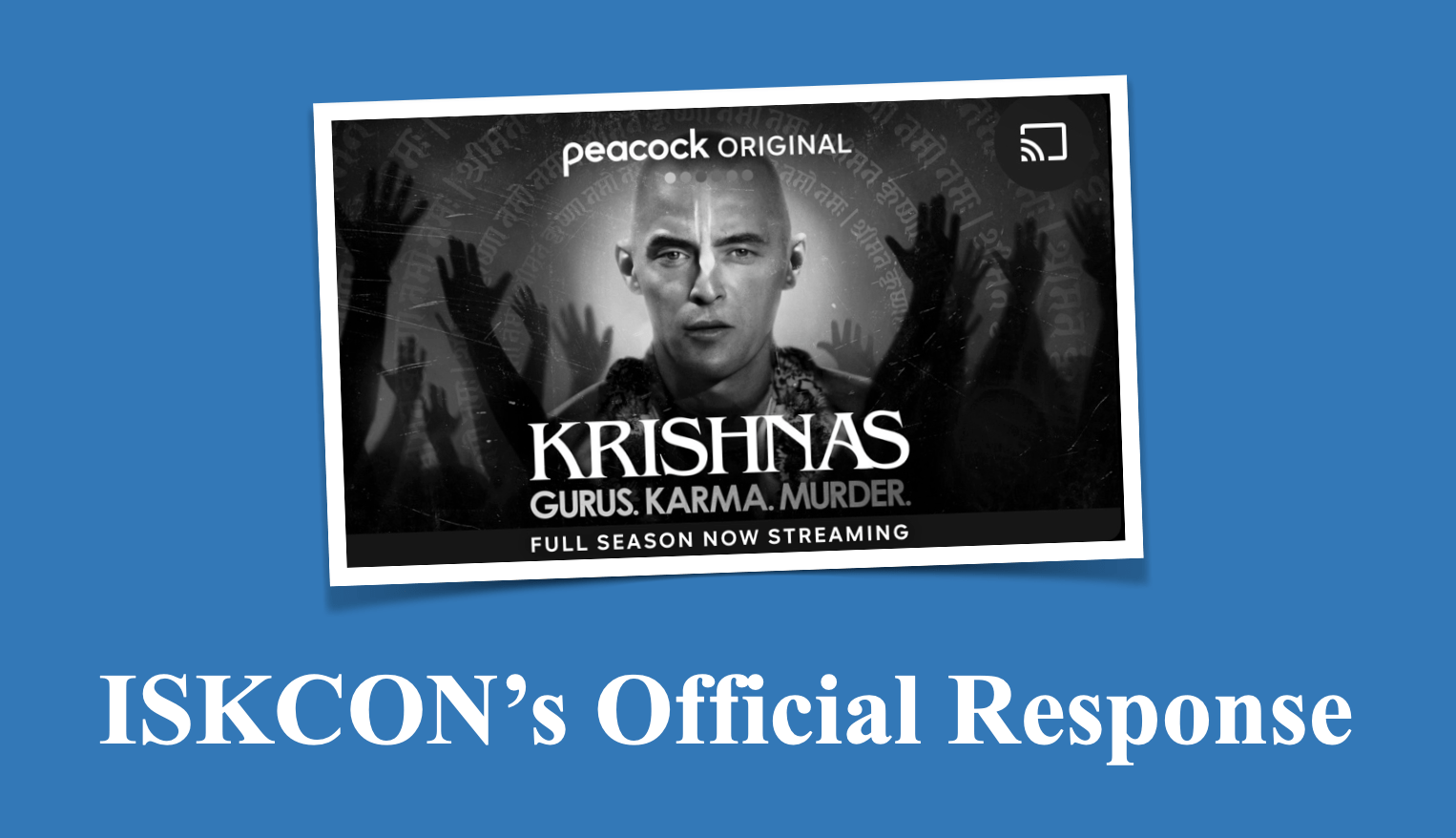 "Krishnas: Gurus. Karma. Murder." was released by Peacock via streaming service in the United States on October 24. The documentary, a 3-part, 3-hour mini-series, is an in-depth study of the gradual descent into acts of abuse, violence, and crimes committed by Keith Ham, formerly known as Kirtanananda Swami and his associates. It also carefully showcases, via heart-wrenching interviews with some victims, the culture of secrecy and exploitation he had created in New Vrindaban.
The series traces Ham's history from when he first joined the International Society for Krishna Consciousness (ISKCON) (also known as the Hare Krishna movement) in the early 1960s, his first expulsion from ISKCON in 1967 by the society's Founder-Acharya A.C. Bhaktivedanta Swami Srila Prabhupada, and his return to the movement to lead the New Vrindaban beginning in 1968. New Vrindaban was the movement's first farm community located in rural West Virginia. It continues by exploring his permanent expulsion from ISKCON in 1987, subsequent jail time, and finally, his death in 2011.
For members of ISKCON who do not know Ham's history or the extent of his crimes, including child abuse and masterminding the ghastly murders of two disenfranchised New Vrindaban members, the series will be shocking. For all, including those who know the sordid history, the documentary's graphic portrayals are a frightening reminder of the dangers of unchecked power, ambition, greed, and lust.
Ham was not only the leader of New Vrindaban; he was one of the first gurus within ISKCON after the passing of Srila Prabhupada in 1977. Thus, his influence was vast. The series documents Ham's hidden deviations from ISKCON's religious and ethical principles starting from his earliest years as a Krishna devotee.
ISKCON gave its full cooperation to law enforcement officials who prosecuted and eventually jailed Ham. The New Vrindaban community itself was expelled from ISKCON in 1988. Soon after, New Vrindaban expelled Ham and later rejoined the ISKCON global community in 1996.
The series remains respectful of the broader ISKCON community and Srila Prabhupada and portrays Prabhupada's personal piety as well as his commitment to helping young people find meaning during the turbulent 1960s. In the series, it is clear that the producers concluded Prabhupada's movement attracted all kinds, including people like Ham, whose personal ambition led to his downfall.
In a recent interview, series producer Joseph Freed said, "This classic theme, that any idea, no matter how pure it may seem in the beginning, can be led astray because of the foibles of being a human…That anyone can be susceptible to the lure of power, and so that we all just have to be ever vigilant." He added, "I'm impressed by all of their [Krishna devotees'] honesty" in addressing these issues.
Despite the darkness of this story, the series ends with a mood of hope. As one West Virginia law enforcement official, Sargent Westfall, notes, after the demise of Ham, he was glad to see New Vrindaban return to the higher purposes it was founded upon.
Reviewer John Edward Betancourt wrote, "…it [may] seem as though this documentary is bleak in nature and ends as dark as the acts that took place at the holy site known as New Vrindaban. But that is where this series surprises us. Because it also points out that the darkness in such matters can be lifted and good can thrive again, provided that justice comes into play and that people do stand tall when that corruption arrives…"
The challenge the series brings to all Hare Krishna devotees is: What can we do to ensure such a culture of deviation and criminal activity never develops again within our communities or by any of our leaders?
There exists in the world at large a tendency among religious people, as well as political leaders, ethnic groups, and even whole nations, to consider "we are special." Or that we are exclusively empowered, blessed, or chosen by God, above all others. The series reminds us that the first principle of being blessed by God is to follow God. And Divinity demands that we give up our selfish greed for things of this world and instead become servants of all.
Lord Krishna teaches that spiritual understanding is founded upon humility. As a growing global society, humility includes ensuring transparency, accountability, and honesty are our guiding principles. As Srila Prabhupada taught, "My disciples are perfect gentlemen [and ladies]."
Two key takeaways:
Vigilance is paramount: Safeguarding a well-functioning organization hinges on maintaining effective checks and balances. When those in positions of authority lack essential oversight, such as a culture of supervision, peer assessment, and empowerment of community members to raise concerns, the risk of corruption increases.
Despite Keith Ham's aberrations and criminal activity over 35 years ago, as outlined in this series, ISKCON remains a respected and growing global religious community with 800 temples, dozens of eco-communities, millions of adherents, 600 million religious books and publications in print, major cultural festivals celebrated around the world and the world's largest network of free vegetarian food distribution.