Calcutta Woodcuts, Part 14
BY: SUN STAFF - 29.8 2019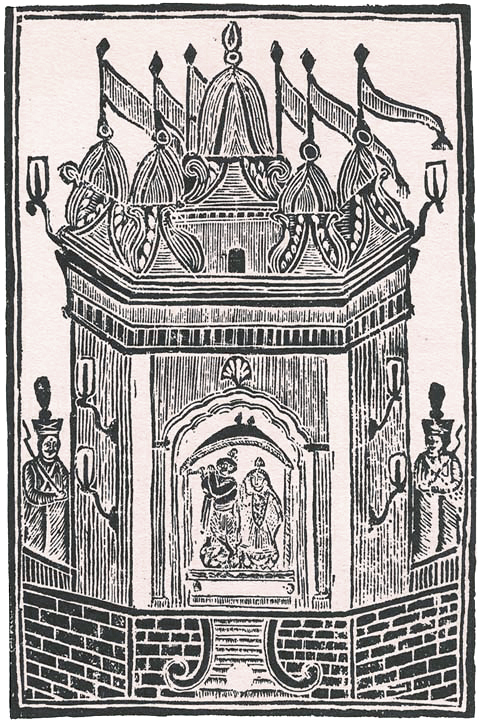 Rasjatra Utsab
Transcendental art: the rare woodcut prints of nineteenth century Calcutta.
In the final image of this series, we look at a Bengali woodcut that was not a free-standing print, as the previous ones have been. Today's engraving was a book illustration, published in Nutan Panjika (The New Almanac) in Calcutta, 1892.
The title of the print is "Rasjatra Utsab", the Ras Festival. Bordered in a simple double line box typical of book illustrations of the day, this print is not complex in design.
In a small mandir, Sri Sri Radha Krsna stand together beneath an arched canopy. Two attendant guards stand on either side. Six rather unusual fixtures, probably lamps, adorn the building
Atop the mandir are a number of waving flags and four small domes which give the overall effect of a ratha cart. We can see by the front brick wall, however, that this is a non-moving structure. The artist has created an interesting effect by making the ornamental design of the domes merge with a flag-like motif.
As is typical of these 19th century Calcutta woodcuts, there is an urban influence on the artist, who was likely trained in a nearby rural village. In this case, the influence is seen in the design of the brickwork and stairs in the foreground. The lyre-shaped stair rails frame a white orb that is presumably the moon. The overall effect is a bit like a combination Anglo ornament and Vedic astrology symbol.
A majority of the published almanacs like the one this image was printed in came from the Battala district of Calcutta. In the late 18th century, a host of printing presses in Calcutta were being run by the Europeans. By 19th century, many of the Indian run presses had become cloistered in Battala, as their owners tried to preserve a pure Indian mood in the craft. One historical account puts the number of presses in Battala during 1859 at 46. In 1857, a total of 322 titles in Bengali were printed on these presses. Many of these books were almanacs, which naturally found their way back to the villages where the artists had originally come from. In this way, the rural and urban artistic influences co-mingled.
The steady stream of spiritual images created by Calcutta's 19th century woodblock artists continued to evolve, but the genre of woodcuts explored in this series undoubtedly represents the height of innovation and creative license in what had previously been a long run of universally represented images of the Deities and their pastimes.