Chitrakoot Dhama, Part 10
BY: SUN STAFF - 10.5 2023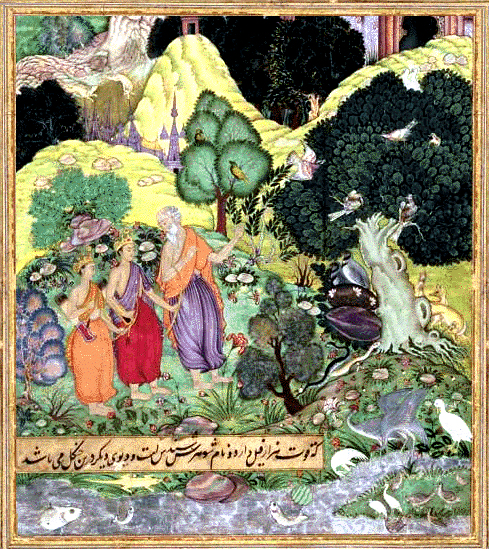 Rama and Laksman visit Sage's Hermitage
The last in a serial exploration of the Holy Dhama of Chitrakoot.
Sarbhang Asrama
In Chitrakoot Dhama, about 20 kilometers southeast of the Sati Anasuya Asrama is another important Rama tirtha – the Sarbhang Asrama. Here, Rama gave darshan to the great sage Sarbhang, a mendicant living in the forests of Chitrakoot. Lord Indra is also said to have visited this place.
Nearby the Sarbhang Asrama there is a Ganga-kund, and a temple dedicated to Lord Shiva. Bathing in the Ganga-kund at Rishi Sarbhang's asrama is very purifying, and is considered to be equal to bathing in the Ganges.
The Sarbhang Asrama sits on a hill, at the foot of which are 108 Yagya-vedikas, or sacred seats alongside the place of yagya. In Ramayana, we read that Lord Rama glorified Janaki by enshrining a murti of her in the sacred yagya-vedika, as a sign of us unalloyed affection.
The pastimes of Sita, Rama and Laksman at Sarbhang Asrama are further narrated in the portion of Ramayana dealing with Rama's departure from Chitrakoot. Feeling bereft in separation from Bharat, who had returned to serve the people of Ayodhya, and by the death of his father, Rama decided to leave the forests of Chitrakoot. He moved on, first to the hermitage of the sage Atri, who welcomed the party warmly along with his wife, Anasuya. It was she who performed austerities, causing the Mandakini River to flow into Chitrakoot to relieve the residents of the dhama from severe drought.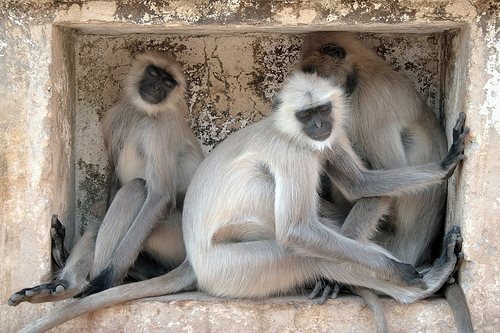 Chitrakoot monkeys
Departing from Atri Rishi's asrama, the party next had an encounter with the demon Viradh, who attempted to kidnap Sita. He was overcome by Rama and Laksman, however, and did not succeed.
Next the group visited the hermitage of the great sage Sarbhang, who at an advanced age was living a renounced life in the forest. Sarbhang wished to depart the earth planet for the heavenly abode, but upon hearing that Rama was to be passing by, he decided to wait and hope to get Sri Rama's darshan. He was very joyful to receive Rama, and stated his wish to depart this world in Rama's presence. With the Lord's consent, the great sage sat on a funeral pyre, lit the fire by his yogic powers, and was quickly engulfed in the flames.
Leaving the asrama of the departed Sage Sarbhang, Rama and his party continued on their way out of Chitrakoot, meeting with various sadhus at forest hermitages along the way.