Chitrakoot Dhama, Part 9
BY: SUN STAFF - 9.5 2023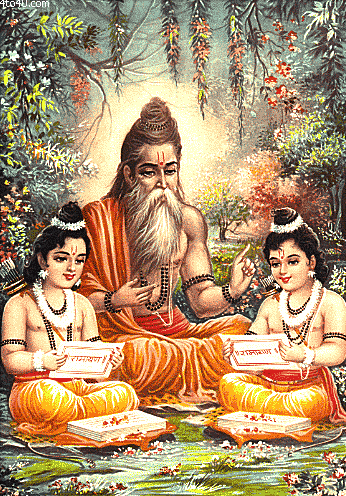 Valmiki teaching Lav and Kush
A serial exploration of the Holy Dhama of Chitrakoot.
Valmiki's Asrama
Another famous holy site in Chitrakoot Dhama is the asrama of the great sage Valmiki, in whose epic Ramayana we find the first mention of Chitrakoot. Located on a high hill beside the Valmiki River, this ancient asrama is in the village of Lalpur, near Chitrakoot (commonly known as Shivrampur). Sri Rama, Sita Devi and Laksman passed by the asrama on their way to Chitrakoot, and Sita later gave birth to her sons Kush and Lav here, after Rama had departed.
Much like Adi Sankaracharya, the sage Valmiki was known to travel far and wide, and he had hermitages in many different places. Not surprisingly, the local devotees in each of these villages consider their particular Valmiki Asrama to be the preeminent one, and multiple locations lay claim to the same pastime.
For example, the Valmiki Asrama where Site gave birth to Lav and Kush is rightly situated at Chitrakoot, but we find the Valmiki Asrama in Amritsar, on the banks of the Ganga and Tamsa Rivers, also lays claim to that pastime. Likewise, the Valmiki Asrama at Meerut, on the River Hindan, claims to be the place of Sita's childbirth.
In addition to Chitrakoot, Amritsar and Meerut, Valmiki Asramas are also found in Bithur, Avani Kolar (Karnataka), Kanpur, Panchkuiyaa-Delhi, Kurukshetra, Kankhal (Haridwar), Chandigarh, Fatehbad (Hariyana), Hissar (Hariyana), Sannor (Patiala), and Chitwar (Nepal).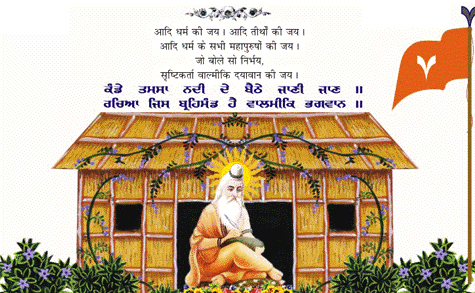 All Valmiki Asramas are identified by a special flag, called a nishan sahib, raised outside the tirtha. The bow and arrow on the flag are symbolic of Valmiki's disciples, Lav and Kush. There is always a langar hall in the asrama, where devotees congregate to take prasadam, and a community kitchen. Some also have a Sita Rasoi (Sita's kitchen). A library and music room are always found, and Ramayana is being recited regularly.
The Valmiki Asrama at Chitrakoot is famously associated not only with Sita Devi, and the birth and education of sons Lav and Kush, but also with Sri Rama. When Rama was headed for Chitrakoot, he walked along the banks of the Yamuna River, crossing it and arriving at Ramnagar (the birthplace of poet Tulsi das). After visiting the asrama of the sage Bharadwaj, Rama went on to Valmiki's asrama, and spent the night here. Valmiki suggested that Rama stay, and make Chitrakoot his home for a few days.
Rama had another asrama on Kamadgiri Mountain, near the Mandakini River, and many other sages and rishis had their hermitages on this holy mountain.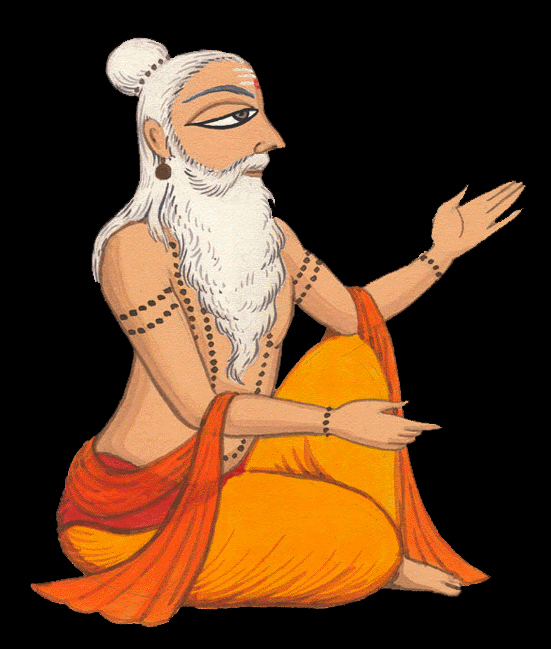 The Sage Valmiki