Flower Decoration at Jagannath Temple Attracts Devotees
BY: SUN STAFF CORRESPONDENT - 9.7 2019
It is a treat to see the exterior of Jagannath Temple complex festooned with varieties of flowers, a first-of-its-kind decoration for the annual Rath Yatra of the Deities. A Delhi-based entrepreneur and philanthropist, identified as K. K. Sharma has voluntarily offered the free decoration service to the temple.
Jagannath Temple administration's spokesperson Laxmidhar Pujapanda said Sharma recently approached the shrine body and sought permission to decorate the temple with flowers during Rath Yatra. "We gave him permission. Sharma has engaged his men to decorate the temple with flowers. They will also beautify Gundicha Temple with flowers," Pujapanda said.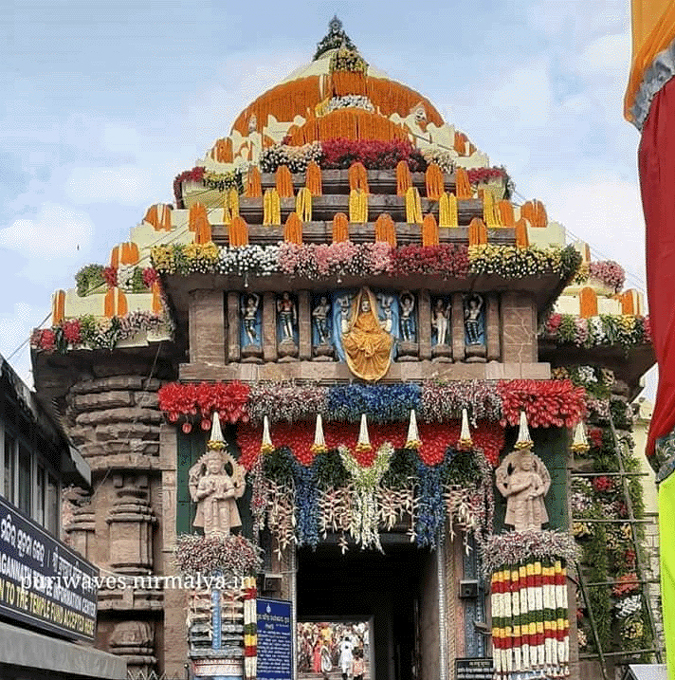 Sharma, who runs a pharmaceutical firm in different states, has brought at least 20 truck-loads of flowers of 10 varieties, including marigold, jasmine, tuberose, rose, lily, lotus and tulip. "We have engaged 250 persons having experience in flower decoration. We are avoiding heights. Only accessible and low-height places in the temple have been decorated," Sharma said. The 250 workers started the decoration on June 30th.
Sharma refused to divulge details of the expenses on the flower decoration. "We have been offering the service in some other temples in different states. Our only motive is to show devotion to the Deities and seek blessings," said Sharma's friend and local coordinator, Sajjan Gupta.
The flower decoration has been widely appreciated by people on social media. The temple administration has asked the decorators to not disrespect the temple's age-old tradition and culture. The temple body's instruction came following allegation by priests that the decorators stood on an idol while decorating the temple on Tuesday.