Illuminating the Path of Krishna-Conscious Education
By Kulavati Krishnapriya Devi Dasi - 21.11 2023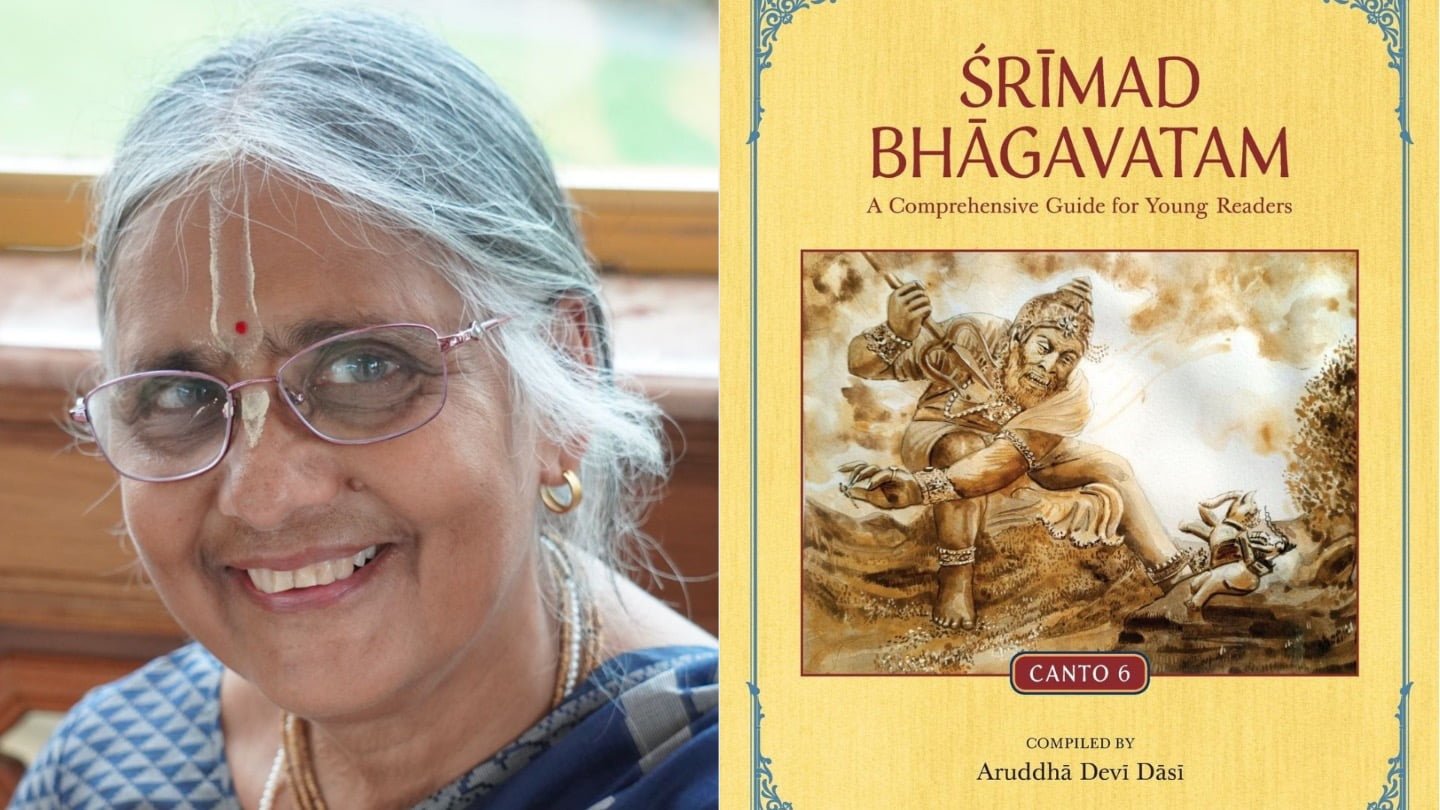 Aruddha Devi Dasi pictured alongside the latest volume of the "Srimad Bhagavatam – A Comprehensive Guide for Young Readers"
Aruddha Devi Dasi, a luminary in the realm of Krishna-conscious education, with the help of a team of parents worldwide, has been publishing "Srimad Bhagavatam – A Comprehensive Guide for Young Readers." Recently, she has released the sixth canto in the series. She has also authored "Homeschooling Krishna's Children," a complete guide to Krishna-conscious parenting published by the BBT, and is now traveling the world to share her wisdom and experience with teachers and parents.
The Beginnings in Boise
Her journey into Krishna Consciousness is a remarkable one. In 1977, she married Anantarupa Das and moved to the U.S. In 1986, they started a small weekly program in their home that grew into a flourishing ISKCON temple for Sri Sri Radha Bankebihari. By May 2016, their expanded Krishna Cultural Center was inaugurated by Idaho's Lt. Governor Brad Little. Unhappy with educational offerings in public and private schools, she homeschooled her sons in traditional academic subjects and immersed them in the profound teachings of the Srimad Bhagavatam.
Her approach followed the sentiment Srila Prabhupada expressed, "Even astronomy, astrology, politics, sociology, atomic theory, everything is there. Therefore, if we study Srimad-Bhagavatam very carefully, then you get all knowledge completely." Her sons, Radhika Raman, and Gopal Hari, are now first-class scholars at important academic institutions, some of the world's most highly placed Gaudiya Vaishnavas.
Witnessing her sons attaining Ph.D.'s from Oxford University in their early 20s fortified Aruddha's conviction regarding the Bhagavatam's capacity to sculpt well-rounded devotees, seamlessly integrating intricate subjects and principles into their cognitive tapestry.
Beyond familial bounds, Aruddha delved into disseminating the essence of homeschooling and Krishna-conscious parenting through her global seminars. At the age of 70, she is now traveling around the world, hoping that parents recognize the profound value in endowing their progeny with an unwavering foundation rooted in Bhakti principles.
Origin of the Series
She revealed, "While conducting seminars on homeschooling and Krishna-conscious parenting throughout the world for many years, I met many parents who wanted to teach their children Śrīmad-Bhāgavatam but needed more guidance on exactly how to do it. Then, I started doing workshops, during which we would sit with their children and demonstrate how to guide a discussion that evoked the child's curiosity about the nature of the world, God, the self, and the purpose of life. We would read the translations of a chapter of ŚrīmadBhāgavatam and discuss the stories, main themes, and great personalities. We would talk about the relevance of Śrīmad-Bhāgavatam in our own lives – how it provides spiritual solutions to material problems."
She expressed, "When I explained at seminars how I taught my boys Śrīmad-Bhāgavatam through interactive reading and discussion, hundreds of parents were inspired to follow. However, I also realized that many parents who wanted to study the Bhāgavatam with their children wanted a formal curriculum for studying Śrīmad-Bhāgavatam."
She continued, "This is when I decided to start a collaborative project involving devotee parents worldwide. I formed an online Yahoo group in which approximately 15 parents – from Australia, New Zealand, South Africa, the United Kingdom, and the United States – worked together to create study resources for each chapter in one particular area they were good at."
There were discussions on different topics, such as the key messages, character descriptions, and questions. Activities based on language, vocabulary, critical thinking, analogy, and introspection, with the addition of arts, crafts, drama, songs, and other hands-on activities were also considered.
Aruddha said, "We then began the painstaking task of putting together books for use by parents anywhere. Our editor, Nikunja Vilasini Devi Dasi from Portugal, oversees the study materials' content, organization, and editing."
A recurrent observation echoes in the feedback: these literary offerings are user-friendly and require minimal preparation for diligent parents and dedicated teachers. "In Durban alone, 75 sets of books (Cantos 1- 6) were sold," Aruddha said, "They were also well-received in European countries such as Spain, France, Germany, Belgium, the United Kingdom, and Bulgaria. In Lithuania, about 40 sets of books were sold. Many temples in India, America, and Europe use them for Sunday schools. The Mayapur International School and the Vrindavan Gurukula use these books daily to teach Bhagavatam to the children. In Vrndavan Gurukula, they plan to complete six Cantos before high school."
She continued, "There is a lot of enthusiasm among students and teachers as they begin to study Srimad Bhagavatam. They benefit both spiritually and materially. Many homeschoolers are using them regularly. Another comment I frequently get is that the books are easy to use and understand, and not much preparation is needed for parents and teachers before using them."
New Volume 6 Now Available
Her latest offering in the series Srimad Bhagavatam – A Comprehensive Guide for Young Readers, Volume Six, is designed for children ages 10-18. Still, it can be adapted to youth younger than ten or older than 18. Aruddha Devi Dasi explained the contents of this canto, "In this Canto, we have three major stories, namely, the history of Ajamila, a deeply philosophical story showing the significance of the holy name and explaining the encounter between the Yamadutas and Vishnudutas which will help the children deeply ponder about life's final journey and the choices available. Then we have Indra's offense to Brhaspati, his big blunder due to pride, and his encounter with a heroic demon, Vrtrasura, who is a great devotee of the Lord. And finally, the story of Citraketu, how he dealt with the sudden death of his only child due to the kind intervention of Narada Muni, and how he falls down as Vrtrasura due to the cursing of Mother Parvati. We also have other smaller episodes, such as the cursing of Narada Muni by Prajapati Daksha, highlighting the mood of a pure devotee who, due to his compassion and devotion, is willing to take all risks to please the Lord."
Regarding her future plans, Aruddha Devi Dasi revealed, "By Krishna's mercy and the mercy of Vaishnavas, we hope to complete all the Cantos someday, or at least until the Tenth Canto. We generally do a chapter a week, so depending on the number of chapters, the volume is completed accordingly. We are working on Canto 7 and hope to complete it in a few months."
Aruddha Devi Dasi concluded, "Śrīmad-Bhāgavatam lies at the heart of Śrī Caitanya Mahāprabhu's philosophy and movement. I pray that these books will help children, teachers, and parents develop a lifelong love for this great literature, following in the footsteps of Śrīla Prabhupāda and our previous ācāryas. I humbly request the readers to forgive any faults and shortcomings that may be there in the books."