ISKCON Imposes Ban on Bhakti Vidya Purna Swami
By ISKCON Communications - 19.1 2023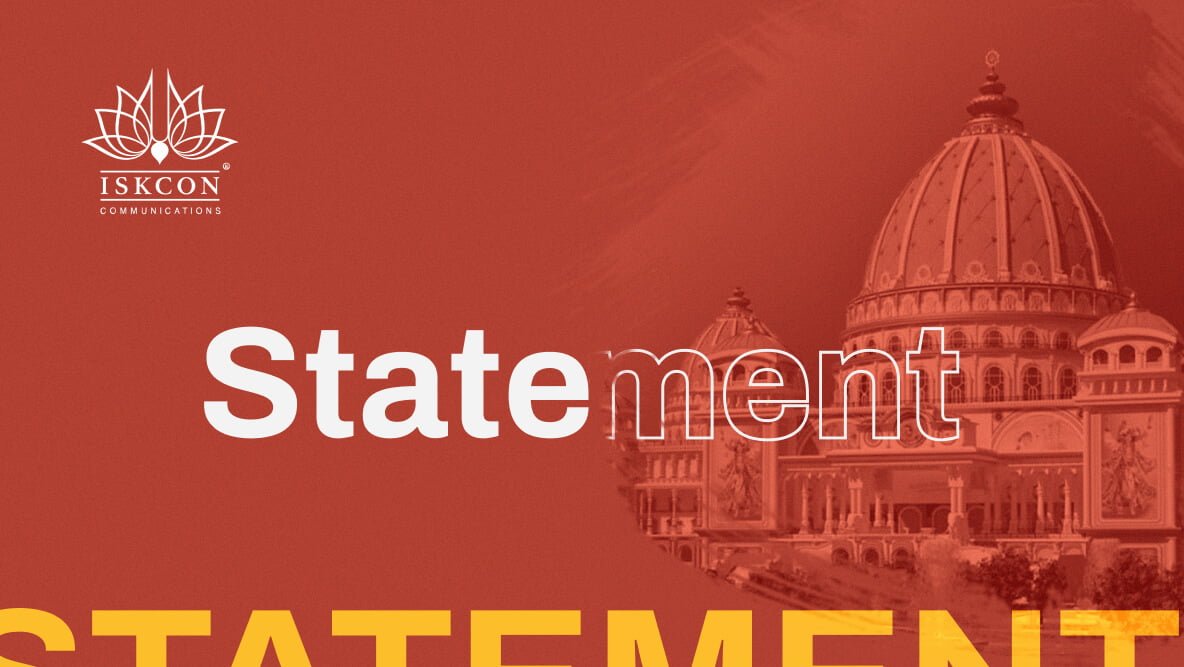 ISKCON Imposes Ban on Bhakti Vidya Purna Swami for Sexual Abuse of Minor and Leadership Abuse
On October 28, 2022, the ISKCON Central Office of Child Protection (ICOCP), also referred to as the Child Protection Office (CPO), released its official decision regarding Bhakti Vidya Purna Swami (BVPS aka Alan Ross Wexler).
BVPS was found responsible for sexual abuse, (sexual) harassment, and psychological abuse of a female minor. The ICOCP case against BVPS is from newly reported incidents that occurred between 2005-2010.
The news of this past child abuse has had severe repercussions among the global community of ISKCON devotees.
The ISKCON global community sends our prayers for the healing of the victims and their families.
This case demonstrates why ISKCON globally must continue to be vigilant about child protection and to ensure vulnerable devotees in our society are safe in creating a "house where everyone can live" that our founder Srila Prabhupada built for us all.
In addition to child abuse, incidents of spiritual leadership sexual misconduct involving BVPS have become apparent but are beyond the purview of the ICOCP to evaluate. BVPS was an initiating guru, sannyasi, principal of the school, a Srila Prabhupada disciple, a senior leader of Mayapur, and decades older than the victims.
A joint investigation is being undertaken by the Prevention of Leadership Misconduct Office (PLMO), the Sannyasa ministry, and the Guru Services Committee, which are currently reviewing BVPS' sannyasa and guru statuses.
BVPS has had two previous ICOCP investigations and decisions regarding allegations of child abuse.
In 2000, the CPO case was centered around allegations from the 1980s-1990s timeframe when he served as principal of the Bhaktivedanta Academy Gurukula (boy's school) and admitted to "imposing excessive physical punishments" (CPO Report, 2000). Further, the investigation found that BVPS was aware of the incidences of sexual child abuse but chose to ignore them. Consequently, BVPS was restricted from any role directly in connection with children, barred from initiating disciples, giving classes, etc., for a specified time. He was later banned from accepting any new disciples for life.
A CPO investigation followed this in 2007, which was inconclusive. In 2015, a CPO case was made against the Bhaktivedanta Academy (girl's school), and although not mandated by the CPO, it ultimately led to the school's shutdown. Although BVPS was not the primary person under investigation, the CPO discovered that he had promoted a "…culture of fear surrounding the school and speaking out…". The office further noted BVPS' inappropriate behavior with a young female at that time that should have been reviewed by the Sannyasa Committee (CPO Report 2015).
This latest CPO case is the fourth in a series of related investigations, each conducted by previous CPO directors and informal investigations done by parents (before the CPO existed) dating back to 1991.
The in-depth and corroborating victim reports of this abuse are confidential from public bodies to protect the victim's and their family's identities. The ICOCP review panel that decided on BVPS consisted of CPO-trained members of the global ISKCON community. The findings of the ICOCP have been shared with relevant agencies and the Governing Body Commission (GBC).
After reviewing the report and deliberating on its contents, the ICOCP review panel found that BVPS is responsible for child sexual abuse, (sexual) harassment, emotional and spiritual abuse, and grooming of a child. The review panel found that the evidence against BVPS was compelling and the abuse he caused was "…cruel, callous, and unremorseful [in] nature…".
The panel stressed the severity and hypocrisy of the abuse were made even worse given BVPS' position and respected stature in ISKCON as an initiating Guru and Vedic-lifestyle preacher. The panel added: "Whilst BVPS was sitting on the vyasasana in the temple room [in Mayapur] and teaching the children at the schools [Gurukulas], he would preach about Vedic principles. However, in his private life, he was sexually molesting a minor and engaging in gross sexual behavior with a young woman, which he has admitted to."
The panel set out requirements for BVPS, including an apology to the victim and a fee of USD $5,000 to be given to the victim for counseling. The restrictions set out against BVPS are in full in the report.
Guidelines from the ICOCP state that:
"Requirements or restrictions determined by the Review Panel cannot be reduced by a local community, temple president, or local GBC. The panel's decision constitutes the minimum restrictions an ISKCON organization or community may place on a devotee. Any specific ISKCON organization may choose to invoke more stringent restrictions. However, it is expected that all ISKCON entities will carefully consider these decisions of the Review Panel before imposing more stringent limitations, as the constraints prescribed herein are deemed to be sufficient regarding child protection."
Three-Year Restrictions on BVPS
BVPS may not reside or stay overnight at any ISKCON temple or center for three years. He also may not visit any ISKCON centers or projects for three years (except for one temple of his choice, which he may visit after informing the ICOCP in writing and receiving permission from the local Temple President).
After the three years of this ban, BVPS may revisit ISKCON temples, except for Mayapur, as this is where the abuse occurred. However, his visit to an ISKCON Temple is conditional upon first informing the Temple President of the ICOCP report and obtaining permission from the local authorities before such a visit.
Lifetime Restrictions on BVPS
He may not reside in or visit ISKCON Mayapur ever again. He has 30 days from the date of this decision to leave.
He may not stay overnight or reside at any ISKCON center or facility affiliated with ISKCON.
He may not hold any position of leadership or management, even in an advisory capacity.
He may not continue to give first, second, or sannyasa initiations, or ritvik initiations via other sannyasis, or accept any new disciples for siksa.
He may not give class or lead kirtana/harinama in any ISKCON temple or project, including online.
He may not perform brahminical services such as cooking for, dressing the Deities, or any public worship such as offering arati, going on the altar, offering a garland to Srila Prabhupada, performing abhishek, etc.
He shall not have service involving children in any ISKCON temple, school or project in any capacity whatsoever. This includes, but is not limited to, training new teachers, giving advice, or sitting on an advisory board/committee. Children are defined as anyone under 18 years of age.
He may not be present if victims or their family members are present at an ISKCON center or function. If the victim or family arrive at the same place as BVPS, he should leave immediately.
This decision is an ecclesiastic in nature that defines the relationship between BVPS and ISKCON.This official decision may be appealed to the CPO within 60 days of receipt of the decision. It must be submitted in writing to the CPO Director. The only two principles that an appeal may be accepted are 1) if procedures in the original review prevented a fair and impartial hearing or 2) if there is new and compelling additional evidence.
It is expected that the GBC Body will soon provide further advice for those devotees who have taken spiritual shelter and guidance from BVPS, including his disciples.