ISKCON Sacramento Prepares for New Temple Building
By Thomas Haribol - 2.6 2023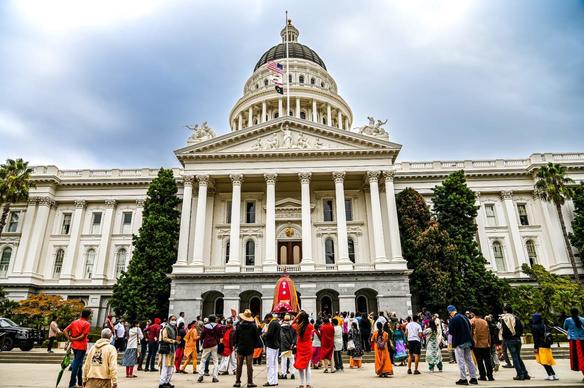 After nearly 25 years of preaching and service in California's Sacramento and Folsom areas, devotees are delighted to announce the imminent arrival of a new temple building to meet the needs of their growing community and outreach. Sacramento, California, is a vibrant city known for its rich history, diverse culture, and significant growth. Over the years, Sacramento has experienced an impressive transformation, with a thriving economy, expanding urban development, and a growing population.
"In 1998, an ISKCON chapter was first established in Sacramento as a home program. Devotees first met for weekly Love Feast programs, with expanded to sankirtan, book distribution events, prasada distribution, and many festivals. 2022 saw the inaugural Jagannath Rath Yatra event in downtown Sacramento," said Gunarnava Sitaram Das.
Establishing a permanent temple to serve Srila Prabhupada's mission will further serve to nourish the devotee families here, encourage ongoing book distribution, sankirtan, and provide better facilities for operating the ISKCON Food For Life Program," said member Krishna Priya Dasi, "There is so much service momentum here in Sacramento, and we are grateful for the good association of the devotees."
"The forthcoming temple in Sacramento will be situated within a spacious 5,000 square foot building which will be thoughtfully designed to accommodate various preaching activities," said Gunarnava Sitaram. He continued, "The facility will feature dedicated spaces for a children's school, a warehouse to house Srila Prabhupada's books and a temple hall. Moreover, its strategic location, a mere 10-minute drive from Sacramento State University and a 20-minute drive from the University of California at Davis presents a convenient and accessible venue for engaging with students and spreading the message of Krishna consciousness." This central location is ideal for residents from surrounding suburbs, including Folsom, Elk Grove, and Natomas, to visit the new temple easily.
The community is diligently raising funds to finalize the purchase of the new temple by the 12th of June. Their progress so far has been remarkable, with over $300,000 raised towards our target of $463,000.
To learn more about the community and its ongoing service, please visit their website.
To donate to the project, please visit their donation page.
.
.