Madhavendra Puri Appearance
By Ramai Swami - 17.5 2022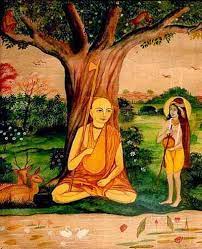 .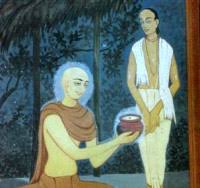 Before Lord Caitanya appeared He sent His eternal associates like Sri Advaita Acarya, Sri Jagannatha Misra, Saci Mata, Madhavendra Puri, Isvari Puri to earth. Sri Madhavendra Puri took initiation from Sri Laksmipati Tirtha in the Madhvacarya sampradaya.
He had many but Sri Advaita Acarya and Sri Isvara Puri were the chief disciples of Madhavendra Puri. In one way or another, all the Vaisnavas in Bengal and Ksetra mandala (Jagan­natha Puri) were connected with Sri Madhavendra Puri. After Lord Caitanya came many of his disciples joined Mahaprabhu's sankirtana movement.
"Madhavendra Puri's body was completely full of divine love; so were his followers. He displayed uncommon love of God. Seeing a dark blue rain cloud, he would fall down unconscious. Day and night he was intoxicated from drinking the ambrosia of Krishna prema." (Vrndavana Dasa Thakura)
After making an extensive pilgrimage of Bharata-bhumi (India) he passed his life in Vrndavana and Orissa. He began the restoration work of Vrndavana that Sri Rupa and Sanatana Gos-vamis continued later. Wandering from grove to grove, remembering Radha-Krishna's sweet Vrndavana pastimes, Madhavendra Puri would faint in ecstasy.
In a dream, Sri Gopala ordered Madhavendra Puri to uncover a buried Gopala Deity and install Him atop Govardhana Hill. Madhavendra Puri celebrated Gopala's installation with an annakuta (grand festival offering a mountain of foodstuffs to Krishna). This Annakuta festival, also called Govardhana Puja, is one of the most important Vaisnava festivals in Vrndavana, in India, and around the world. The original Gopala Deity, known as Sri Nathaji, is now worshiped in Nathadvara, Rajasthan.
Madhavendra Puri introduced the conception of madhurya bhava (conjugal love) in the Madhvacarya sampradaya. Mad­havendra Puri sowed the seed of prema bhakti. And Sri Caitanya Mahaprabhu became the towering tree dropping honey sweet fruits of prema upon everyone. He also revealed viraha bhava, the mood of love relished in separation from God. His branch of the Madhva sect distinguished itself by this ecstatic love of God. It is known as the Madhva-Gaudiya sampradaya.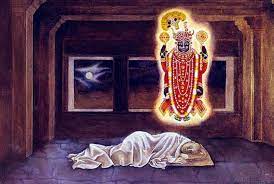 .