Nrsimhadev-Ganda Bherunada and Shiva Sarabha
BY: SUN STAFF - 13.3 2023
Ganda Bherunada
Ceiling Painting from Thanjavur Brihadiswara Temple
Lord Nrsimhadev's post-destruction lila.

Ganda Bherunada
As mentioned in previous segments, a group of Nrsimha bhaktas in South India have long been engaged in the worship of Ganda Bherunada, whom they believe to be a rare incarnation of Lord Nrsimhadev, in the Form of a two-headed bird. This bird form appears to have a clear connection to Lord Nrsimha's pastime with Shiva Sarabha, as indicated by the Lord's name, "Sarabha", described in Sri Nrsimha-sahasra-nama as He " who is ferocious like a Sarabha monster".
Gandha Bherunda Narasimha is a combination of bird and animal with two heads, and is said to have manifested from Lord Narasimha in his post-destruction pastime of killing Hiranyakasipu, when He would not control his anger.
As with Shiva Sarabha, Ganda Bherunada is not mentioned in the Bhagavad Purana, although it is mentioned in some Puranas and in certain regional scriptures in South India. For example, HH Chinna Jeeyar has observed that Ganda Bherunada Nrsimha Avatharam is mentioned in a minor text known as Nru Kanteerava abhyudhayam. Such references state that when Shiva manifested in his ferocious bird-form Sarabha to help contain the Lord's anger, that Sri Nrsimha manifested his own, even more terrible bird-animal form, with two heads.
Some have concluded that the bird mentioned in Rg-Veda as the 'golden winged bird, Suparna, is actually this self-same Ganda Bherunada. [1]
One of the most well-known images of Ganda Bherunada is found in the Mysore Court, where the royal logo of the Wodeyars, former rulers of Mysore, incorporates the form. Another striking image of Ganda-bherunda (shown above) is painted as a decorative motif on the ceiling of the Nandi mandapam of Thanjavur Brihadiswara temple.
Murtis, paintings and sculptures of Ganda Bherunada are very rare, and those that are known to exist are primarily found in Andhra Pradesh, Karnataka and Tamil Nadu. A Deity of Ganda Bherunada is worshipped at Sri Yadagiri Yadagiri Gutta (Pancha Narasimha Kshetram) near Hyderabad in Andhra Pradesh, and there is a murti of Ganda Bherunada at Balligavi town in Karnataka.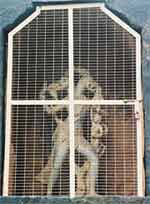 Ganda Bherunada Murti
There are many other Sarabeshwara temples in South India. Between the towns of Kumbakonam and Mayiladuturai, at a place called Thirubhuvanam, Lord Sarabeswara is being worshipped as Kampakeswara. This site is said to be a place where Brahma worshipped Sarabha. There are also other places of Sri Sarabeswara worship at Gangai Konda Cholapuram, Dharapuram, Karaikkudi, Thiruvannamalai, and Chidambaram. In the vicinity of Chennai, Sri Sarabeswara is worshipped at Denupureswarar Temple (at Madambakkam near Tambaram), at Trisoolam Temple (near Meenambakkam), and also at Kurungaleeswarar Temple at Koyambedu.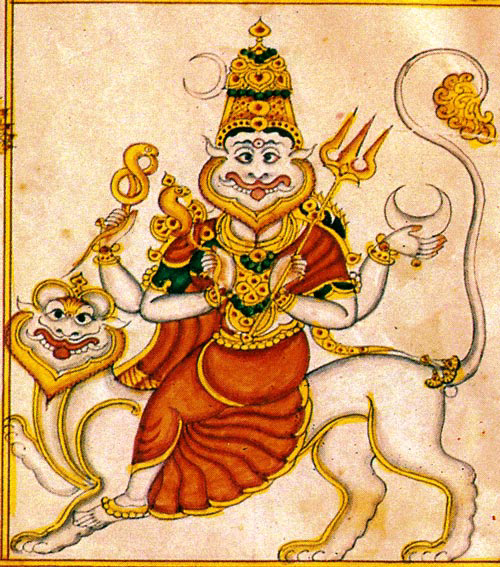 Sri Sarabha Pratyangiri

Sarabha Iconography
The Sarabha Pratyangiri form pictured above is described as being the half-bird (Sarabha) and half-yalli (the lion creature) who enveloped Narasimha with his wings, calming him down. Because Sarabha removes trembling due to fear, one Sarabha deity in lingam form is known as Kambahareshwarar (kampa, trembling; hara, to remove). This is one of the few temples where the Moolavar (main deity), though a lingam, is a form of Sarabheshwarar.
At the Thanjvur Sarabheshwarar temple, the Utsava Moorthy draws a large crowd of worshippers. This distinctive murti of Sarabheshwarar is panchaloha, having the face of a lion, nose of an eagle, body of a human, two huge wings representing Soolini Durga and Pratyankara Devi, eight legs, four arms carrying fire, rope, axe and deer respectively, fingers with sharp nails, and holding Sri Narasimha firmly with his front legs. Narasimha is depicted fighting to free Himself from this grip using His legs, with two of His hands folded in prayer.
Many such fierce forms of Shiva Sarabha are found throughout South India, guarding the entrance to temples.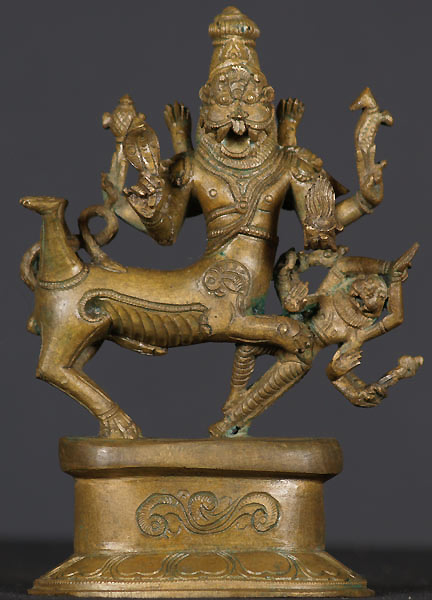 Bronze Sarabha Murti
The primary iconography of Sarabha is as follows: eight legs, four of them like a lion's, resting on the ground, and four long, clawed legs turned upward; a body that is half-man, half-lion, and two wings, which are associated with Durga and Kali. In one unpublished painting [2], Kramrisch notes that the figures of the goddesses are inscribed in Shiva Sarabha's golden wings; nagas move on and around his body, tail and wings, and the beaked head of Sarabha is hooded by a naga protector.
S.K. Tiwari [3] refers to an image of a murti wherein Lord Nrsimhadev is positioned underneath Shiva Sarabha. A similar bronze image is preserved in a Shiva temple at Tribhuvanam in Tanjore district. In this murti, Sarabha is depicted with three legs, the body and face of a lion, a tail and four human arms, the upper right hand holding a parasu, the lower right one a pasa, the upper left hand a mriga, and the lower left one holding agni. With his front legs, Sarabha has pinned Lord Nrsimhadev, who is struggling against His adversary with eight arms.
According to the Kamikagama (Sthapatya Veda) , the body of Sarabha should be that of a bird of golden hue, having two uplifted wings, two red eyes, four lion-like legs resting on the ground and four others with sharp claws lifted upward, and a tail, and a man-like head with the face of a lion, wearing kirita-mukuta over his head. There should also be side tusks, and with a terrific appearance on the whole, Sarabha is to be shown carrying Nrsimha with two of His legs. The figures of Narasimhadev should be in ordinary human form, with the hands held in anjali pose.
Sri-tattvanidhi, a 19th century treatise of Karnataka, requires the figures of Sarabha to have thirty-two arms holding different attributes and weapons, embracing Durga with one hand. Umarkarandgama as well as Sarbhopanishad give somewhat different accounts of the Deity of Sri Sarabha.
REFERENCES:
[1] Pratima Kosha, Vol II, S.K. Ramachandra Rao, Kalpatharu Research Academy.
[2] The Presence of Siva, S. Kramrisch, 1994.
[3] Tribal Roots, S.K. Tiwari