President of Bhaktivedanta Manor Temple Among Special Guests at the Coronation of King Charles III
By Thomas Haribol - 11.5 2023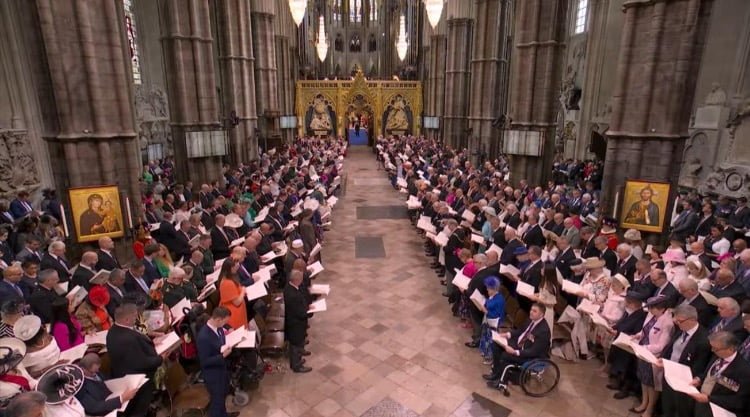 The coronation of King Charles III and Queen Camilla was held at Westminster Abbey.
Visakha Dasi, President of Bhaktivedanta Manor Temple, was among the invited guests at the Coronation of King Charles III and Queen Camilla held at Westminster Abbey in London on April 6, 2023. Regarding the invitation, she said, "On the historic occasion of His Majesty's Coronation, I'm honoured to be representing the Bhaktivedanta Manor Krishna Temple. And I feel privileged and delighted to be standing together with respected leaders of diverse spiritual paths." Indeed, this was the first coronation to include representatives of the Buddhist, Hindu, Jewish, Muslim, and Sikh faiths. The last coronation was held nearly 70 years ago, in June 1953, when Queen Elizabeth was crowned.
In addition to Visakha Dasi, Radha Mohan Das, Communications Officer at ISKCON Manor, was also a guest at the royal event.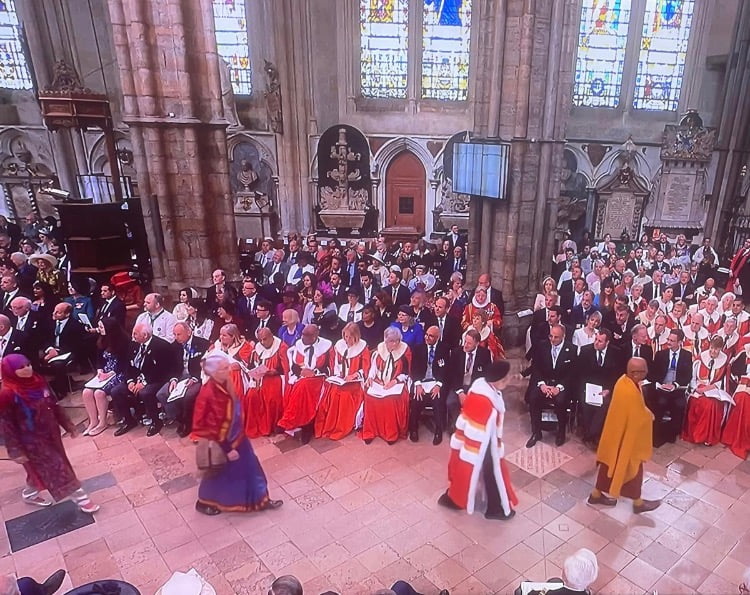 Screenshot of televised coronation showing Visakha Dasi processing with other faith leaders.
Faith leaders were processed and seated in the North Transept of the medieval Abbey during the solemn service, which had as its theme "Called to Serve." The deeply religious ceremony was performed by the Archbishop of Canterbury, Justin Portal Welby, the most senior cleric in the Church of England, and began with Charles III proclaiming, "In His (Christ's) name, and after his example, I come not to be served, but to serve."
While the essential elements of the coronation have remained largely unchanged for 1,000 years, there were some new elements, offering a more diverse and inclusive mood. Among the Bible passages personally selected by Welby was St. Paul's epistle to the Colossian asking that "ye might walk worthy of the Lord unto all pleasing, being fruitful in every good work, and increasing in the knowledge of God" (Col. 1.9-17). It was read by Prime Minister Rishi Sunak, Britain's first Hindu leader. He is the first prime minister to participate in a coronation ceremony since Winston Churchill.
According to Lambeth Palace, the newly crowned King and Queen received a spoken greeting delivered in unison by representatives from the Hindu, Sikh, Muslim, Buddhist, and Jewish communities before entering the royal carriage.
King Charles and Queen Camilla have an earlier connection with ISKCON. In 2018, at a Buckingham Palace event, Sruti Dharma, previous President of Bhaktivedanta Manor Temple, spoke to then Prince Charles and Duchess Camilla about Bhaktivedanta Manor's many initiatives, including their organic farming, use of oxen, and humanitarian efforts.