Six Qualities that Enhance Bhakti: Various Activities
BY: SUN STAFF - 13.7 2020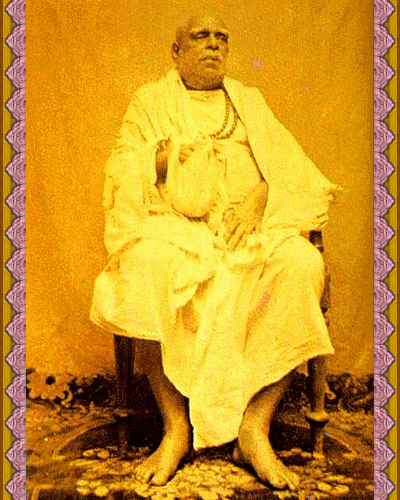 Six Qualities that Enhance Bhakti by HDG Srila Bhaktivinoda Thakura.
Tat-tat-karma-pravartana
Various Activities Favorable for Devotional Service
Srila Rupa Gosvami has enjoined the system of tat-tat-karma-pravartanat, acting according to the regulative principles, for those aspiring to perform devotional service. In the Upadesamrita, activities by which pure devotional service is cultivated are called tat-tat-karma, prescribed duties. Sri Krishna tells Uddhava in the Srimad Bhagavatam (11.19.20-24):
sraddhamrita-kathayam me sasvan mad-anukirtanam
parinishtha ca pujayam stutibhih stavanam mama
adarah paricaryayam sarvangair abhivandanam
mad-bhakta-pujabhyadhika sarva-bhuteshu man-matih
mad-artheshv anga-ceshta ca vacasa mad-guneranam
mayy arpanam ca manasah sarva-kama-vivarjanam
mad-arthe 'rtha-parityago bhogasya ca sukhasya ca
ishtam dattam hutam japtam mad-artham yad vratam tapah
evam dharmair manushyanam uddhavatma-nivedinam
mayi sanjayate bhaktih ko 'nyo 'rtho 'syavasishyate
"Firm faith in the blissful narrations of My pastimes, constant chanting of My glories, unwavering attachment to ceremonial worship of Me, praising Me through beautiful hymns, great respect for My devotional service, offering obeisances with the entire body, performing first-class worship of My devotees, consciousness of Me in all living entities, offering of ordinary, bodily activities in My devotional service, offering words to describe My qualities, offering the mind to Me, rejection of all material desires, giving up wealth for My devotional service, renouncing material sense gratification and happiness, and performing all desirable activities such as charity, sacrifice, chanting, vows, and austerities with the purpose of achieving Me-these constitute actual religious principles, by which those human beings who have actually surrendered themselves to Me automatically develop love for Me. What other purpose or goal could remain for My devotee?"
Based on these instructions of the Lord, Srila Rupa Gosvami has divided these activities into sixty-four items in his Bhakti-rasamrita-sindhu. Srila Krishnadasa Kaviraja Gosvami has written about those activities in the Caitanya-caritamrita (Madhya 22.115-129) as follows:
guru-padasraya, diksha, gurura sevana
sad-dharma-siksha, priccha, sadhu-marganugamana
"On the path of regulative devotional service, one must observe the following items: (1) One must accept a bona fide spiritual master. (2) Accept initiation from him. (3) Serve him. (4) Receive instructions from the spiritual master and make inquiries in order to learn devotional service. (5) Follow in the footsteps of the previous acaryas and follow the directions given by the spiritual master.
krishna-pritye bhoga-tyaga, krishna-tirthe vasa
yavan-nirvaha-pratigraha, ekadasy-upavasa
"The next steps are as follows: (6) One should be prepared to give up everything for Krishna's satisfaction, and one should also accept everything for Krishna's satisfaction. (7) One must live in a place where Krishna is present-a city like Vrindavana or Mathura or a Krishna temple. (8) One should acquire a livelihood that is just sufficient to keep body and soul together. (9) One must fast on Ekadasi day.
dhatry-asvattha-go-vipra-vaishnava-pujana
seva-namaparadhadi dure visarjana
"One should worship dhatri trees, banyan trees, cows, brahmanas, and devotees of Lord Vishnu. One should avoid offenses against devotional service and the holy name.
avaishnava-sanga-tyaga, bahu-sishya na kariba
bahu-grantha-kalabhyasa-vyakhyana varjiba
"The twelfth item is to give up the company of nondevotees. (13) One should not accept an unlimited number of disciples. (14) One should not partially study many scriptures just to be able to give references and expand explanations.
hani-labhe sama, sokadira vasa na ha-iba
anya-deva, anya-sastra ninda na kariba
"Fifteen: The devotee should treat loss and gain equally. (16) The devotee should not be overwhelmed by lamentation. (17) The devotee should not worship demigods, nor should he disrespect them. Similarly, the devotee should not study or criticize other scriptures.
vishnu-vaishnava-ninda, gramya-varta na suniba
prani-matre manovakye udvega na diba
"Eighteen: The devotee should not hear Lord Vishnu or His devotees blasphemed. (19) The devotee should avoid reading or hearing newspapers or mundane books that contain stories of love affairs between men and women or subjects palatable to the senses. (20) Neither by mind nor words should the devotee cause anxiety to any living entity, regardless how insignificant he may be.
sravana, kirtana, smarana, pujana, vandana
paricarya, dasya, sakhya, atma-nivedana
"After one is established in devotional service, the positive actions are (1) hearing, (2) chanting, (3) remembering, (4) worshiping, (5) praying, (6) serving, (7) accepting servitorship, (8) becoming a friend, and (9) surrendering fully.
agre nritya, gita, vijnapti, dandavan-nati
abhyutthana, anuvrajya, tirtha-grihe gati
"One should also (10) dance before the Deity, (11) sing before the Deity, (12) open one's mind to the Deity, (13) offer obeisances to the Deity, (14) stand up before the Deity and the spiritual master just to show them respect, (15) follow the Deity or the spiritual master, and (16) visit different places of pilgrimage or go see the Deity in the temple.
parikrama, stava-patha, japa, sankirtana
dhupa-malya-gandha-mahaprasada-bhojana
"One should (17) circumambulate the temple, (18) recite various prayers, (19) chant softly, (20) chant congregationally, (21) smell the incense and flower garlands offered to the Deity, and (22) eat the remnants of food offered to the Deity.
aratrika-mahotsava-srimurti-darsana
nija-priya-dana, dhyana, tadiya-sevana
"One should (23) attend arati and festivals, (24) see the Deity, (25) present what is very dear to oneself to the Deity, (26) meditate, and (27) serve those related to the Lord.
`tadiya'-tulasi, vaishnava, mathura, bhagavata
ei carira seva haya krishnera abhimata
"Tadiya means the tulasi leaves, the devotees of Krishna, the birthplace of Krishna, Mathura, and the Vedic literature Srimad Bhagavatam. Krishna is very eager to see His devotee serve tulasi, Vaishnavas, Mathura, and Bhagavatam.
krishnarthe akhila-ceshta, tat-kripavalokana
janma-dinadi-mahotsava lana bhakta-gana
"Thirty-one: One should perform all endeavors for Krishna. (32) One should look forward to His mercy. (33) One should partake of various ceremonies with devotees, ceremonies like Lord Krishna's birthday or Ramacandra's birthday.
sarvatha saranapatti, kartikadi-vrata
`catuh-shashti anga' ei parama-mahattva
"Thirty-four: One should surrender to Krishna in all respects. (35) One should observe particular vows like kartika-vrata. These are some of the sixty-four important items of devotional service.
sadhu-sanga, nama-kirtana, bhagavata-sravana
mathura-vasa, sri-murtira sraddhaya sevana
"One should associate with devotees, chant the holy name of the Lord, hear Srimad-Bhagavatam, reside at Mathura, and worship the Deity with faith and veneration.
sakala-sadhana-sreshtha ei panca anga
krishna-prema janmaya ei pancera alpa sanga
"These five limbs of devotional service are the best of all. Even a slight performance of these five awakens love for Krishna."
Aspiring devotees should first take shelter of the lotus feet of a bona fide guru. Without taking shelter of a guru, one cannot achieve anything auspicious. There are two types of people-one has developed intelligence and one has undeveloped intelligence. Those whose intelligence is undeveloped are absorbed in the so-called happiness of this world. If by chance they get the association of a mahajana, then they also become intelligent. Then they consider, "How unfortunate I am! I'm always engaged in sense gratification. I'm passing my days hankering for material enjoyment."
This initial association with a great soul is also called association with the guru by hearing. By good fortune, at this time faith is awakened. When faith is awakened, one endeavors for devotional service. Then it is essential for one to take shelter of the lotus feet of a guru. In this way by good fortune persons with undeveloped intelligence become intelligent and take shelter of the lotus feet of a guru.
What type of guru one should take shelter of is explained in the sastras. One who has conquered the six enemies beginning with lust, one who is pure, one who performs devotional service on the path of raga, one who is brahminical, one who knows the clear path of the Vedas, one who sadhus can respect as guru, one who is able to control the senses, one who is merciful to all living entities, one who is cultured, one who is without duplicity, and one who is truthful-this type of householder is fit to be a guru.
All these qualities are considered in two ways. The principle quality of a guru is attachment to Krishna and detachment for what is not related with Krishna. All other qualities are secondary. That is why Sri Caitanya Mahaprabhu has said in the Caitanya-caritamrita (Madhya 8.127):
kiba vipra, kiba nyasi, sudra kene naya
yei krishna-tattva-vetta, sei `guru' haya
"Whether one is a brahmana, a sannyasi, or a sudra-regardless of what he is-he can become a spiritual master if he knows the science of Krishna."
If one possess this principle symptom of a guru, then he is eligible to be guru even though he lacks one or two secondary symptoms. Being a brahmana and being a householder are counted as secondary symptoms. It is good if a person possesses these two secondary symptoms along with the principle qualification. But those who are defective in the principle symptom are unqualified to be guru even though they possess the other two. As stated in Sri Padma Purana:
mahabhagavata sreshtho brahmano vai gurur nrinam
sarvesham eva lokanam asau pujyo yatha harih
mahakula prasuto `pi sarva yajneshu dikshitah
sahasrasakhadhyayi ca na guruh syad avaishnavah
"Among all human beings the brahmana who is a maha-bhagavata, or great devotee, is topmost and qualified as guru. He is as worshipable as Lord Hari. A non-Vaishnava is never fit to be guru even if he has taken birth in a great family, performed all sacrifices, and studied many branches of the Vedas." After finding a qualified guru, a faithful disciple should serve him with firm conviction and without duplicity. One should accept initiation and Krishna-mantra after pleasing the guru. Those who are averse to taking initiation and only make a drama of pseudo-kirtana while advertising themselves as Vaishnavas certainly cheat themselves. It is not the duty of materialistic persons to renounce the process of initiation because a few great souls like Jada Bharata did not take initiation. Initiation is a constitutional injunction for every birth of the living entity.
If initiation is not seen in the life of a perfected soul, it should not be taken as an example. General rules are not changed because something happens to particular person in a special situation. Sri Dhruva Maharaja went to Dhruvaloka in his material body; seeing that, should one waste time hoping for the same? The general rule is a living entity gives up his material body and goes to Vaikuntha in his spiritual body. General rules should be accepted by people in general. Whenever and whatever is desired by the Lord, who is full of inconceivable potencies, that only happens. Therefore we should never transgress the general rules. After pleasing the guru by serving him without duplicity, one should receive from him instructions on the Absolute Truth and initiation into chanting the holy name of the Lord.
After receiving initiation and instructions from a bona fide guru, a fortunate disciple should follow the path of the previous sadhus. Those who are proud neglect the previous mahajanas and create new paths. As a result, they soon proceed on their inauspicious path and ruin themselves. It is said in the Skanda Purana:
sa mrigyah sreyasam hetuh panthah santapa-varjitah
anavapta-sramam purve yena santah pratasthire
"One should strictly follow the easy path which the previous mahajanas have accepted. That path bestows great auspiciousness and is devoid of all misery." By discussing the path of the previous sadhus, one gets determination, courage, and satisfaction. When we discuss the path of devotional service exhibited by Sri Rupa, Sri Sanatana, Sri Raghunatha, and Sri Haridasa Thakura, then we feel such happiness that it cannot be described. When the miscreant Mohammedans tortured Haridasa Thakura, he said:
khanda khanda hai' deha yaya yadi prana
tabu ami vadane na chadi hari-nama
e saba jivere krishna! karaha prasada
mora drohe nahu e sabara aparadha
"Even if my body is cut into pieces and I loose my life, I will never give up chanting the Lord's holy name. O Krishna, please be merciful upon these poor souls, kindly excuse them for their offense of torturing me."
Maintaining this type of determination and being compassionate to all living entities while always chanting the holy name of Krishna is the path of devotional service exhibited by the previous mahajanas. A path cannot be manufactured. Whatever path is there should be accepted by sadhus. Those who are proud and want fame try vigorously to discover new paths. Those who have good fortune from past lives give up pride and respect the established path. Those who are unfortunate promenade on a new path and thus cheat the world. Regarding such persons the Bhakti-rasamrita-sindhu (1.2.46-47) quotes the Brahma-yamala as follows:
sruti-smriti-puranadi- pancaratra-vidhim vina
aikantiki harer bhaktir utpatayaiva kalpate
bhaktir aikantikiveyam avicarat pratiyate
vastu tastu tatha naiva yad asastriyatekshyate
"Devotional service of the Lord that ignores the authorized Vedic literatures like the Upanishads, Puranas, and Narada-pancaratra is simply an unnecessary disturbance in society. Such activities are born out of speculation and therefore they only superficially resemble unalloyed devotion because they are disrespectful to the Vedic injunctions. Disrespecting Vedic injunctions falls in the category of atheism. Whenever there is disrespect for the scriptures, which are the Lord's instructions, that cannot be devotional service."
The purport is that although the path of devotion is of two kinds-vaidhi and raganuga-the previous mahajanas have clearly prescribed them according to one's qualification. These paths are explained in the scriptures such as the sruti, smriti, and pancaratra. Rejecting these paths, the new paths discovered by Lord Buddha and Dattatreya ultimately create disturbance. Due to improper consideration these new paths are advertised as unalloyed devotional service to Krishna, although they are not actually so. The proper path is exhibited in the Vedic literatures. Nowadays many new paths are discovered, and they ultimately disappear along with their propounder.
Inquiring about sad-dharma, eternal religious principles, is one of the disciple's devotional duties. Therefore Bhakti-rasamrita-sindhu (1.2.47) quotes the following statement from the Sri Naradiya Purana:
sad-dharmasyavabodhaya yesham nirbandhini matih
acirad eva sarvarthah sidhyaty esham abhipsitah
"Those who are anxious to awaken their spiritual consciousness, who have unflinching intelligence, and who are not deviated, certainly attain the desired goal of life." As fortunate persons wish to follow the characteristics of the sadhus' devotional service, they similarly desire to know their duty. Unfortunate proud persons act just the opposite. As they search paths different from those of the sadhus, they disrespect the sadhus' determined conclusions while respecting their own. They do not care to preach the teachings of Mahaprabhu to the people of this world, rather they preach doctrines contradictory to those of Mahaprabhu.
They do not know how much misfortune they are creating by this. Those who are simple endeavor to properly learn the teachings of the Lord from Sri Caitanya-caritamrita. The Lord's teachings are our only life. Sad-dharma lies in this alone. The bona fide disciple especially tries to understand sad-dharma. If he cannot understand on his own, then he prays at the feet of his siksha-guru ad learns from him. Those who have this kind of determination to know sad-dharma quickly achieve their desired goal. The Bhakti-rasamrita-sindhu (1.1.9) says:
anyabhilashita-sunyam jnana-karmady-anavritam
anukulyena krishnanu- silanam bhaktir uttama
"One should render transcendental loving service to the Supreme Lord Krishna favorably and without desire for material profit or gain through fruitive activities or philosophical speculation. That is called pure devotional service." As long as this pure devotional symptom, in the form of understanding sad-dharma, has not clearly manifest in the heart of an inquisitive person, his heart remains covered with darkness and he cannot know what is pure devotional service. If one depends on his own speculation, then unalloyed devotional service will not manifest in his heart. We meet many so-called panditas who think they have understood the constitution of bhakti by their knowledge and intelligence. Some of them have concluded that devotional service mixed with jnana is pure bhakti, and some of them have concluded that devotional service mixed with karma is pure bhakti. They are so proud that if they hear the teachings of Sri Caitanya-caritamrita, they say, "Everyone can make their own conclusion. What is the need for taking the conclusion of Caitanya-caritamrita?" These people never come in touch with sad-dharma because they have no desire to know it. The result of performing their own concocted new process of devotional service is they can never relish pure devotion.
It is the duty of a sadhaka to give up personal enjoyment for the sake of Krishna. Sense gratification is called enjoyment. Dovetailing one's lust for sense gratification in the service of Krishna is renunciation of enjoyment. When one converts his world of enjoyment into what is favorable for devotional service, thus giving up the spirit of enjoying those objects and accepting everything as Krishna-prasada, then this is called renunciation of enjoyment.
To reside in a holy place related with Krishna is also a limb of sadhana. If one resides in Sri Dvaraka, Sri Mathura, on the bank of the Ganges, or at pastimes sites of the Lord, then one naturally remembers Krishna. What greater gain can there be than this?
At every stage of life one should accept only as much wealth as needed for the practice of devotional service. By desiring more than needed, bhakti will disappear. If wealth is not accepted according to one's need, however, then the practice of devotional service will be hampered.
One should carefully respect Sri Hari-vasara, Ekadasi. By observing Ekadasi all the supporting principles of devotional service are practiced. The practice of devotional service becomes continuous by giving up all enjoyment and practicing devotional service once every fortnight.
For one who worships and meditates on the earth, banyan trees, tulasi, cows, brahmanas, and Vaishnavas, all his sinful reactions are diminished. By these activities one can please Krishna, because these objects are auspicious for the world.
These ten limbs of devotional service are the preliminary activities for worshiping the Lord. For those who neglect these ten limbs, attaining devotional service and Krishna is very difficult.
Therefore those who are aspiring for devotional service should first take shelter of Sri Guru, take initiation and instruction from him, and serve him. They should also follow the behavior of the sadhus and learn the conclusions taught by the sadhus. In order to make one's life Krishna conscious, one should reside in a sacred place related to Krishna and give up the enjoyment of sense gratification for the service of Krishna. In one's ordinary dealings one should only accept the wealth that is necessary to favorably maintain Krishna's business. To practice devotional service one should observe fast days like Ekadasi and Janmashtami. One should respect banyan trees in order to maintain the glories of this world, which is one of the Lord's opulences. These ten rules must be followed. And the following ten rules must be rejected, otherwise the practice of devotional service cannot be steady.
One should not associate with persons who are averse to the Lord's service. One will have to meet such people in his ordinary dealings, but one should deal with them only until the work is finished. After the work is finished one should not deal with them. Those who have not had loving devotion to Krishna awakened in their heart are always proud of remaining under the shelter of jnana and karma. Therefore they are called bhagavad-bahirmukha, averse to Krishna. Those who worship many gods, those who are Mayavadis and thirsty for impersonal jnana, and those atheists who defy Vedic literatures are all bhagavad-bahirmukha, averse to Krishna.
One whose faith in pure devotional service has not developed should not be accepted as a disciple, otherwise the disciplic chain of devotional service will be polluted. One should give up the endeavor for starting new big projects, because it diminishes one's devotion to Krishna.
One should not read or explain various types of books, except those which lead to the advancement of devotional service. One should discuss those scriptures wherein devotional service is instructed and explained, such as the Vedas, smritis, Puranas, Pancaratra, and the writings of the mahajanas. From books with other opinions, only useless arguments are learned.
The endeavor for food and clothing must always remain, either in household life or in renounced life. Therefore there is a need of generosity in such dealings. According to the Padma Purana:
alabdhe va vinashte va bhakshyacchadana-sadhane
aviklava-matir bhutva harim eva dhiya smaret
"The mind of one who has taken shelter of the holy name is undisturbed even if food and clothes are not easily obtained or if they are obtained but then lost. Leaving behind all material attachments, he takes complete shelter of Govinda." The purport is that whether a sadhaka stays at home or in the forest, he will have to endeavor for food and clothing. A householder should find out his food and clothing through agriculture or business, protecting the citizens, or by serving others. A renunciate should accomplish this by begging alms. In those activities a devotee should not be agitated if food and clothing are not obtained or if they are obtained and then lost. He should peacefully remember Krishna.
Householders lament if they lose their wife, children, etc. But a practitioner of devotional service should not maintain this lamentation very long. They should quickly give up their lamentation and engage in the cultivation of Krishna consciousness. A renunciate should not lament if he does not possess a quilt, a waterpot, or other alms, or if these things are stolen by man or animal. A practicing Vaishnava should give up all urges like lamentation and anger, otherwise there will be obstacles in his constant remembrance of Krishna. It is explained in the Padma Purana:
sokamarshadibhir bhavair akrantam yasya manasam
katham tasya mukundasya sphurttih sambhavana bhavet
"Within the heart of one who is full of anger or pride, or lamentation on the state of his wife or sons, there is no possibility of Krishna being manifest."
Those who endeavor for devotional service should only worship Krishna. They should not worship various demigods. But they should not also disrespect the demigods or the scriptures. When coming before a demigod, one should offer respect, knowing them to be Krishna's servant. In the Padma Purana it is said:
harir eva sadaradhyah sarva-devesvaresvarah
itare brahma-rudradya navajneyah kadacana
"Krishna, or Hari, is the master of all demigods, and therefore He is always worshipable. But this does not mean that one should not offer respect to the demigods headed by Brahma and Siva." The purport is that the Supreme Lord is one, and others (Brahma and Siva) are His qualitative incarnations (gunavataras). Particular demigods are worshiped by people according to their qualifications. But Lord Vishnu is the only worshipable Lord for people who are in the mode of goodness. After worshiping various demigods for many lifetimes, one's life becomes auspicious when he comes to the point of accepting Vishnu as the only Supreme Lord. Lord Sri Krishna is the topmost manifestation of vishnu-tattva. When a living entity transcends the three modes by worshiping in the mode of goodness, he attains the service of Lord Krishna.
One should be merciful and not cause anxiety to any living entity. The heart should always be filled with compassion for others. Exhibiting mercy to all living entities is one of the limbs of devotional service. A person aspiring for devotional service should carefully practice this characteristic.
It is most essential for an aspiring devotee to give up the ten offenses in chanting and the offenses in the matter of serving the Lord. For ordinary devotees there is some consideration of offenses in serving the Deity of the Lord. It is not possible to give up all the offenses in serving the Lord, but one must give up some of the offenses before entering the temple room. The ten offenses in chanting have been discussed in many places. The practitioner should carefully give up those offenses. For those who are negligent in this regard, endeavoring for devotional service becomes useless. It is written in the Padma Purana:
sarvaparadha krid api mucyate hari samsrayah
harer apy aparadhan yah kuryad dvi-pada pamsanah
namasrayah kadacit syat taraty eva sa namatah
namno hi sarva suhrido hy aparadhat pataty adhah
The purport is that if one takes shelter of Lord Hari, then all his offenses are vanquished. All offenses committed in the service of the Lord are destroyed by taking shelter of the holy names. The holy name alone delivers the Vaishnavas. But those who have taken shelter of the holy names must give up the ten offenses in chanting. Otherwise they will surely fall down even though they have taken shelter of the holy names.
A practitioner should not allow blasphemy of Krishna or the Vaishnavas to enter his ears. Wherever such blasphemy is taking place, he should leave. Those with weak hearts who tarry out of social etiquette to hear blasphemy of Krishna or the Vaishnavas are gradually distracted from devotional service.
By careful practice of the above mentioned twenty limbs one's bhava, devotional sentiment, is awakened. The mercy of Krishna is the root cause of awakening bhava. Without sadhu-sanga, one cannot achieve the mercy of Krishna. The principle forms of sadhu-sanga are taking shelter of the lotus feet of the spiritual master, taking initiation from him, and serving him.
Among the other limbs of devotional service mentioned after these, accepting the symbols of a Vaishnava up to meditation come under the category of arcana. One should practice all these limbs of bhakti to the best of one's capacity after receiving them from the spiritual master. Servitude, friendship, and complete surrender are the activities for awakening bhava. In reality, these activities themselves become bhava. Only in the stage of sadhana are they counted as sadhana-bhakti.
Whatever one's most cherished items are in this world and whatever is very dear should be offered to Krishna-this statement has several meanings. The purport is that one should not enjoy anything just because it is very dear to oneself, but one should offer it to Krishna and enjoy it as His prasada.
Whatever ordinary and spiritual endeavors are there, when done for the sake of Krishna, they become auspicious. It is said in the Narada Pancaratra and quoted in the Bhakti-rasamrita-sindhu:
laukiki vaidiki vapi ya kriya kriyate mune
hari-sevanukulaiva sa karya bhaktim icchata
"One should perform only those activities, either worldly or prescribed by Vedic rules and regulations, which are favorable for the cultivation of Krishna consciousness." Marriage and other purifactory ceremonies of the smartas are vaidiki, or prescribed Vedic regulations, and social and bodily activities performed to maintain one's status quo are laukiki, or worldly. Marriage is for the establishment of Krishna's family; producing children is for increasing Krishna's servants; offering oblations to the forefathers is for the satisfaction of Krishna's servants; feasting is for the gratification of Krishna's living entities-all these activities should be dovetailed in the favorable service of Krishna. Then one will not fall into the grip of unfavorable fruitive activities. The body, house, and everything else belongs to Krishna-thinking in this way one should protect the body, the house, and the community. This is called Krishna's family.
The whole life of a practitioner should be decorated with full surrender. Six types of surrender are explained in many places in the devotional scriptures. The life of a living entity is useless without surrender. The living entity should always worship Krishna with full surrender.
Items that are related to Krishna are called tadiya. Serving Tulasi is the primary form of tadiya-seva. It is said in the Skanda Purana:
drishta sprishta tatha dhata kirtita manita sruta
ropita sevita nityam pujita tulasi subha
navadha tulasim devim ye bhajanti dine dine
yuga koti sahasrani te vasanti harer grihe
"Tulasi is auspicious in all respects. Simply by seeing, simply by touching, simply by remembering, simply by praying to, simply by bowing before, simply by hearing about, simply by sowing, simply by offering water to, or simply by worshiping Tulasi there is always auspiciousness. Anyone who comes in touch with the tulasi tree in the above-mentioned nine ways lives eternally in the Vaikuntha world."
Literatures that substantiate devotion to Krishna are counted among tadiya. Srimad Bhagavatam is the topmost amongst them. In the same way, Sri Caitanya-caritamrita commands similar respect. Those who regularly read and hear these devotional scriptures are glorious.
Holy places associated with Lord Krishna, such as Mathura, are appropriate residences for a practitioner. Among such places, residence in Mathura is the topmost. Residing in Sridhama Navadvipa is as good. It is written in Sri Brahmanda Purana:
sruta smrita kirtita ca vancita prekshita gata
sprishtasrita sevita ca mathurabhishtadayini
"One who hears about, remembers, glorifies, desires to achieve, sees from a distance, comes near, touches, accepts as one's shelter, and serves Mathura achieves fulfillment of all desires."
The devotees of Krishna are also counted among tadiya. It is written in the Adi Purana:
ye me bhakta-janah partha na me bhaktas ca te janah
mad-bhaktanam ca ye bhaktas te me bhakta-tama matah
"Lord Krishna said to Arjuna: Those who are My direct devotees are actually not My devotees, but those who are the devotees of My devotees are factually My devotees."
In regard to serving devotees, Srila Rupa Gosvami has quoted the following verse from the Adi Purana in his Bhakti-rasamrita-sindhu:
yavanti bhagavad bhakter angani kathitaniha
prayastavanti tad bhakta bhakter api budha vidhuh
The purport is that almost all the above mentioned limbs of serving Krishna are accepted in the service of His devotees. The reason for the use of the word "almost" is that the devotees should be worshiped by offering them Krishna-prasada. All other limbs such as offering obeisances remain the same.
The practitioner should hold festivals according to his capacity. Organizing festivals in the association of devotees is a prominent activity. However, one should be careful not to associate with nondevotees in the course of holding such festivals.
There is a need of organizing festivals on the occasion of the Lord's appearance day. One should maintain love and devotion while serving the Deity. Being attached to the impersonal aspect of the Lord, foolish people without proper consideration disrespect the Deity. But if they associate with devotees and properly consider, then they will see the need for serving the Deity.
One should relish devotional scriptures like Srimad Bhagavatam with advanced devotees. If one relishes devotional scriptures with rationalists, people fond of argument, and dry speculators, then one's heart becomes dry and the awakening of transcendental mellows does not take place.
It is necessary to associate with devotees. Jnanis and karmis are not counted amongst devotees due to their illicit desires. A practitioner of devotional service should associate with more advanced persons who are affectionate and on the same path. Otherwise his heart will not take shelter of pure devotional service. In the Hari-bhakti-sudhodaya (8.51) it is written:
yasya yat sangatih pumso manivat syat sa tad gunah
svakularddhyai tato dhiman svayuthany eva samsrayet
"As the qualities of a nearby object are reflected in a crystal, one similarly takes on the qualities of a person with whom he associates. Therefore, in order to increase one's devotional sentiment in his own line, a wise person should take shelter of those who have the same temperament." One should be particularly careful in this regard. Association with sahajiyas and baulas yields unfavorable results. But if one associates with pure Vaishnavas who are followers of Srila Rupa Gosvami, then pure love for Krishna is awakened. Among all limbs of devotional service, association with devotees is one of the main limbs.
Among all the above mentioned limbs of devotional service, the following five principle items are the best of all: worshiping the Deity, relishing the purport of Srimad Bhagavatam with advanced devotees, associating with more advanced devotees who are affectionate and in the same line, congregational chanting of the holy names, and residing in Mathura. If we further summarize, then chanting the holy names and serving the Vaishnavas are the topmost. It is written in the Padma Purana:
yena janma-sahasrani vasudevo nishevitah
tan mukhe hari-namani sada tishthanti bharata
"O descendant of Bharata! One who has worshiped the Deity of the Lord for thousands of lifetimes can always chant the holy name of Hari." Also from the Padma Purana and quoted in the Bhakti-rasamrita-sindhu (1.2.108-109):
nama cintamanih krishnas caitanya-rasa-vigrahah
purnah suddho nitya-mukto 'bhinnatvan nama-naminoh
atah sri-krishna-namadi na bhaved grahyam indriyaih
sevonmukhe hi jihvadau svayam eva sphuraty adah
"The holy name of Krishna is transcendentally blissful. It bestows all spiritual benedictions, for it is Krishna Himself, the reservoir of all pleasure. Krishna's name is complete, and it is the form of all transcendental mellows. It is not a material name under any condition, and it is no less powerful than Krishna Himself. Since Krishna's name is not contaminated by the material qualities, there is no question of its being involved with maya. Krishna's name is always liberated and spiritual; it is never conditioned by the laws of material nature. This is because the name of Krishna and Krishna Himself are identical. Therefore material senses cannot appreciate Krishna's holy name, form, qualities, and pastimes. When a conditioned soul is awakened to Krishna consciousness and renders service by using his tongue to chant the Lord's holy name and taste the remnants of the Lord's food, the tongue is purified, and one gradually comes to understand who Krishna really is." This is the independent mercy of the Absolute Truth.
Sri Mathura-mandala, the holy names of the Lord, devotional scriptures like Srimad Bhagavatam, pure devotees, and Deities-these five items are transcendental. By associating with them, a devotee quickly attains bhava, transcendental emotions, and Krishna.
In the process of sadhana-bhakti, these types of vaidhi-bhakti are explained. Again, raganuga-sadhana-bhakti is very powerful in the process of sadhana. When one practices devotional service by following the footsteps of the residents of Vrindavana, that is called raganuga-bhakti. Persons who are endeavoring for devotional service should follow the activities of the Vrajavasis with their body, mind, and speech. According to his qualification, a practitioner should engage in whatever activities are mentioned in either the process of vaidhi-sadhana-bhakti or raganuga-sadhana-bhakti.
Someone may attain the highest result by practicing one of the limbs, and someone may attain the highest result by practicing several limbs. The unalloyed devotion of those who have exclusively taken shelter of the service of the holy names and the Vaishnavas does not find taste in other limbs. Therefore the practitioner should work in devotion with full surrender, enthusiasm, firm confidence, and patience.