The Paintings of Sita Ram, Part 10
BY: SUN STAFF - 29.5 2023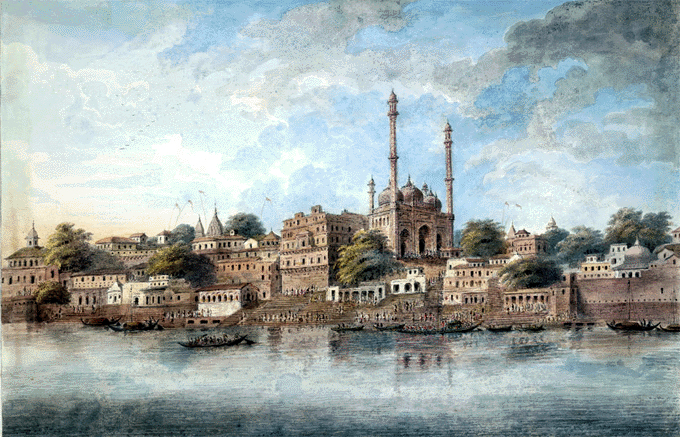 The river frontage at Benares with the Panchganga Ghat in the centre and Aurangzeb's mosque rising above it
Painting by Seeta Ram, c. 1814
British Library Collection
A serial presentation of the extraordinary collection of Sita Ram's early 1800's watercolors depicting Indian temples and landscapes.
In our closing segment, we present the last of Sita Ram's ghat series. Above is a watercolour of Varanasi's Panchaganga Ghat on the Ganges river. As described by British Library staff, " Varanasi (Benares), on the river Ganges, is one of the seven sacred cities of Hindus. The waterfront of the city is lined with over 100 ghats with long flights of stone steps where residents and pilgrims come to perform their ablutions and worship in the temples."
Panchaganga Ghat was originally constructed at the site of the Bindu Madhava Temple, a Vishnu temple that was destroyed by the Muslims and replaced with the Aurangzeb Mosque. The painting depicts the bank of the Ganges bank with Panchaganga Ghat in the centre and the intruding Alamgir mosque rising above it. The Bindu Madhava Temple was erected by the Maratha ruler, Beni Madhur Rao Scindia.
Sita Ram has inscribed the painting: 'Benares - Musgid built by Aurnuzebe and the Minaret belonging to it'. This watercolour is in the folio, 'Views by Seeta Ram from Patna to Benares, Vol. II'.
Panchaganga Ghat is recognized as the meeting point of five rivers: the Ganga, the Yamuna, the Sarasvati (hidden), the Kirana and the Dhutpapa. Bindu Madhava was a huge Vishnu temple, extending all the way from Panchganga to Rama Ghat before it was destroyed by Aurangzeb. Today, the mosque's towers are considerably shorter.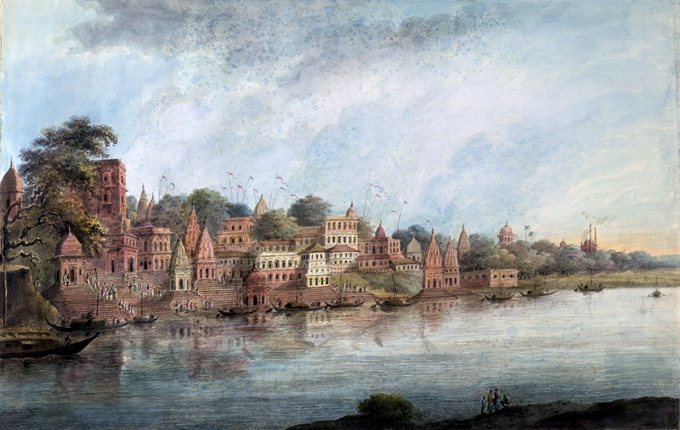 Part of the ghats at Benares with the minarets in the distance
Painting by Seeta Ram, c. 1814
British Library Collection
We close with the last two illustrations, of Varnasi's bathing ghats in this series. Both watercolours are found in the folio, 'Views by Seeta Ram from Benares to Nazibghur, Vol. III'. This series was produced on the Hastings expedition from Calcutta to Delhi, 1814-15.
British Library staff describe this watercolour of Varanasi's ghats along the Ganges as being "An idealised downriver view of the ghats with the minarets in the distance on the right.
Sita Ram's inscription on the piece says: 'View of Benares from the East with Rajeghaut to the left.' However, curators say that Rajghat would have been located on the right or northern end of the Ganges.
The scene below, depicting another stretch of ghats in Varnasi dham, is inscribed: 'Another view of Benares with Munkunca Ghaut to the left and a Mundell dedicated to Mahadeo to the Right.' The British Library suggests that Manikarnika Ghat may be shown in this watercolor,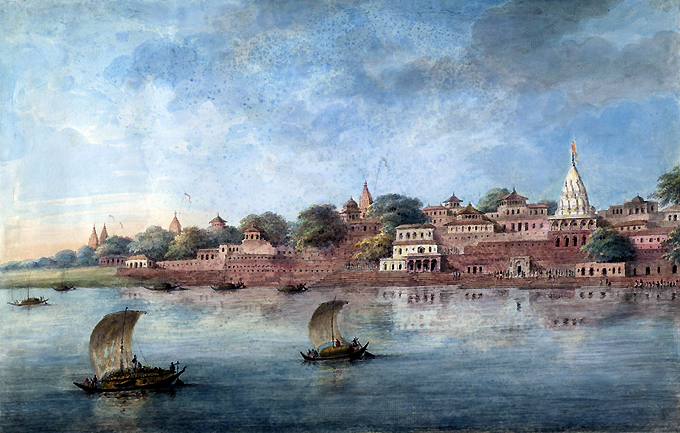 Part of the ghats at Benares
Painting by Seeta Ram, c. 1814
British Library Collection