The Vamana Purana, Part 18
BY: SUN STAFF - 13.11 2023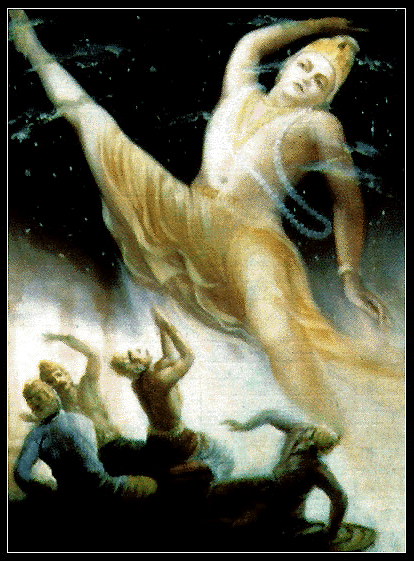 Vamana and Bali

The last in a serial exploration of the Vamana Purana by Srila Vedya-vyasa, excerpted and categorized into various subject areas.

BALI PERFORMS ASHWAMEDHA YAGYA
The Splendours of Bali
Pulastya says- "The just rule of Bali had transformed the Kaliyuga into Satayuga. Even his subjects engaged themselves in virtuous activities like penance and Yagyas. They practised non-violence and always spoke the truth. One day, Goddess Trailokya Lakshmi went to Bali and said- "I have come to bless you because you are a victorious king. You have even defeated Indra and have control over all the three worlds." After saying this, Goddess Lakshmi entered into the body of Bali.
During the reign of Bali, his subjects were happy and prosperous. Nobody experienced the pangs of hunger and everybody's desire was fulfilled. The prominence of virtuosity and religiousness during Bali's rule was incomparable and prosperity prevailed throughout his kingdom."
Bali's Arrival at Kurukshetra
"After the departure of Prahlad on his pilgrimage, Bali desirous of performing a Yagya went to Kurukshetra. Shukracharya had invited the descendants of sage Bhargava to supervise the proceedings of Ashwamedha Yagya but his decision was not approved by the descendants of some other sages like Atri, Gautam, Kaushik and Angira. As a result, all of them left Kurukshetra.
After their departure, Shukracharya started making preparations for the Yagya and initiated both Bali and his wife- Vindhyavali into the rituals. After that, a horse was let loose according to the tradition. The demon Tarkaaksh followed that horse. The Ashwamedha Yagya continued for three months after which, Aditi gave birth to a child who was dwarfish in size at a time when the Sun had juts entered the zodiac of Gemini. All the deities and sages including Lord Brahma were extremely pleased by Lord Vamana's birth. They went to Aditi's hermitage and eulogised Lord Vamana. Lord Vamana became pleased by their eulogy and requested Lord Brahma to help perform his consecrations. On being instructed by Lord Brahma, sage Bharadwaj performed Vamana's Jaat karma and Yagyopavit.
After that, sage Bharadwaj taught him Vedas and other scriptures which was mastered by Vamana in less than one month. After finishing his studies, Lord Vamana sought his Guru's permission to go to Kurukshetra. Sage Bharadwaj expressed his inability by saying- "How can a mortal like me give permission to the supreme lord? If you want to go to Kurukshetra then how can I stop you from going there? I have some queries regarding your various abodes and would you be gracious enough to enlighten me on that?"
Lord Vamana said- "The whole universe including the sky, earth, ocean, mountains, clouds are pervaded by my existence. All the deities, sages, living and non-living things have manifested from me. When I took my first incarnation of Matsya I had my abode in the holy waters of Manas Sarovar. As my second incarnation of tortoise, I had my abode in the holy waters of Kaushiki River. I had my abode at Hastinapur when I took my incarnation as Govind. As Narayan, I had my abode at Badrikashrama, as Jayesh, I had my abode at Bhadrakarna." This way, Lord Vamana described about his different abodes in great detail."
Arrival of Lord Vamana at Kurukshetra
Pulastya says- "After satisfying Bharadwaj's curiosity about his different abodes, Lord Vamana left for Kurukshetra where Bali was busy performing his Yagya. As soon as Lord Vamana reached Kurukshetra, the whole earth started shaking violently and high tides rose in the ocean. Being frightened of Lord Vishnu, Agni did not accept the offerings made by Bali. Bali was very surprised by all these sudden developments. He asked Shukracharya about the reason for all these strange happenings."
Shukracharya replied- "O king of the demons! Definitely, all these strange happenings signifies the arrival of Lord Vasudev." Bali then asked Shukracharya as to what was the most appropriate way of honouring his eminent guest. "What donations should I make to him so that he is pleased and satisfied?" asked Bali. Shukracharya warned him by saying- "Forget about donating anything otherwise you will get into serious trouble." Bali told him that he would not disgrace himself by refusing to meet the demands made by Vasudev.
The way a man behaves in his speech, action and thoughts is the result of his past karmas. Are you not aware of the incident related with Koshkar which happened at Malay Mountain? Koshkar was the son of sage Mudgal. He was famous for his austerities and his wife too was very virtuous. In course of time, a son was born to them but alas he was blind and deaf. Koshkar's wife abandoned that child in front of her house. Incidentally, an ogress named Surpaakshi happened to arrive there and after seeing the abandoned child, exchanged him with her own child. She carried Koshkar's child to Shaalodar Mountain with the intention of devouring him. When her husband came to know about the incident, he reprimanded Surpaakshi for her misdeed. The demon warned the ogress that both of them would be cursed by the Brahmin and advised her to keep the child at the same place from where she had brought him."
In the meantime, Koshkar came out from his hermitage after hearing the cries of Surpaakshi's child. He was surprised to find some other child instead of his own and told his wife- "It seems that this child is under the influence of a ghost." After saying this, he protected the child by demarcating a round circle initiated with mantra around him. Right then, the ogress arrived and after keeping the Brahmin's child on the ground wanted to take back her own child. But she could not enter inside that circle. Koshkar took his child in his lap and went inside the hermitage. This way, the ogress returned to the mountain without her child.
Koshkar brought up both the children with great care. He named the ogress's child as Diwakar while his own son was named Nisachar. As destiny would have liked it, Diwakar turned out to be a very studious child and became well versed in Vedas within a very short time whereas Nisachar was not interested in studies and had a bad habit of criticising everybody. Koshkar became furious and threw Nisachar in a well. There was a Amla tree inside that well and the child survived living on its fruits. This way, ten years passed and one day, Koshkar's wife arrived at the well to fetch water. On seeing his mother, Nisachar tried to convince her that he was her son but she was not convinced. He then accompanied his mother back home and narrated the reason why he had taken birth as a deaf and blind child.
"In my previous birth, I was the son of Vrishakapi and was very famous for my scholarly traits. In due course of time, I became very arrogant and started indulging in all sorts of evil deeds. After my death, I went to Raurav Narak and suffered all the tortures over there. I was reborn as a tiger and after being enslaved by a king, I was kept inside a cage. Once, the king had gone out and the beautiful queen arrived near the cage. I was infatuated by her beauty and expressed my lusty desires to her. She was taken aback by my proposal and said- "How can physical relationship be possible between us?" But I requested her to release me by opening the cage door. The queen opened the door and I became free. I caught hold of her and tried to satiate my lust but right then the guards arrived there and killed me. Once again I went to the hell and after suffering the pains I was reborn as an ass. My master was Agniveshya, a Brahmin.
Once, his wife- Sumati wanted to go to her father's house. Agniveshya advised her to go riding on my back and instructed his servant to escort us. While on our journey, we reached a river and Sumati expressed her desire to take bath. She went to take bath and I waited for her to return. While she was taking her bath, I became infatuated by her beauty and caught hold of her. The servant who was escorting us saw this and became angry. He killed me by hitting with his stick. Once again, I went to hell and was reborn as a parrot. A wicked fowler trapped and sold me to a trader's son. Although I lived a luxurious life, yet I was not happy because of my slavery. Once, his daughter arrived near my cage and playfully kept me on her breasts. I became infatuated and tried to have physical relations with her. But I was suffocated to death after getting entangled in her necklace.
Once again, I went to hell and after suffering the tortures, was reborn as a bull. My master was a Chandaal and I used to pull his cart. Once, his wife was sitting in the cart I was pulling. Unmindful of her surroundings, she was singing songs in a beautiful voice. After listening to her melodious voice, I became infatuated and tried to have physical relations with her. I turned back but the noose around my neck became tight and I was suffocated to death. Once again I went to hell and after suffering the pains, was reborn as a blind and deaf son to you. I remember all my previous lives and I am aware that my physical disabilities are only because of my past sins. I have decided to atone for all my sins by doing penance and indulging in virtuous deeds. After saying this, he went to Badrikashrama to do penance."
After finishing his story, Bali told Shukracharya that a man inherits his qualities from his past life and it is impossible for him to change them. "It is applicable to both good and bad qualities. My penance, virtuosity, benevolence and generosity have been inherited from my past life and come what may, I have decided not to shun them."
Pulastya says- "This way, Bali remained firm in his resolve to meet any demand made by his esteemed guest and started waiting eagerly for his arrival."
Lord Vamana's Demands
"Bali was pleased that he would get an opportunity to see the Almighty God whom the sages contemplate upon. He was proud of his good fortune that the lord was paying him a visit. Shukracharya aware of the reason for Vamana's arrival warned Bali against making any promise to him. Bali replied- "How can I refuse if the Almighty God demands anything from me? I am willing to face any hardship to safeguard my benevolent image. I don't mind if the deities get benefited by my actions. Even if the lord is coming with the intention of killing me, I am not scared as that is how I would attain salvation. Come what may, I am not going to abandon my charitable nature."
As the conversation between Shukracharya and Bali continued, suddenly, Lord Vamana arrived at the site. Vamana's radiance subdued the power of all demons present there. Lord Vamana being impressed by the grandeur of Vamana's Yagya complimented him for organising such a magnificent Yagya. Bali eulogised and worshipped his esteemed guest. He requested Vamana to reveal the reason of his arrival and promised that his wishes would be fulfilled. Lord Vamana smiled and told him that he needed a small piece of land measured by three steps for the performance of Yagya. Bali was surprised by this demand and requested him to ask for more land but Lord Vamana told him that he needed only that much land.
Bali agreed and took a vow to donate a piece of land measured by three steps. Hardly had Bali taken his vow, when suddenly Lord Vamana expanded his size. His first step covered the whole earth. By his two successive steps, he covered the two worlds. This way, Bali was forced to donate all the three worlds according to his vow. Lord Vishnu then made Indra, the king of all the three worlds and sent Bali to the nether world named Sutal. He blessed Bali by saying- "You would enjoy a long life till the end of this present Kalpa. You would hold the post of Indra till the arrival of Saavarni Manavantar. As long as you remain supportive of the Brahmins and the deities, you would enjoy all the pleasures of life. But if you go against their wishes then you would be fastened by Varun's noose." After saying this, Lord Vishnu disappeared."
Lord Brahma Worships Lord Vamana
"Narad asked sage Pulastya as to where did Lord Vamana go after disappearing from the oblation site. Pulastya replied- "Lord Vamana went to Brahma loka mounted on his Garud. On seeing him, Lord Brahma gave a warm reception and after worshipping him asked about the reason for his sudden arrival. Lord Vamana told him that he had sent Bali to Sutal loka for the welfare of the deities and so that they could get their share of the Yagya. Lord Brahma expressed his desire to see the giant form of Vishnu which he had taken while measuring all the three worlds. Lord Vishnu obliged him and showed his giant appearance. Lord Brahma was impressed and eulogised him. He requested Lord Vishnu to remain in Brahma loka in his appearance of Vamana. Lord Vishnu had agreed to do this and remained there."
Bali Lives in Paatal Loka
Pulastya says- "After reaching the nether world, Bali got constructed a beautiful city made of diamonds and other precious stones. Vishwakarma had constructed an enormous sized altar in the central part of the city. The windows of Bali's palace were well decorated with pearls. Bali lived there in luxury and by enjoying all the pleasures of life.
One day, while the demons were engaged in their sensual pleasures, suddenly the fearsome Sudarshan chakra entered Bali's palace and after making the demons bereft of their radiance went back to Lord Vishnu. Bali was very worried and thought that only his grandfather Prahlad could help him out from this situation. On being remembered by Bali, Prahlad appeared before him. Bali requested him to describe the means which would be benedictory to him. Prahlad was pleasantly surprised by his change of heart and said- "At last, you have realised your mistake.
Listen Bali! A man who takes refuge in Lord Vishnu and surrenders himself to his will becomes liberated from all the miseries and sorrows of life. A man who has accepted Lord Vishnu as his master need not fear from anything not even death. All the things which are visible in this universe are the various manifestations of Lord Vishnu himself. A devotee of Lord Vishnu does not have to go to hell and he becomes liberated from the cycles of birth and death." This way, Prahlad described about the greatness of Lord Vishnu and his worship in great detail.
Bali's Queries to Prahlad
"Bali enquired about the virtues which a man attains by the worship of Lord Vishnu. He also asked Prahlad about the worship and its rituals by which Lord Vishnu is pleased. Prahlad says- "Sages believe that the donations which are made with total devotion and in the name of Lord Vishnu exist forever. Lord Vishnu is extremely pleased if Malati, Shataavari, Champa, Juhi and Naagar flowers are offered to him. He is also pleased when the offerings of Bilva patra, Shami patra, Tamaal and Amaali patra are made to him. He is pleased when sesame seeds are donated during the Hindu month of Maagh. A person who gets a Vishnu temple constructed liberates his ancestors from their sins. Bali, you must get the Vishnu temple constructed and worship with complete devotion. You must try to please Lord Vishnu by making donations of cow, jewels, gold and land. If you engage yourself in such virtuous activities then you will certainly attain benediction." After saying this, Prahlad disappeared.
After Prahlad's departure, Bali followed his instructions faithfully and engaged himself in the worship of Lord Vishnu. He instructed Vishwakarma to construct a magnificent temple of Lord Vishnu and started worshipping Lord Vishnu accompanied by his wife. He used to clean the temple premises and offer the articles which were dear to Lord Vishnu. This way, Bali and his wife Vindhyavali engaged themselves in the worship of Lord Vishnu with complete devotion."
Benefits of Studying Vamana Purana
"Study of Vamana Purana helps a man to enhance his knowledge and makes him free from all kinds of worldly attachments. It also increases his love and devotion towards the lotus feet of Lord Vishnu. There are ten characteristics evident in all the Puranas- 1) Sarg. 2) Visarg. 3) Sthaan. 4) Poshan. 5) Uti. 6) Vritti. 7) Raksha. 8) Manvantara. 9) Vansh. 10) Upaashraya.
Sarg deals with the descriptions of the origin of this universe. Visarg enlightens us as to how a living thing transforms itself from one species to another. Sthaan, Poshan, Uti and Vritti deal with the descriptions of various means which are employed by a man for his survival. Raksha describes about the various incarnations of Lord Vishnu which he takes for the protection of the humankind. Manvantara deals with the complete description of the history of the whole Manvantara period. Vansh describe about the lineage of all the kings including Lord Brahma. Upaashraya enlightens us on the real meaning of Brahma.
Pulastya says- "A man who listens to the divine tales of Vamana Purana attains to Vishnu loka after becoming free from all his sins. He attains the same virtues which a performer of Ashwamedha Yagya does. Even listening to one part of Vamana Purana bestows great virtues and equivalent to making pilgrimage of numerous sacred places. Narad, Vamana Purana is the 14th among all the 18 Puranas which describes about the majesty of Lord Vishnu."
Five names of Lord Vishnu has been mentioned in Vamana Purana- Kaaran Vamana, Narayan, Amitvikram, Shaargang chakra and Purushottam. A devotee who chants any of these sacred names of Lord Vishnu and makes salutation either by speech, thought or deed attains to Vishnu loka."
This ends our serial presentation of excerpts from the Sri Vamana Purana.