"Mayapur Clean & Green" Partners with Schools to Plant & Protect Trees in Mayapur
By Kulavati Krishnapriya Devi Dasi - 8.11 2023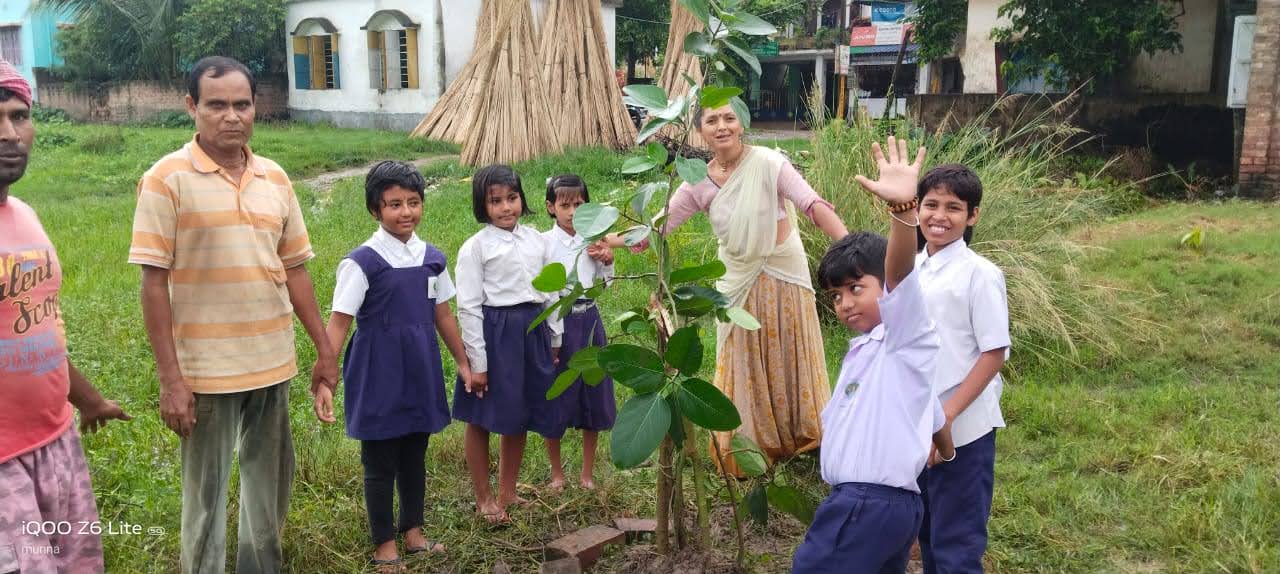 Murari Mohini Devi Dasi (center) with team and participating school children.
"Mayapur Clean & Green" is taking initiatives to plant new trees and protect the ones in the holy Dham. The team, headed by Murari Mohini Devi Dasi, has successfully collaborated with local educational institutions with the requisite space.
Murari said, "We visit and clean the school, give them recycling dustbins, and plant trees. We recently organized a cleaning competition at Sri Mayapur Sishu Niketan School."
The participation of the schools ensures the broader involvement of local people. Since the schools are protected spaces, the trees have a safe place to grow and flourish. Murari said, "We do not want to plant trees where there was a risk they could be cut down to make space for buildings or new or expanding roads."
Murari continued, "We also need people who want to keep these trees in their houses. As we expand, we need native seeds for native trees, protections for new trees that goats or other animals could destroy, and people to help us check on their growth."
A recent Tree Planting activity at a local school.
Clean And Green Mayapur Team making protective boundaries around new trees.
She further explained, "Timing is key. Every year before the rainy season, we need to run campaigns for planting more trees. If they are planted after winter or before summer, then they will receive no water or sun. We want to ensure their survival."
Murari Mohini concluded, "Every day, as Mayapur grows, people are building new construction and cutting more trees. So, we need to take this initiative seriously."
These endeavors by Murari Mohini Devi Dasi and her team are essential to ensure the proliferation and longevity of the newly planted trees. Now that she has begun to establish relationships with the local schools. she has future plans to cover more areas, which includes buying land for afforestation in Mayapur.
If you have questions about the new intiative, would like to contribute or volunteer, you can connect with them via WhatsApp or Telegram message at +919831736326 or by email.