1000s Gathered in Vrindavan for 46th Disappearance Day of Srila Prabhupada
By ISKCON Vrindavan - 20.11 2023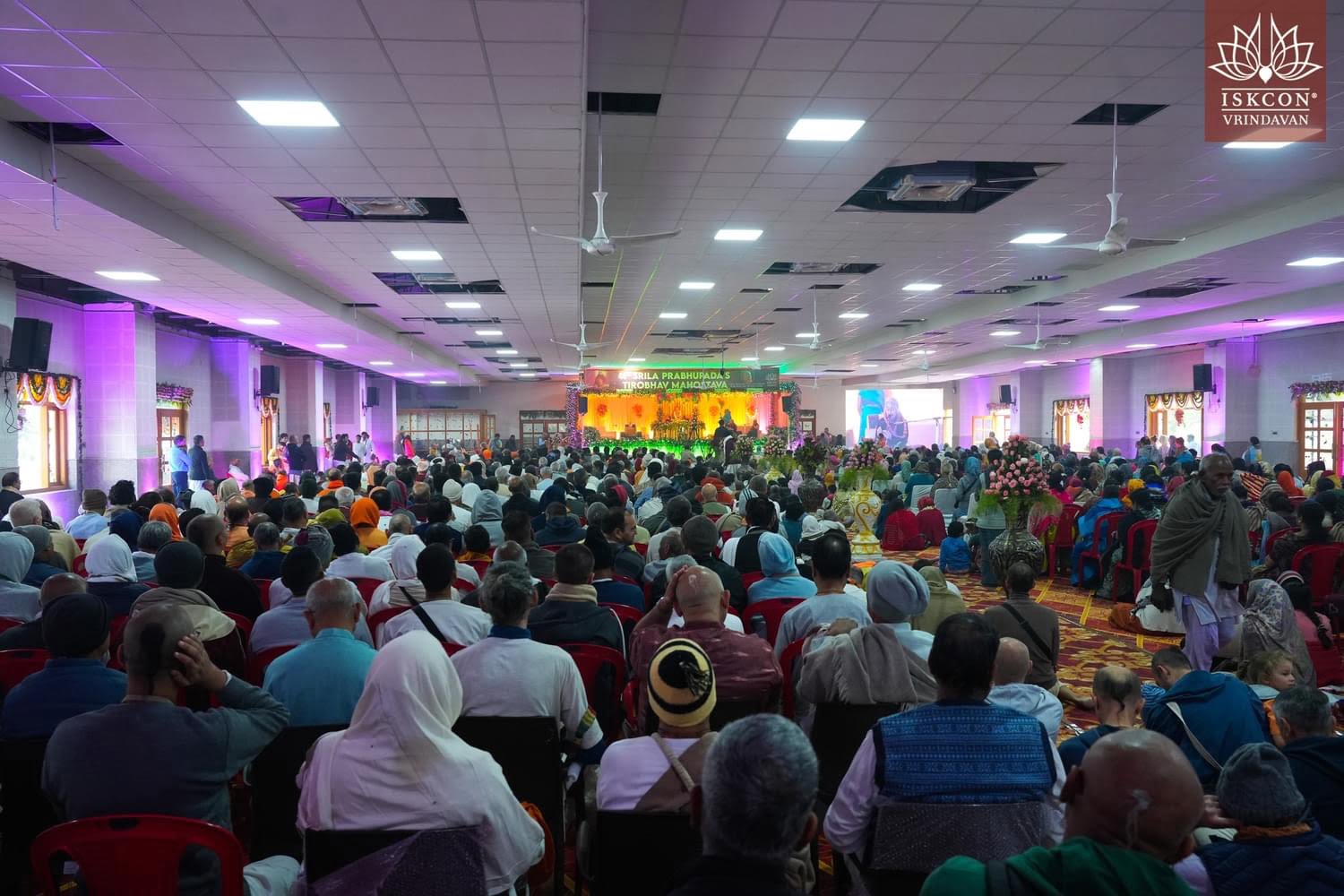 Celebrating the 46th Disappearance Day of Srila Prabhupada was a jubilant and spiritually uplifting affair for thousands of devotees gathered at the revered samadhi in remembrance of the remarkable life and teachings of the founder Acharya of the International Society for Krishna Consciousness (ISKCON).
The day commenced with a soul-stirring Samadhi Arati, an offering of lamps, and prayers at Srila Prabhupada's resting place, setting the tone for a day of devotion and reflection. Mangala Arati and Japa meditation followed, allowing devotees to immerse themselves in the early morning spiritual practices that Srila Prabhupada so ardently advocated.
The program unfolded with moments of darshan arati, providing devotees the opportunity for a divine audience with Srila Prabhupada, seeking his blessings and guidance. The atmosphere reverberated with the chanting of holy name as devotees carried Srila Prabhupada on a palanquin to the goshala, where a special program was arranged in the newly inaugurated Krishna Balaram Hall.
Photos courtesy of ISKCON Vrindavan.
In the hall, the morning continued with Guru Puja, honouring Srila Prabhupada, followed by a poignant lecture on transcending fear at the time of death—a subject close to the heart of the spiritual leader. His teachings echoed timeless wisdom, guiding devotees on their spiritual journey.
The disciples of Srila Prabhupada adorned the occasion with heartfelt offerings, glorifying their beloved spiritual master through devotional offerings and expressions of gratitude. The atmosphere was charged with devotion and reverence, a fitting tribute to a luminary whose teachings continue to inspire millions worldwide.
The noon brought the sacred ceremony of Prabhupada Abhishek in the goshala and another Guru Puja at the Samadhi Mandir, where devotees gathered in unity to honor Srila Prabhupada's legacy and teachings. Prasadam, sanctified food offered with love and devotion, was distributed to over 17,000 devotees, nourishing both body and soul, symbolising the spiritual abundance bestowed by Srila Prabhupada's grace. As dusk approached, Srila Prabhupada's house was opened for devotees, who worked tirelessly to adorn it with fragrant flowers and meticulously arranged his bed, displaying their love and devotion.
The day culminated in an evening Arati at 7:25 pm, where devotees encircled Srila Prabhupada's bed, symbolising their unwavering commitment and gratitude towards their spiritual guide.The 46th Disappearance Day of Srila Prabhupada was not just an event; it was a profound spiritual journey that reinforced the teachings, love, and influence of a spiritual luminary whose legacy continues to illuminate countless lives around the world.
To see over 230 photos from the event, and follow the ongoing events and service at ISKCON Vrindavan, like and follow their Facebook page.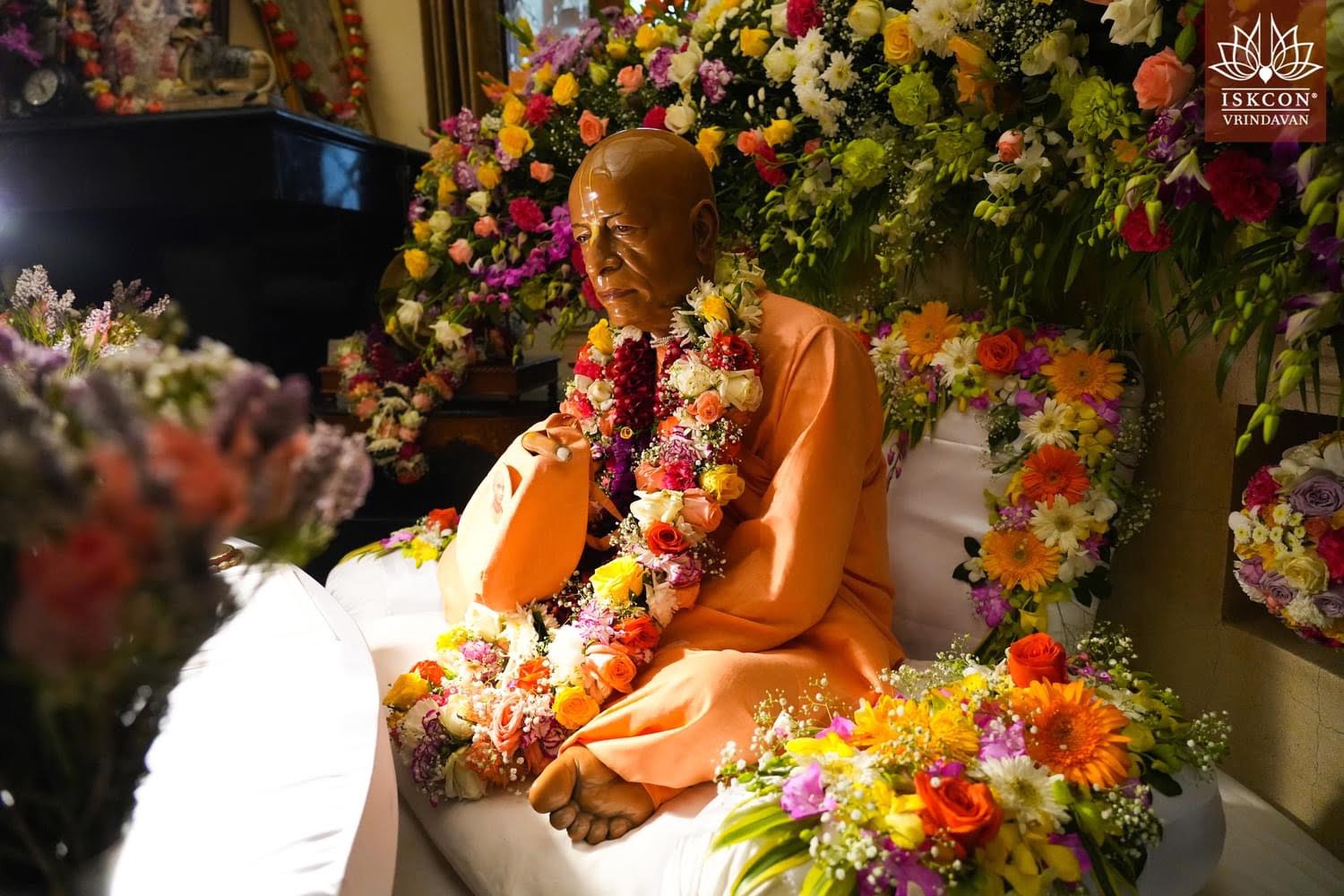 .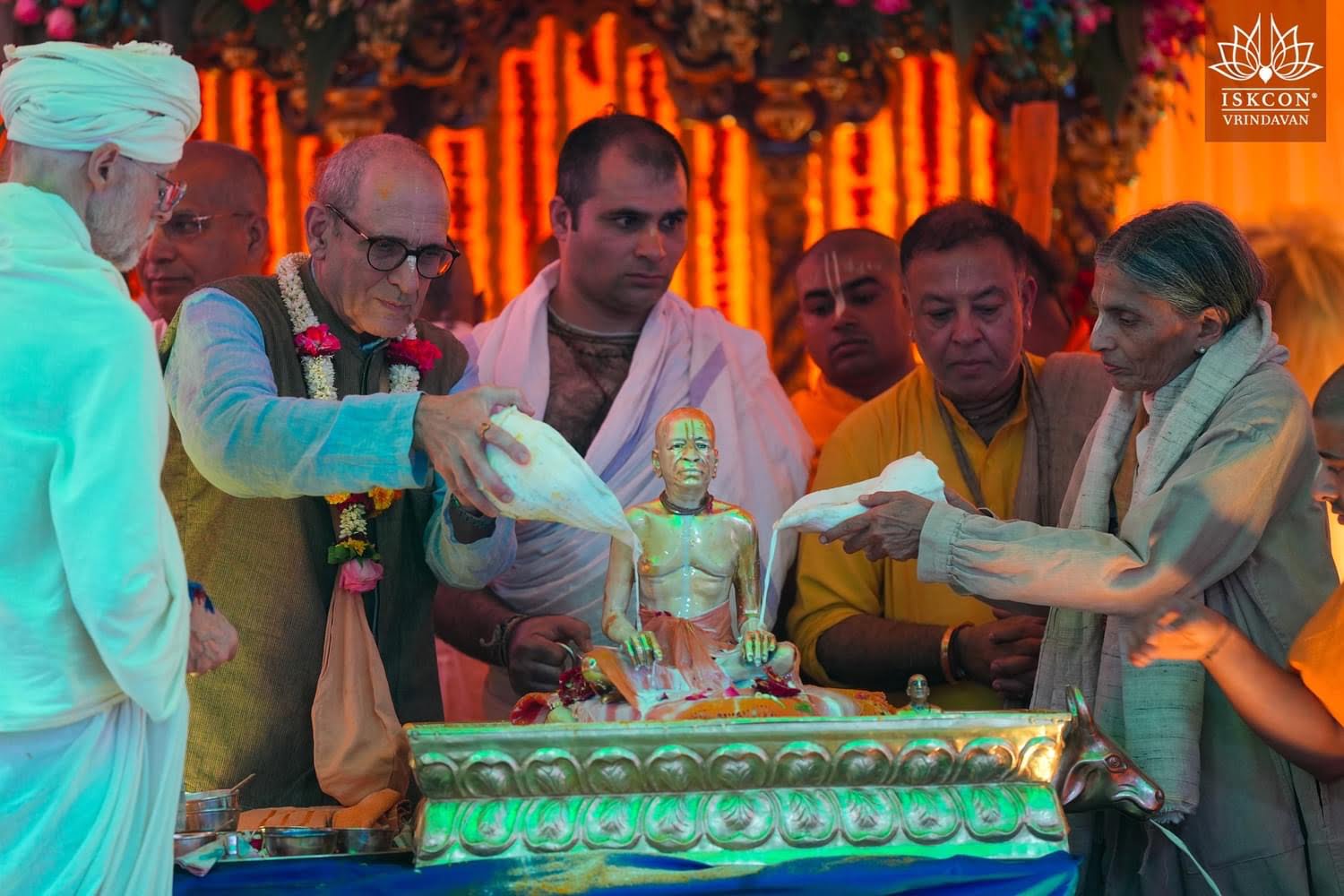 .