Caitanya Mahaprabhu's Tirtha-yatra, Part 53
BY: SUN STAFF - 2.11 2021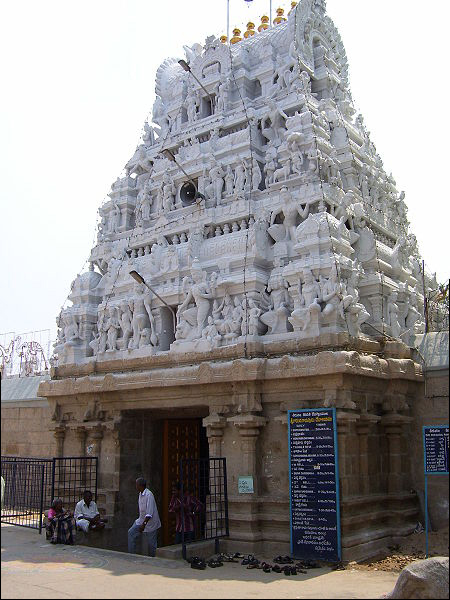 Kodanda Rama Swami Temple, Tirupati
A serial exploration of the holy sites visited by Lord Caitanya.
Tirupati and Tirumala, Part 2
In yesterday's segment we visited the four-armed form of the Lord, Sri Venkatesvara, Who was the first Deity visited by Lord Caitanya Mahaprabhu at Tirupati-tirtha. As we read in the following excerpt from Srila Prabhupada's purport on Caitanya-caritamrta Madhya lila 9.64, Lord Caitanya next visited Lord Ramacandra, at a temple near the Venkatesvara Temple:
Madhya 9.64
PURPORT
"This Venkatesvara Deity is in the form of Lord Visnu, and the place where He is situated is known as Venkata-ksetra. There are many temples in southern India, but this Balaji temple is especially opulent. A great fair is held there in the month of Asvina (September-October). There is a railway station called Tirupati on the southern railway. Nimna-tirupati is located in the valley of Venkata Hill. There are several temples there also, among which are those of Govindaraja and Lord Ramacandra.
Madhya 9.65
tripati asiya kaila sri-rama darasana
raghunatha-age kaila pranama stavana
After arriving at Tirupati, Lord Sri Caitanya Mahaprabhu visited the temple of Lord Ramacandra. He offered His prayers and obeisances before Ramacandra, the descendant of King Raghu."
The Govindaraja Temple mentioned in Madhya 9.64, adjacent to the expansive Tirpuati complex in Tirumala, has two main shrines. Sri Govindaraja, who is Lord Vishnu reclining on Ananta, resides in the northern shrine. He is Lord Venkateswarar's brother.
The other main shrine in Govindaraja Temple houses Sri Parthasarathi (Krishna as Arjuna's charioteer), along with Rukmini and Satyabhama. Sections of the sanctum sanctorum date back to the 9th-10th Centuries. In the original temple, Sri Parthasarathi was installed on the main altar. Around 1130 A.D., Sri Ramanuja installed Sri Govindaraja in the sanctum.
Nearby, to the left of the main gopuram entrance of Govindaraja, is the temple of Laksmi Devi. There are various other shrines in this part of the complex, including the shrine of Kurma Avatar, which has an imposing seven-storey gopuram that was built in 1628 A.D. There are many sculptures here depicting Krsna lila and Ramayana pastimes.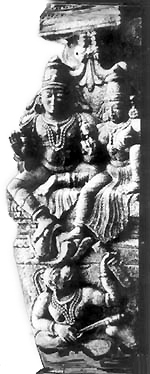 Kodanda Rama Swami Temple sculptures
Kothanda Rama Swami Temple
In Madhya Lila 9.65 we read that after visiting Sri Venkateshwara, Lord Caitanya went to the temple of Lord Ramacandra, where He offered prayers and obeisances to Ramacandra, the descendant of King Raghu. The temple referred to as the abode of Lord Ramacandra is today known as the Kodhanda (Kothanda) Rama Swami Temple. Located about two kilometers from Sri Govindaraja Temple, Sri Kodandaramaswami Temple is situated in the heart of Tirupati City.
Kodhanda Rama Swamy Temple is home to Lord Rama, Sita and Laksman, and Anjaneya Swamy (Sri Hanuman), who sits near the foot of Lord Rama. There is another temple dedicated to Anjaneya opposite the Kodandaramaswami Temple. According to the Varaha Purana, Sri Rama, Laksman and Sita camped here at Tirupati while returning from Lanka.
There are nearly twenty inscriptions relating to Kodhanda Rama Swami Temple found inscribed on the walls of the Govindaraja and Sri Venkateswara Temples. The earliest inscription is dated in 1402 A.D., the reign of the Vijayanagara King Saluva Narasimha. Inscriptions record the construction of the temple and installation of the deity of Raghunatha (Sri Rama or Kodandarama) by Sathakopadasar Narasimharaya Mudaliar, on behalf of the King.
Kodhanda Rama Swami Temple itself contains only one epigraph, dated 1530 A.D., not long after Lord Caitanya's visit there. This period was during the reign of the Vijayanagara King Achyutaraya, and mentions construction of a wooden chariot for Lord Raghunatha by Kumara Ramanujayyangar, on behalf of the King.
Kodhanda Rama Swami Temple rises from the center of a rectangular courtyard, and the compound is surrounded by a wall. The temple faces west, with only one gopuram entrance in the west.
There is a large pillared mahamandapa, the pillars being finely carved with images of Vishnu, Krsna, Venugopala, Nrsimha, Laksmi, and Parasurama. A mukhamandapa with four pillars is nearby, and these pillars are also carved with images of Laksmi-narayana, Vishnu, Yoga-nrsimha and Govardhana-giridhari.
On the western side of the mahamandapa is a Garuda shrine which houses a two-armed standing Garuda, his hands in anjali pose.
The Vimana above the garbha griha (sanctum sanctorum) is of dvitala type, and the Deities installed there are stone images of Sri Rama with Sita to His right and Laksman to His left side. There is also a set of utsava (processional) Deities of Sita-Rama-Laksmana and Sri Krsna housed in the sanctum.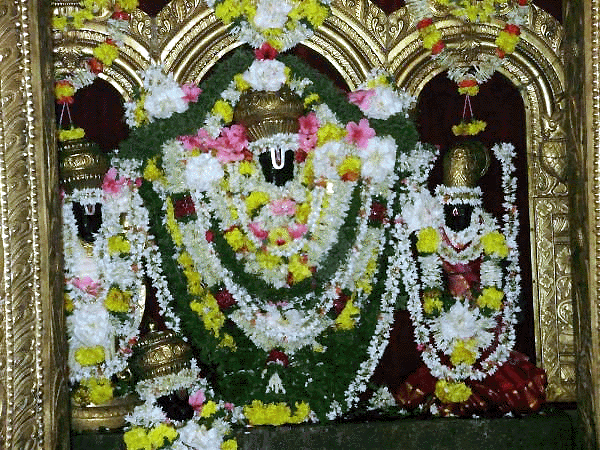 Sri Kodanda Rama Swami
The presiding Deities are guarded by two dvarapalakas, who stand at the outer sanctum entrance. Sri Rama stands in dvibhanga pose, holding an arrow in His right hand and a bow in His left hand. He wears karanda-makuta, yajnopavita, keyuras, graiveyakas, girdle with simhamukha buckle, purnoruka and manjiras.
Standing in dvibhanga pose to the right of Rama, Sita Devi is holding a nilotpala flower in her left hand. She wears karandamakuta and various ornaments. The image of Laksman is similar in every respect to that of Sri Rama, and all iconography is according to the agamas.
In 2009 Kodhanda Rama Swamy Temple was in the news when one of the Tirupati Tirumala Devasthanam (TTD) priests stole some of the Deity jewelry, a gold and diamond necklace, and mortgaged it at a local pawn shop to cover the personal debts of his family. He was apprehended, but apparently the Lord's jewelry was not immediately recovered.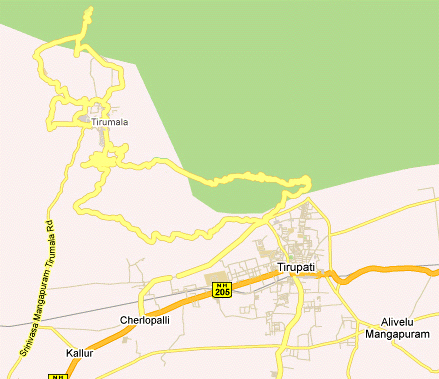 Tirupati City (Kodanda Rama Swami Temple) and Tirumala (Venkatesvara Temple)