Himavad Gopalaswamy Betta
BY: SUN STAFF - 13.3 2020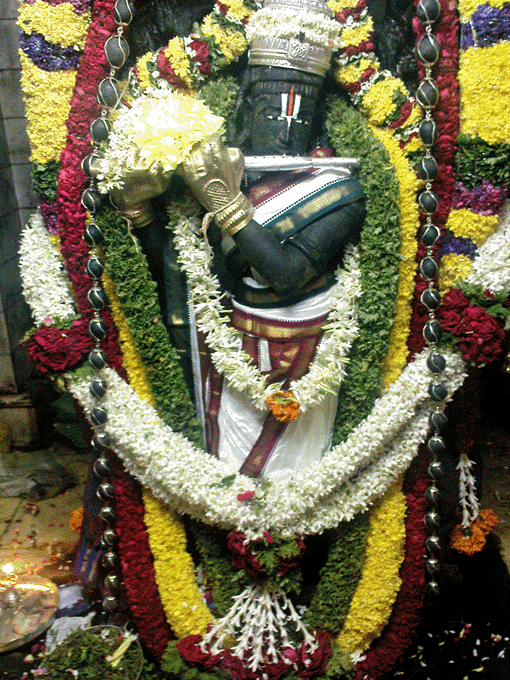 Lord Gopalaswamy

Himavad Gopalaswamy Betta is a remote temple dedicated to Sri Gopala, located in the Chamarajanagar district of Karnataka state. In Kannada, betta means 'hill', and this Gopalaswamy temple is perched atop a windy hill on the highest peak in Bandipur National Park, 1,450 m. above sea level. The temple is about 220 km from Bangalore and 75 km from Mysore.
Bandipur Park is one of the most densely wooded regions in this part of Karnataka. Making a pilgrimage to the temple requires a long drive on poor but passable roads, up into the windy, often foggy and always chilly environs of Himavad betta. (The Kannada term himvad refers to fog.)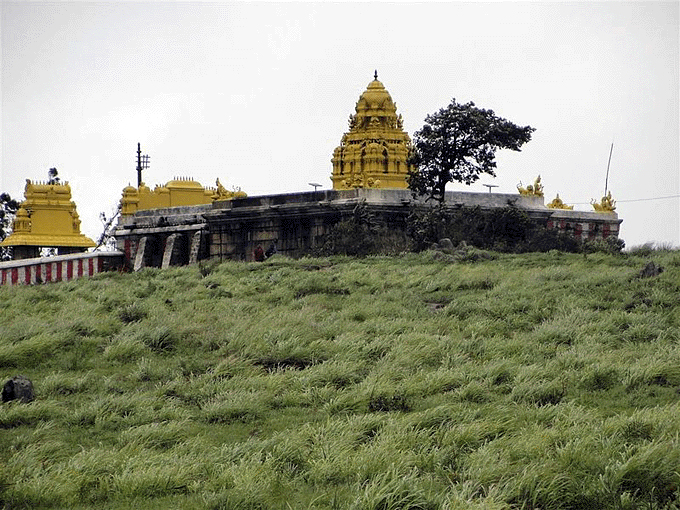 Himavad Gopalaswamy Temple
The presiding Deity here is Sri Venugopal, also known as Lord Gopalaswamy -- Sri Krishna in His pastimes as a cowherd, playing His flute. Sri Gopalaswamy's abode was built by the Hoysala King Ballala in 1315 A.D. Year later, the Wodeyar dynasty of Mysore, ruled by ardent devotees of Lord Venugopala, displayed a keen interest in maintaining the hill temple, which remains in good condition to this day, offering a program of worship to Sri Gopalaswamy.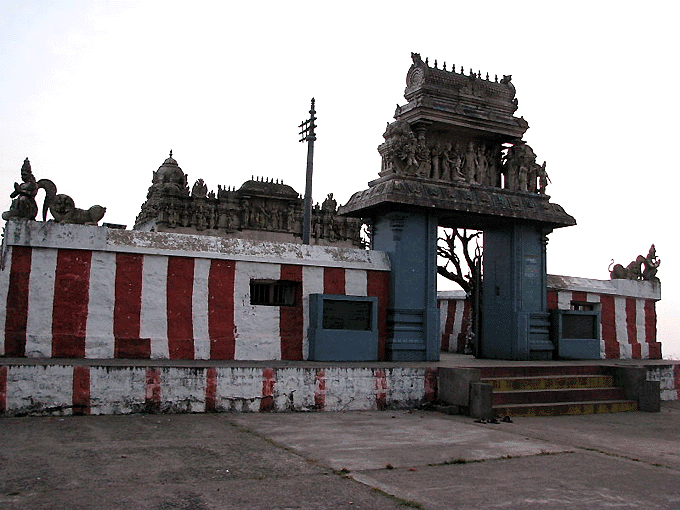 Gopalaswamy Temple Hill
The gopuram of the temple is single-tiered and rests on the compound wall of the enclosure. A dhwaja-stambha (flag-pillar) and bali-peetam (altar) are found in the mukha mantapa (inner-porch). The parapet wall of the façade of the mukha mantapa is sculpted with images of the Dasavatara, and at the centre of the panel is Sri Krishna.
There is a shikhara tower over the garbha griha (sanctum sanctorum) where Sri Gopalaswamy resides, playing His flute under a tree. On either side of the Lord are His consorts, Rukmini and Satyabhama. Cows and gopa friends are also depicted on the right side of the panel. Lord Gopala is standing in dance posture, with His left big toe resting on the right one.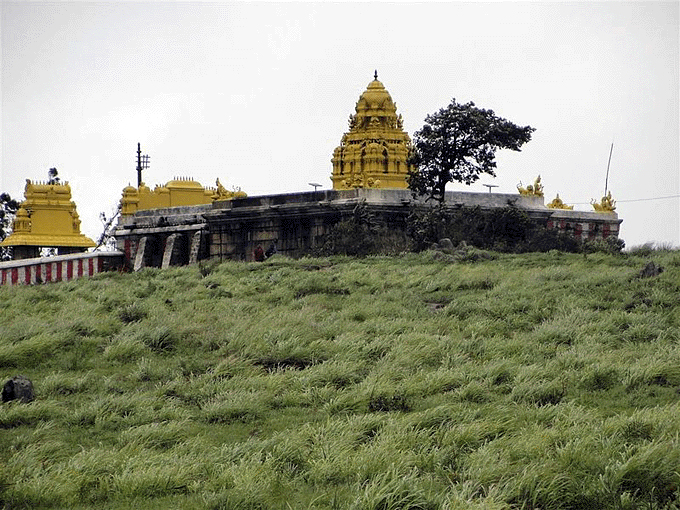 Front View of the Temple
The great sage Agastya performed intense penance at this place, for which Lord Vishnu blessed the tirtha, promising to reside here. As a holy place of worship and penance, it used to be known as 'Hamsatheertha' -- 'the lake of swans'.
Given that Bandipur National Park is a protected wildlife area, the forests and hills around Himavad Gopalaswamy Betta are frequented by grazing wild elephants, tigers, leopards, and herbivores such as Indian Gaur, Chittal, Sambar, etc. For that reason, visitor activities are strictly regulated on temple grounds.
Himavad Gopalaswamy Betta is well known for its picturesque views of the surrounding hills and valleys, and pilgrims brave the steady wind and chill weather to take darshan of the Lord and His environs in this most beautiful place.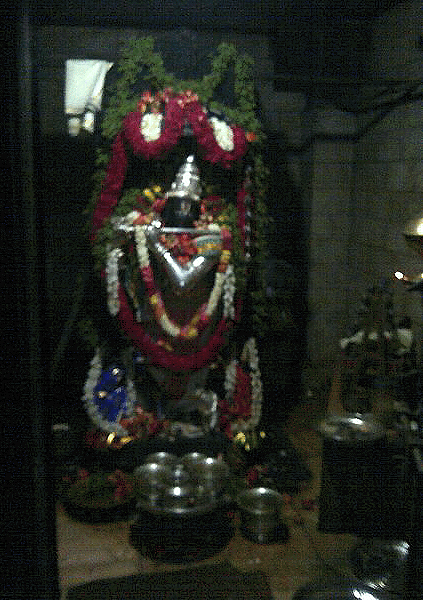 Lord Gopala Swamy