India's Juggernauts
BY: SUN STAFF - 10.6 2019
Sri Ranganatha Chariot Festival
Tiruchirapalli, c. 1820
A three-part series on India's temple-car 'juggernauts'.
Thanks to the International Society for Krishna Consciousness established by HDG A.C. Bhaktivedanta Swami Prabhupada, the glories of Lord Jagannath's Ratha Yatra have become famous around the world, and ISKCON's Puri-style ratha carts are now a familiar sight to millions. In India, however, one finds a vast array of different styles, sizes and shapes of ratha carts, also known as temple-cars or "juggernauts", as in Jagannath Puri. These may be three story high non-moving stone edifices, or simple wood carts carried about on the heads of devotees.
While Lord Jagannath's temple cars are built anew each year, many carts have been in the service of transporting deities for hundreds of years. Stone cars like those at the 13th century Temple of the Sun at Konarak have wheels that move, being suspended above ground. These stone chariots are meant to be permanent abodes for various deities and murtis on temple grounds. The Konarak chariot is representative of Lord Surya, the Sun God's vehicle, which travels the sky drawn by seven horses. In fact, all Vedic temples are representative of vimanas (celestial vehicles), flying the transcendental personalities through space.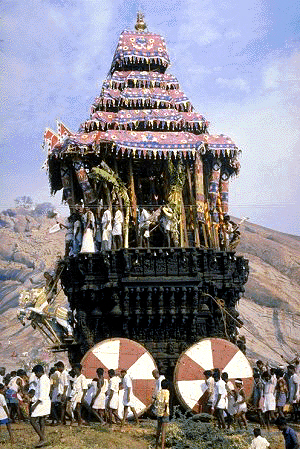 Tiruparankundram Temple-car
Temple cars that are movable are typically used on festival days to transport the deities out into the community, where the devotees can have darshan. As in Puri, the devotees often pull the carts along on ropes, although some now travel on motorized conveyances. Outside of Jagannath Puri, one of the largest annual car festivals is at Thiruvarur, in Tamil Nadu, where the deities have well over 900 different wooden cars.
In India, there are a number of scholars who have become expert in the study of ratha cars. One of these, Professor Raju Kalidoss, has written a book entitled "Wooden Carvings on Chariots", in which he provides a detailed study of the iconography, structural and statistical features of temple cars. Referring to the hundreds of cars in Tamil Nadu alone, he explains that each car has no less than 250 sculptural images on them, being valued artistic treasures of the temples and deities who own them.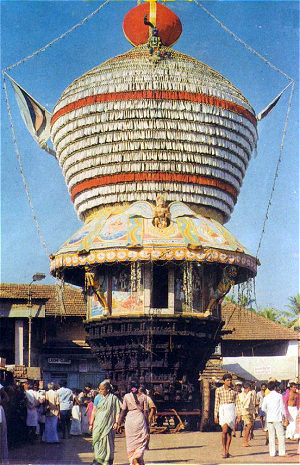 Udupi Brahma Ratha
In Udupi, Lord Krishna has five temple cars, namely Brahma ratha (biggest), Madya ratha (medium), kinyo (small), and silver and gold rathas. Some of the other cities famous for their temple cars are Chennimalai, Colombo (Sri Lanka), Kanchipuram, Chennai, Bhubaneswar, and Tiruchirapalli. Golden temple cars are found in Coimbatore, Madurai, Palani, Raththinagiri, Swamimalai, and Trichy, among many others.
In the Bay of Bengal we find the 8th century artifacts of Mahabalipuram and Kanchipuram, where the Pallavas created amazingly detailed structures in the rock. The rock-cut shrines at Mahabalipuram consist of ten mandapas or excavated halls, with seven monolithic rathas, so-called because they resemble the big chariots which take the deities on procession.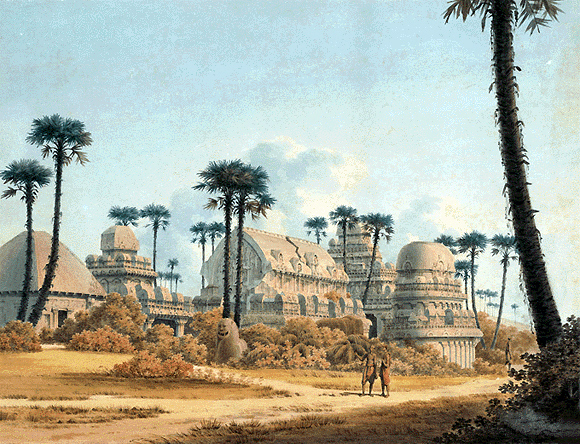 Pancha Rathas at Mahabalipuram
Manipur style, c. 1870
Nearby are found the Pancha Rathas, named after the five Pandava brother, which stand clustered together about 1km south of the main village. These monolithic temple cars are some of the earliest examples of design styles and architectural features that later became popular in southern temples. Elsewhere in Bengal are found rathas known as Bhima, Ganesh and Sahadeva. Some are styled after the Buddhist Chaitya halls, being two or three storeys high with a barrel roof and Caitya gables.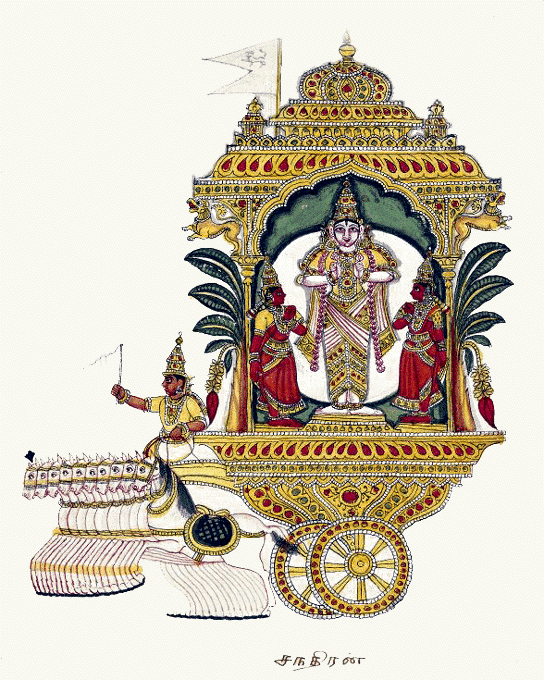 Candra's Ratha
Thanjavur, c. 1814
Parasurama, who founded the place now know as Kerala, is said to have established 108 Durga temples, 108 Siva temples, numerous Sastha temples, Sakthi Kendras, and 108 Kalaris, where traditional martial arts are practiced in front of the deity. He also established five Ambalayas. Of these, Jagadambika of Chettikulangara, dedicated to the Goddess of Oodanadu, is among the five Ambalayams. The temple here is thought to date back 1200 years. On festival days, a whole array of ratha cars are processed out from the temple grounds. Like so many temple cars around India, these cars bear a striking resemblance to Jagannath Puri's chariots, although they're much taller and narrower.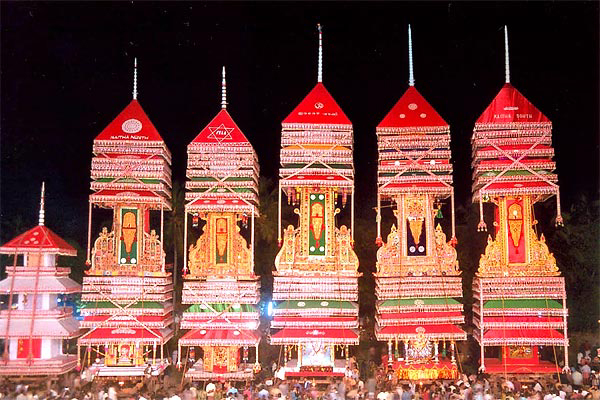 Chettikulangara Temple Ratha Carts
Above and in the segments to follow, we find a great variation of ratha cart styles, many of which are reminiscent of the Puri chariot style. Tomorrow, a look at how some temples are dealing with the preservation of wooden chariots, and the stone juggernauts that have survived the ages.