Mahamantra in Maharashtra
BY: SUN STAFF - 21.10 2019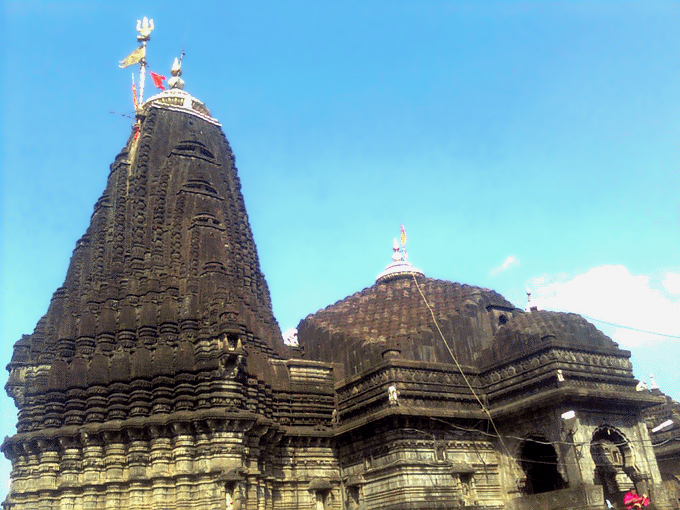 Triyambakeshwar Temple
A devotee travelogue on the sacred sights of Nasik, Maharashtra, by Premanjana das.
Since my childhood, I was told the glories of Nasik and Triyambakeshwar (one of the 12 jyotirlingas) by my mother several times. I had a desire to visit Nasik because of this. Nasik is a very old city and finds its mention in the Ramayana. It is located in Maharashtra, a province/state in India. Nasik is at about 180 kms from Mumbai and Pune. I started from Mumbai by a bus straight away from my office and reached Nasik by 2:30 AM. I took a lodge for Rs. 600 per day, taking rest I headed for Triyambakeshwar the next day.
Jyotirlingas: As per Shiva Mahapuran, once Brahma (the Demi-god of creation) and Vishnu (the maintainer) had an argument in terms of supremacy of creation. To test them, Shiva pierced the three worlds as a huge endless pillar of light, the jyotirlinga. Vishnu and Brahma split their ways downwards and upwards respectively to find the end of the light in either direction. Brahma lied that he found out the end, while Vishnu conceded his defeat. Shiva appeared as a second pillar of light and cursed Brahma that he would have no place in ceremonies, while Vishnu would be worshipped till the end of eternity.
The jyotirlinga is the supreme partless reality, out of which Shiva partly appears. The jyotirlinga shrines thus are places where Shiva appeared as a fiery column of light. Originally there were believed to be 64 jyotirlingas, while 12 of them are considered to be very auspicious and holy. Each of the twelve jyotirlinga sites take the name of the presiding Deity -- each considered a different manifestation of Shiva. At all these sites, the primary image is lingam representing the beginningless and endless stambha pillar, symbolising the infinite nature of Shiva.
Triyambakeshwar is one of the 12 jyotirlingas and is at a distance of just 28 kms from Nasik. On my way to this place I had darshan on Anjeneri Mountain, which is the appearance place of Lord Hanuman. On the top of the hill there is one temple of Anjani mata and at the bottom is the temple of Lord Hanuman. I reached Triyambakeshwar and had one kg. of grapes; this city of Nasik is very famous for its grapes and black currants. Grape products are even exported from Nasik.
Triyambakeshwar is a very old temple. There is ample space in temple premises for devotees, but there were very few people in the temple when I was there; so I had nice and wonderful darshan of this linga of Lord Shiva. The security guards at the temple were just pushing people off so that everybody gets a chance to have darshan of the Lord, but I stood there for 10 minutes or maybe even more, as I gave Rs. 10 to 2 security guards who were standing there.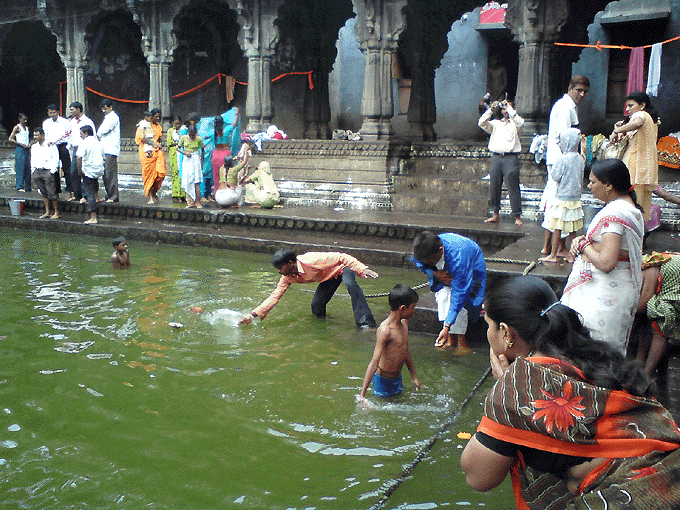 Kushavarta Tirtha
Then I moved to Kushavarta Tirtha, which was hardly 800 meters from this temple. There is one holy kunda (small pond) here with small temples all around; this is the place where the Kumbha mela for Shaivites is held once every 12 years. Once there was a fight between Vaishnavas and Shaivites in the Kumbha mela; so Vaishnavas or worshipers of Lord Ramchandra take their dip in the Kumbha mela at the Godavari sangam in Nasik, and the Shaivites have their holy dip at Kusha Varta Tirtha. I sprinkled 'holy water' three times on my head and took a bus back to Nasik.
It's hard to find anything without onion and garlic anywhere in India, even at holy places, but I could manage to get a Gujrati thali, fruits, milk products, etc. wherever I go. I did the 'Facebook trick' in the afternoon, I have about 4,000 friends in my list on Facebook, so I just explored to see who among them were from Nasik, and found 5 of them were from Nasik. I contacted Eknath Prabhu, as He gave his number on Facebook, though He was unknown to me. Yes, He arranged for my stay and prasadam for three days, and I got the address of the ISKCON temple at Nasik from my friend who had just been to Nasik with a devotee group. I am giving it here for devotees who would visit Nasik:
ISKCON Nasik
Shri Shri Radha Madan Gopal Mandir
Vrindavan Colony, Gen. Vaidya Nagar,
Behind Poornima Bus stop, Nasik- 422011
Maharashtra
www.NashikISKCON.com
Phone: 0253- 6450005
Email: iskcon.nasik@gmail.com
About Triyambakeshwar: Triyambakeshwar is a religious centre having one of the twelve Jyotirlingas. The extraordinary feature of the Jyotirlinga located here is its three faces embodying Lord Brahma, Lord Vishnu and Lord Rudra. Due to excessive use of water, the linga has started to erode. It is said that this erosion symbolizes the eroding nature of human society. The Lingas are covered by a jeweled crown which is placed over the Golden Mask of Trideva (Brahma, Vishnu and Mahesha). The crown is said to be from the age of the Pandavas and is bedecked with diamonds, emeralds, and many other precious stones. The crown is displayed every Monday from 4-5 pm (Shiva).
All other Jyotirlingas have Shiva as the main deity. The entire black stone temple is known for its appealing architecture and sculpture and is at the foothills of a mountain called Brahmagiri. Three sources of the Godavari originate from the Brahmagiri mountain.
I attended evening Gaura aarti, honoured prasadam and went on to get my luggage back from the lodge. I also bought Gopika soap from the temple. This is a panchgavya ayurvedic soap made from panchgavya ghrith of the indigenous Gir cow. This soap is made, promoted and advertised single-handedly by my friend, Ghanshyam das Prabhu from Jasdan, Gujarat, who runs a Goshala there. Ghanshyam Prabhu named this soap after his daughter Gopika. Also, my kanthi mala broke in Mumbai, and I thought I would get a new one at Nasik. I got one almost resembling the one which broke at the same gift shop. I stayed near ISKCON at apartments with two 'brahmacharis'.

(To be continued…)