Middle Kingdoms of India, Part 29
BY: SUN STAFF - 3.3 2021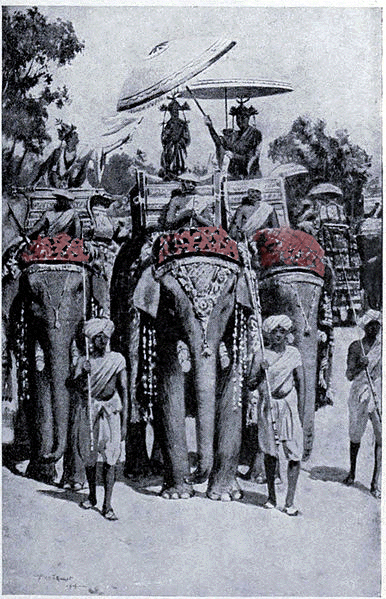 A serial presentation of India's great history, religious movements and temple architecture.
The Harsha Vardhana
'Harshavardhana's father, Prabhakarvardhana, was from Thanesar. His brother followed Hinayana Buddhism while, according to Bana, Harsha himself was a Mahayana Buddhist. Harsha was a tolerant ruler and supported all Indic faiths – Buddhism, Vedism and Jainism. Early in his life, he seems to have been a follower of Sun Worship, becoming a patron of Shaivism and Buddhism later on.
His sister Rajyashri's conversion to Buddhism presumably had a positive effect on his support for the religion. His approach to religion is evident in his celebrated play, Nagananda. The play's theme is based on the Jataka tale of the Bodhisattva Jimutavahana, but Harsha introduces the Goddess Gauri, Shiva's consort, as the saviour of Jimutavahana, a feature not found in the Jataka.
According to the Chinese Pilgrim Xuanzang, who visited his kingdom in 636 A.D., Harsha built numerous stupas in the name of Buddha. Xuanzang entered a grand competition organised by Harsha and won the theological debate. Harsha also became a patron of art and literature. He made numerous endowments to the University at Nalanda. Two seals of Harsha have been found in Nalanda in the course of the excavations there. All these favours and donations of the great emperor were crowned by the construction of a lofty wall enclosing all the buildings of the university, to defend the institution from any other possible attack.
In 643, King Harsha held a Buddhist convocation at Kannauj, which was reputedly attended by 20 kings and thousands of pilgrims.
In 641, following Xuanzang's visit, Harsha sent a mission to China, establishing the first recorded diplomatic relations between China and India. The Chinese responded by sending an embassy consisting of Li Yibiao and Wang Xuance to India. They probably travelled through Tibet. Their journey is commemorated in inscriptions at Rajagriha (modern Rajgir) and Bodhgaya.
Harsha was a noted author on his own merit. He wrote three Sanskrit plays – Nagananda, Ratnavali and Priyadarsika. His reign is comparatively well documented, thanks to his court poet Bana and the Harschacharita biography, and by the writings of Xuanzang in Si-Yu-Ki. Xuanzang wrote a full description of his travels in India, mentioning Harsha.
Harsha's participation in the cultured life of his court was more direct than that of most kings, and it is in his personal contribution to Sanskrit literature that he clearly overshadows them. In addition to his three plays, he is credited with writing two significant poems on Buddhist themes – the Ashtamahasricaitya-stotra (Praise to Eight Grand Caityas) and Suprabhata-stotra (Laud to Morning), along with a tract on grammatical gender, the Linganusasanam. Harsha's authorship has been disputed on several occasions, but no decisive contrary arguments have been proposed.
The Priyadarsika appears to be the earliest of Harsha's plays. It and the Ratnavali deal with the adventures of the King Vatsa, his queen Vasavadatta. Both plays borrow from the earlier works of Bhasa and Kalidasa (especially the latter's Malavikagnimitra) and are based ultimately on material in the collection, Brhat-katha.
Harsha's Nagananda is his most important play. It is, in fact, a singular creation in Sanskrit drama. This five-act drama draws again on the Brhat-katha for the substance of its first three acts. In them, the hero, Jimutavahana, Prince of the Vidyadharas, meets and marries the Siddha princess, Malayavati. In the fourth act, Jimutavahana discovers mounds of skeletons, which evidence the daily sacrifice of serpents to the celestial bird Garuda. The hero resolves to offer his own body so that the serpents may be spared (a familiar theme in Buddhist literature). At the drama's conclusion it is the non-Buddhist goddess Gauri, however, who restores the bodhisattva, Jimutavahana, to life. In this drama, Harsha combined Buddhist and Vaisnava themes adroitly and uniquely.
End of Harshavardhana's Reign
Harsha died in 647 A.D., having ruled for 41 years. His empire died with him, disintegrating rapidly into small states. The succeeding period is very obscure and badly documented, but it marks the culmination of a process that had begun with the invasion of the Huns in the last years of the Gupta Empire.
In 648, when Wang Xuance came India from China, he discovered that Harshavardhana had died. The new king attacked Wang and his 30 mounted subordinates. This led to Wang Xuance escaping to Tibet and then mounting a joint army of over 7,000 Nepalese mounted infantry and 1,200 Tibetan infantry. They attacked the Indian state on June 16th. The success of this attack won Xuance the prestigious title of "Grand Master for the Closing Court." He also secured a reported Buddhist relic for China.
Neither Bana's nor Xuanzang's account gives any details of this period. Harsha had two sons named Vagyavardhana and Kalyanvardhana. They were killed by Arunashwa, a chief minister in Harsha's court. Harshavardhan's wife Durgavati was taken prisoner upon his demise.