Middle Kingdoms of India, Part 82
BY: SUN STAFF - 21.6 2021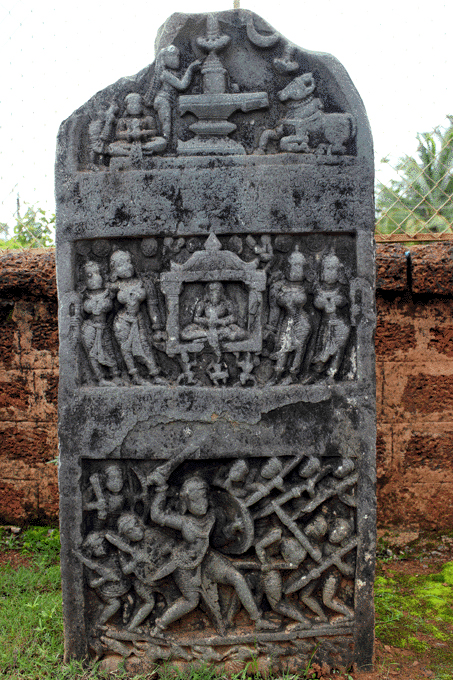 Hero stone with inscription of Yadava King Singhana II, c. 1235 A.D.
A serial presentation of India's great history, religious movements and temple architecture.
The Yadavas
'According to some scholars, the Seuna rulers were of Maratha descent and were the founders of the Marathi language. In Medieval India, author C. V. Vaidya refers to the Yadavas as "definitely pure Maratha Kshatriyas".
A stone inscription found at Anjaneri, near Nashik, suggests that a minor branch of the Yadava family ruled a small district there, with Anjaneri as its chief city. The inscription indicates that a ruler called Seunadeva, belonging to the Yadava family, called himself Mahasamanta, and made a grant to a Jain temple. [109f]
Jijabai (the mother of Shivaji, credited with founding the Maratha Empire) belonged to the clan of Yadhavas of Sindkhed Raja, who also claimed descent from the Yadavas.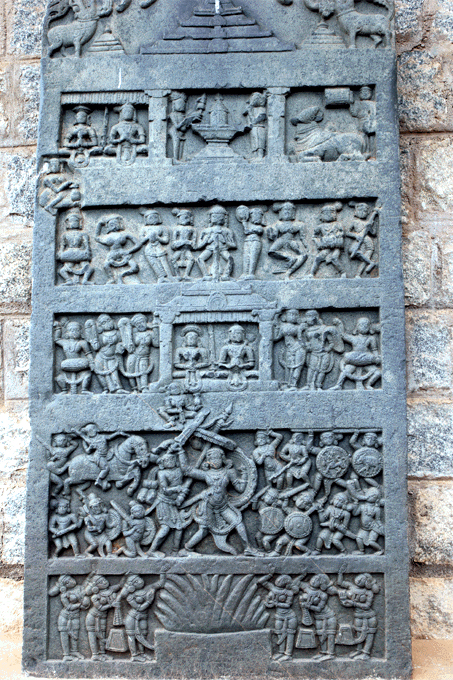 Hero stone (virgal with Yadava inscription in Kannada, c. 1286 A.D.
Other historians attribute the Yadavas origin to ancient Karnataka. A Hero stone (virgal) with Old Kannada inscription dated 1286 A.D. memorializes the rule of Yadava King Ramachandra in Kedareshvara temple at Balligavi, in Shimoga district, Karnataka.
Another Hero stone (pictured at top) bears an old Kannada inscription dated 1235 A.D., from the rule of Yadava King Singhana II at Kubetur, Soraba Taluk, Shimoga district, Karnataka.
Some scholars believe that the Seuna rulers were originally Kannada speaking people, originally using Kannada along with Sanskrit in their inscriptions. But by the time of the Muslim conquest, it is thought they had begun to patronize Marathi, and Marathi phrases or lines began to appear in their inscriptions. [109g]
Many Seuna rulers had Kannada names and titles such as "Dhadiyappa", "Bhillama", "Rajugi", "Vadugi" and "Vasugi", and "Kaliya Ballala". Some kings had names like "Singhana" and "Mallugi", which were also used by the Southern Kalachuri dynasty. Records show that one of the early rulers, Seunachandra II, had a Kannada title, Sellavidega. The Seunas also had very close matrimonial relationships with royal Kannada families throughout their rule. [109h]
Over five hundred inscriptions belonging to the Seuna dynasty have been found in Karnataka, the oldest being of the rule of Bhillama II. Most of these are in Kannada language and script. Others are in the Kannada language but use Devanagari script. [109h] The Seuna coins from the early part of their rule have Kannada legends.
FOOTNOTES:
[109f] "Nasik District Gazetteer: History – Ancient period". Retrieved 2006-10-01.[dead link]
[109g] Masica, Colin P. (1991). "Subsequent Spread of Indo-Aryan". The Indo-Aryan Languages. Cambridge University Press. p. 45. ISBN 0-521-29944-6.
[109h] Kamat, Suryanath Upendra. A Concise History of Karnatak.