Prayag Pilgrimages
BY: SUN STAFF - 21.2 2023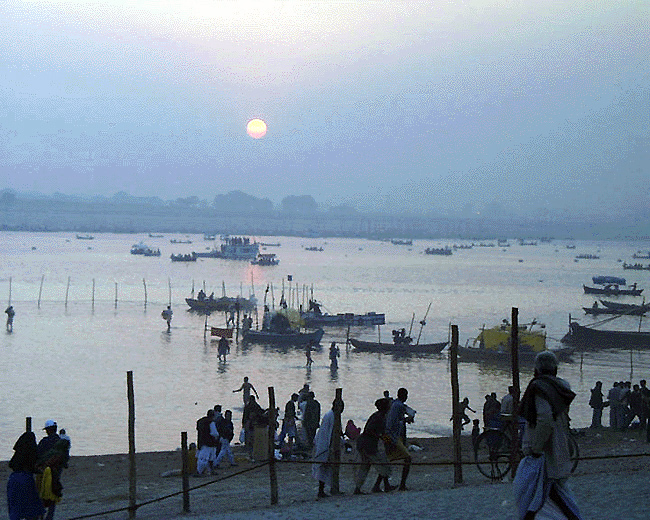 The area of Prayag is known as the land of Prajapati. From Prayag to Pratishthanpur till the limits of Jhusi, this is said to be the land of serpents, from Vasuki, Kambal and Ashwatar, linked to Nag-bhumi or Sheshnag. This region is said to be spread over 20 kos that encompasses Parna Muni ashram, Panasa across the Yamuna, Shringverpur across the Ganga and the Durvasa ashram. Lord Vishnu, Brahma and Mahesh are the presiding Deities of this region. The holy sites here are divided into three categories: Antarvedi, Madhyavedi and Bahirvedi.
The gods and the seven sages have made their abodes on the outskirts of Prayag, while Prayag itself is the abode of Lord Vishnu. Here, Lord Vishnu is said to possess 12 Names and Forms. The Lord is known chiefly by the names of Vat Madhav, Akshay Madhav and Mool Madhav, and they reside in eight directions to put an end to all obstacles. These are Shankh Madhav, Chakra Madhav, Gada Madhav, Padma Madhav, Anant Madhav, Bindu Madhav, Manohar Madhav and Asi Madhav.
The temple of Shankh Madhav is towards the east of Prayag, Chakra Madhav in Arail, Gada Madhav in south of Arail, Padma Madhav in Devria, Anant Madhav towards the west in Devgirwa, Manohar Madhav in the present-day Johnsonganj, Asi Madhav near Nag Vasuki in Daraganj, Sankat Har Madhav in Vat Vriksha, and Veni Madhav in Triveni.
The pilgrimage of Prayag is said to be supreme and most fulfilling, incorporating all kinds of holy sites. In ancient times it was said to be the abode of innumerable sites but many of them have now vanished. Today, Triveni, Madhav, Som, Bharadwaj, Vasuki Nag, Akshay Vat and Sheshnag are believed to be encompassing all pilgrimages.
The significance of Prayag is widely known in the terrestrial and celestial universe. By bathing in the holy waters of the Sangam one is ridden of all sins. The devout are granted all desires. This is the significance of an ordinary holy bath, hence the importance of a bath during the Kumbh is manifold. It cannot be described and has to be experienced to be known.
Pilgrimage sites in Prayag
The Puranas mention the existence of three and a half crores of pilgrimage sites in Prayag. It incorporates one crore each in the heaven, earth and the Patal lok, and fifty lakhs in the atmosphere. It is said in the Swargkhand of Padma Purana that twenty crore and ten thousand pilgrimages are perennially present in Prayag. It is not easy for anyone to believe this number since this figure is about one-fifth of India's population. But we should not forget that India is the land of pilgrimages. This is the birthplace of Holy cows like Nandini and Kamdhenu, and it is said that innumerable soldiers had emerged out of the body of Nandini to defeat the army of King Vishwarath.
Magh Bathing Rituals
The Magh bathing ritual must start from Paush Shukla Ekadashi or Poornamasi or Amavasya. The best bathing time is when the stars are out, the medium time is when the stars set down, and the least important is when the sun has arisen. Anyone who stays put in Prayag throughout the month of Magh and performs Kalpavas, yagya, shaiyya, godan, Brahmin bhoj, Ganga puja, Beni Madhav puja, vrat and daan gets special importance and blessings.
Panchkosi Parikrama Procedure And Route In Prayag
Day one: A bath in the Triveni, Dev puja, sacred vows and puja of the Akshay Vat, followed by puja of Shultankeshwar across the Yamuna. This should be followed by a visit to the Sudha Ras Tirth, Urvashi Kund and obeisances at the Adi Beni Madhav. Then, from the river bank side, pay obeisances to Hanauman Tirth, Sita Kund, Ram Tirth, Varun Tirth and Chakra Madhav, and at night stay at Someshwarnath.
Day two: From the river bank side, visit and pay obeisances to Som Tirth, Surya Tirth, Kuber Tirth, Vayu Tirth and Agni Tirth, participate in the discourse of Mahaprabhu Vallabhacharya, visit the Naini village to pray at Gada Madhav and at Kambalashwatar Tirth at Saini, and stay for the night at Ram Sagar.
Day three: Stay at Bikar Devria Devrakh on the bank of the Yamuna. Shraadh must be performed here as it has immense significance.
Day four: Across the Yamuna, stay for the night at the sanctum of Vankhandi Shiva or Begum Rai.
Day five: Reach Draupadi Ghat through Neem Ghat and stay there.
Day six: Stay for the night at Shiva Koti Tirth.
Day seven: Pay obeisances at Pandila Mahadev, visit the Manas Tirth and stay for the night.
Day eight: Visit Nag Tirth via Jhunsi, or close to Shahangmadhav, and stay for the night.
Day nine: Pay a visit to Nag Tirth, Shankh Madhav, Vyas Ashram, Samudra Koop, Aili Tirth, Sankasht Harmadhav, Saandhya Vat, Hans Koop, Hans Tirth, Brahma Kund, Urvashi Tirth and Arundhati Tirth to reach Jhunsi, and stay there for the night.
Day ten: Visit Triveni, perform a parikrama of Bahir Vedi, and stay there for the night.
Day eleven: Perform a parikrama of Antar Vedi, and stay there for the night.
Day twelve: Take a dip in Triveni and perform prayers at the Vat. Thereafter, visit Madhu Kulya, Ghrit Kulya, Niranjan Tirth, Aditya Tirth, Rinn Mochan Tirth, Papmochan Tirth, Godohan Tirth, Som Tirth, Sarswati Kund, Kameshwar Tirth, Barua Ghat, Takshakeshwar, Tathak Kund, Kalaiya Dah, Vakra Tirth, Sindhusagar Tirth, Pandav Koop and Varun Kkoop and pay obeisances at Dravyeshwarnath. Then visit Surya Kund, and stay for the night at Bhardwaj Ashram. In the next morning, pay obeisances at Nag Vasuki and Beni Madhav, visit Dashashwamedh Ghat to pay obeisances to Lord Shiva, and thereafter go to Lakshmi Tirth, Urvashi Tirth, Datta Tirth, Som Durvasa and Hanumanji, and end the parikrama at Triveni.
After this, perform godan and Brahmin bhoj as per capacity, pay obeisances to Lord Vishnu, and dedicate the parikrama. From the third day of Chaitra Krishna to Amavasya, this 12-day parikrama must be performed every year. As alternative, a parikrama of one day-and-a-half must be performed, and those who prefer the latter option must perform the parikrama of Antar Vedi.
Pilgrimage Sites

Pilgrimages of Prayag
Prayag has been known as the greatest pilgrimage since the Rig-Veda era. The basic reason is the confluence of two of the holiest rivers in India - the Ganga and the Yamuna. It is said one who dies at the Sangam is freed from the cycle of re-birth and attains salvation. The Mahabharat, Agnipuran, Padam Puran and Surya Puran also mention Prayag as the holiest of all pilgrimages. Vinay Patrika mentions that Gautam Buddha too had traversed through Prayag in 450 B.C.
Bhardwaj Ashram
At present it is located in Colonelganj locality. A shivling of Bhardwajeshwar Mahadev was established here by the sage Bhardwaj, and in addition there are hundreds of statues. Important among them are Ram Lakshman, Mahishasur Mardini, Surya, Sheshnag, Nar varah.
Maharishi Bhardwaj was the first patron of Ayurveda. Lord Rama had gone to the sage Bhardwaj's ashram to get his blessings. It is a matter of research to find where the ashram existed then, but at present it is near the Anand Bhawan. There is a Shiva temple and also statues of Bhardwaj, Yagyavalkya and other sages, gods and goddesses. Bhardwaj was a disciple of Valmiki. Earlier a huge temple used to stand here that was razed, and there was a Bharatkund atop a mountain, that has been filled with garbage now.
Akshay Vat
It is located inside the Qila on the bank of the Yamuna. It is said that it is an eternal truth that would not get destroyed, ever. It is said that anyone who prays at this tree or dies under it attains salvation. The boundary of the fort is 15 feet away from the tree, and its branches hang out into the Yamuna River. In 1992, marble was laid around the tree, and in 1999 a small temple was made near it with Ram, Lakshman and Sita Deities. About 22 meters of cloth is used in wrapping around the tree near its roots.
The Akshay Vat is an eternal tree that is indestructible. It is said that Lord Ram spent a night near this tree while on His way to the wilds. It is also a holy site for the Jains. Permission has to be sought from Army officials to visit this tree.
Nag Vasuki Temple
This temple is located on the north of Sangam in the northern corner of Daraganj on the Ganga bank. It has Deities of Nag Raj, Ganesh, Parvati and a reclining murti of Bhishma Pitamah. There is a Shiva temple in the premises. A big fair is held on Nag Panchami day.
Mankameshwar Temple
It is situated near Minto park on the west of the fort along the Yamuna river. It has a black stone lingam and statues of Ganesh and Nandi. There is a grand statue of Hanuman and an ancient peepal tree near the temple.
This ancient Shiva temple is located in Barra tehsil, 40 km southwest from Allahabad. The Shivling is installed atop an 80-feet high hillock among picturesque surroundings. It is said that the 3-1/2 feet Shivling is much deeper underground and it was installed by Lord Ram while going to Chitrakoot. There are many smaller deities here, a huge banyan tree and a well.
Padila Mahadev
It is located 3 km northeast of Phaphamau in Soraon tehsil. It is made completely of stone and has several statues. A big fair is held here on Shivratri and in the month of Phalguna.
Shringverpur
It is located in Soraon tehsil, 33 km from Allahabad on the Allahabad-Lucknow highway. One has to go about 3 km off the highway towards the Ganga. Its official name is Sigraur. It was the ashram of Shringi rishi. There is a temple of Shringi rishi and goddess Shanta. Ruins of the fort of Nishad king Guh are also here. Ram, Lakshman and Sita had stopped here while on their way to exile from Ayodhya, and had asked the kevat for a boat to cross the Ganga. Mention of Shringverpur is made in several religious texts and later, in official documents. It was possibly a center of sun worship. Several excavations were held there, yielding invaluable findings.
Lalita Devi Temple
It is located in Mirapur locality and is about 108 feet high. There are several Deities inside the temple and an ancient papal tree in its compound. It is counted among the 51 Siddha Shaktipeeth in the country.
Lakshagrih
It is said that the Kaurav king Duryodhan had got it made to trap the Pandavas and eliminate them. However Vidur alerted the Pandavas, who escaped from a secret door while it was set on fire. It is located 6 km south of Handia on the bank of the Ganga.
Alopi Devi Temple
This ancient temple is located in Alopibagh locality west of Daraganj. In the sanctum sanctorum of the temple there is a round platform there is a coloured cloth below which there is a small cot. Devotees pay obeisances here. It is said to be one of the Shaktipeeth and a big fair is held during the Navratri. There is a Deity of Lord Shiva and Shivling.
Takshakeshwar Nath
This is a temple of Takshakeshwar Lord Shankar located in south of Allahabad city in Daryabad locality on the bank of the Yamuna. A little away is the Takshak Kund in the Yamuna. Legend has it that Takshak the serpent had taken shelter here after being hounded out of Mathura by Lord Krishna. There are many lingas and deities here as well as a Deity of Hanuman.
Samudra Koop
It is situated on a big, high mound on bank of the Ganga. It is about 15 feet in diameter and is built of big stones. The entire premises are surrounded by a stone wall. It is said that it was built by King Samudragupta, hence the name. It is also said that the water level below the well is equal to the sea level, hence the name.
Someshwar Temple
It is built below the ground level inside the fort on the bank of the Yamuna. There is a long corridor and there are 44 Deities in here with a Shivling in the center. It was renovated by Bajirao Peshwa in 1735, and some Deities date back to 17th or 18th century. Legend has it that Lord Rama had come during his exile.
Shitla temple at Kada
It is located about 69 km north-west of Allahabad. The great sage Sant Malookdas was born in 1631 at Kada, where his samadhi and ashram are located. There is a temple of goddess Shitla Devi and a pond. There are ruins of a great fort also.
Kalyani Devi
There is an entire locality by this name on the bank of the Yamuna and a temple of goddess Kalyani Devi. There are Deities of the goddess and that of Lord Shankar, said to be dating back to the 20th century.
Prabhas Giri
It is located about 50 km north of Allahabad city in Manjhanpur tehsil of present day Kaushambi district. This region, 10 km from Kaushambi, was once the capital of the Vatsa empire. Legend has it that Lord Krishna left this earthly world here after being shot by an arrow. There used to be a big Jain temple here and the place is pilgrimage for the Jain community. The Archaeological Survey of India has declared the entire region as protected.
Shivkuti
On the northern end of Allahabad city on the bank of the Ganga is Shivkuti temple and ashram. There is the ashram of Shri 1008 Shri Narayan Prabhu established by him in 1948. The grand Lakshmi Narayan temple with marble Deities and a Durga temple attracts a big fair in the month of Shravan.
Kamauri Nath Mahadev
It is located in the railway colony near the Surajkund locality. In 1859 the railway track had to be diverted because of this temple. It has a Deity of five-faced Mahadev. It is said that Lord Shankar had destroyed the cupid god Kamdev here.
Hatakeshwar Nath Temple
It is situated in the heart of Allahabad city on the Zero road. There are many deities here, including that of Hatakeshwar Shiva.
Krishnapranami Bhaiyan Temple
King Chhatrasal of Bundelkhand had initiated the Pranami sect. This temple is said to have been built in 1700 and a huge fair is held here on Janmashtami.
Bhita Danuha (Sujawan Dev)
It is located on the bank of Yamuna River about 3 km west from Ghoorpur. There is a temple of Shankar and Yamuna, the sister of Yama, built in the river.
Bargad Ghat Shiva Temple
This small temple is located at Bargad Ghat on the bank of the Yamuna near Meerapur. There is a black stone Shivling and an ancient bargad (banyan) tree. There are four peepal trees and a Deity of reclining Hanuman.
Siddheshwari Peeth
It is located in front of the bus station at Civil Lines in Allahabad city. There is a small temple with Deities of Shankar, Ashtabhuja Devi and Hanuman.
Shankar Viman Mandapam
This grand temple was built on the initiative of Shankaracharya Chandrashekharendra Saraswati of Kanchi Kamakoti Peeth and was inaugurated by Shankarachrya Jayendra Saraswati in 1986. Built in the Dravidian architecture style, this three-storied structure is made on 16 huge pillars on the bank of the Sangam. Its height is 130 feet and it was completed in 16 years. It has the Deities of Kamakshi, Lord Balaji and Lord Shiva. The Shiva Deity weighs 10 tons.
Shankar temple Mahuawan
This historical temple is situated on Koraon-Kaurhar road 8 km north-west of Koraon in Meja tehsil of Allahabad. This Shankar temple is situated near a pond and has a black stone deity and an ancient peepal tree.
Veni Madhav Temple
It is located in Daraganj locality and has attractive Deities of Radha and Lord Krishna. There are 12 Madhav Deities in Prayag but the Veni Madhav temple at Daraganj close to the Sangam is especially significant.
Durwasa Ashram
Towards the east of Prayag on the bank of the Ganga at Kakra Kotwa and 5 km south of Hanuman bazar, this ancient ashram is located. It has a grand statue of sage Durwasa and a fair is held in the month of Srawan.
Shankar temple Jamsot
It dates back to the 11th century Kalchuri empire and is located near the Lapri river 15 km west of Koraon. It is in a dilapidated state and an deity found here is displayed at the State Museum at Lucknow.
Amiliya Sheetala Devi
This Shaktipeeth is situated in Tarhar area of Barra tehsil, 50 km from Allahabad. There is a Deity of Masuriyan Devi and a fortnight-long fair is held in the month of Agahan.
Garhwa
It is located 50 km from Allahabad towards southwest on the Jabalpur road. There is an ancient fort and several Chandragupta era deities.
Radha Madhav Temple
It is situated on the old GT road in the Nimbark ashram at Madhwapur. It has 200-year old Deities of Radha, Krishna, Ram-Lakshman and Sita. The stone structure has exquisite engravings and in 1992 a huge Deities of Hanuman was installed here.
Kali Bari
This goddess Kali temple is situated in the Mutthiganj locality. There is an awe-inspiring Deityof the goddess and also small temples of Satyanarayan, Ganesh, Hanuman, Shiva and Shanidev. There is a sacrificial chamber also.
Loknath Temple
It is situated in the old Loknath locality. It has a Shivling and an old well, besides deities of many gods and goddesses.
Kunaura Mahadev
It is situated 12 km north of Handia market. There is an ancient Shankar temple near a pond, a Hanuman temple and an ancient banyan tree.
Patthar Shivala Temple
It is situated in Khuldabad sabji mandi on the old GT Road. The stone temple has a black stone Shivling. It has a unique architectural design and many deities.
Shankar Temple Bolan
This temple is near a pond situated near the Vindhya mountains in the Meja tehsil. The water in the pond comes from the mountains and it is full of lotus flowers. The well near the pond is known as Banganga. Legend has it that Arjun had tore apart the mountains to get water for the purification of the demon queen Hidimba. A lot of poisonous snakes are found here.
Jain temple Chahchand
This temple on Zero road has a black marble Deity of Lord Adinath and several Deities of Parshvanath and Mahavir. There is a Digambar Jain temple adjacent to it, and it is an important pilgrimage for the Jain community.
Dashashwamedh Temple
This is a huge and ancient temple on the bank of the Ganga in Daraganj on Dashashwamedh Ghat. It is built on high ground and has several Deities of Annapurna Devi, Hanuman, Sheshnag, Durga, Parvati, Kartikeya, Ganesh, Ram and Lakshman. Its significance finds mention in the Puranas and Mahabharat.
Hanumat Niketan
It is situated in Civil Lines area and has two temples. One has a Deity of Hanuman and the other of Shaankar, Parvati, Ganesh, Saraswati and Krishna. It draws a large number of devotees of Hanuman every Tuesday.
Gita Niketan
This temple is situated on GT road in Alopibagh locality. There is a Deity of Hanuman and others of Ashtabhuji Durga, and Radha and Krishna, all made of white marble.
Doodhadhari Maharaj Ashram
This ashram is situated on the bank of the Ganga in Morahu village near Phaphamau. There is an Deity of Shri 1008 Doodhadhari Maharaj and also a Janki temple. There are many other deities here also.
Darbeshwarnath Temple
It is situated near Johnsonganj, Chowk, and has three Shivling and a Deity of Sheetala Devi.
Anandi Mata Temple
It is situated in Jamunipur village, 4 km south of Hanumanganj bazaar 20 km away from Allahabad. It is also known as Aindridham Shaktipeeth.
Shri Ram Temple Civil Lines
It is situated on Strachy road on Civil Lines. On the ground floor are Deities of Lord Shankar, Ganesh, and Nandi, and on the first floor, those of Ram, Lakshman, Janki, Vishnu, Lakshmi, Radha and Krishna. There is a huge Satsang Bhawan also.
Anandi Mata Temple Mohatsimganj
This ancient temple in Mohatsimganj has Deities of nine goddesses, a Shivling and a Deity of Hanuman, besides an ancient peepal tree. Local people have great faith in goddess Anandi.
Shri Anand Bihariji Maharaj Temple
It is situated in Shahganj Sabji Mandi and has ashtadhatu Deities of Radha and Krishna. Besides, there are other brass deities and a stone Deity of Hanuman.
Ram Temple at Hewett Road
It has beautiful Deities of Ram, Lakshman and a Deity of the child Hanuman. The Pattharchatti Ramlila Committee chowki starts from here.
Gayatri Shaktipeeth Mirapur
A grand marble Deity of goddess Gayatri is installed in this temple built by Acharya Shri Ram Sharma. In a huge courtyard the Gayatri Pariwar followers hold satsang and discourses.
Mandvi Devi Temple at Manda
This huge stone structure is in Manda and is said to be at least 300 years old, built by the ancestors of Raja of Manda. There are two stones inside the temples worshipped as Devi goddess.
Bandar Shivala
This Shankar temple is situated between Tripolia and Mahajani Tola localities in Allahabad. It is a stone structure and has statues of monkeys all over its parapet. There are deities of several gods and goddesses in it and a Deity of Surya atop a seven-horse rath.
Bahurahe Mahadev
This all-stone structure is situated in the Unchamandi locality of Allahabad. It is widely worshipped by local people and legend says that the Shivling inside it was attacked with a sword by the Mughal king Aurangzeb, a sign of which can still be seen. It has many deities.
Hanuman Temple Tripolia
This beautiful hanuman temple is in the Tripolia locality of Allahabad and is said to be 200 years old. It has a stone Deity of child Hanuman and also other deities. A Hanuman shobha yatra is taken out from here on Hanuman jayanti that is attended by thousands of devotees.
Ganga Yamuna Saraswati Dham
This picturesque ashram is situated on Ganga bank at Jhusi and has a 45-feet Hanuman Deity as a great attraction for devotees. It has 111 Shivling.
Kamasin Devi Temple
It is situated 10 km west of Manjhanpur and 13 km from Sirathu. This ancient temple is built adjacent to a pond and is widely revered by the local people.
Durga Devi Temple Manjhanpur
It is situated towards south of Manjhanpur and has a black stone Deity of goddess Durga and a black stone Shivling. Both are said to date back to the Buddhist period. It attracts throngs of devotees on Navratri.
Vijayanath Mahadev
It is situated in Devra village in Barra tehsil and adjoins the Madhya Pradesh border. It has a huge Shivling.
Panchmukhi Mahadev
It is situated in Tilaknagar near Baluaghat in Mutthiganj. In its sanctum sanctorum there are five exactly similar Shivling made of black stone. All of them are said to be slowly growing in size ever since they were installed. It is said to be 200 years old and has several other deities besides at least a dozen small Shiva temples and a Hanuman temple. It is built atop a mound and is widely revered among the local people.
Bandhwa ke Bade Mahadev
Near the fort on the Sangam, there is a huge Deity of the reclining Hanuman. Pressed below the feet of Hanuman are Devi Kamda and Ahiravan. The place is at least 8-10 feet below the surface and it attracts a huge crowd of devotees every Tuesday and Saturday. This 500-year old temple is maintained by the Baghambri Gaddi and is among the most revered in Allahabad.
Hanuman Temple Rambagh
There is an ancient Hanuman temple at the Rambagh crossing. It has a most serene and attractive Deity of Hanuman and a large courtyard where devotees engage in satsang. There is an ashtadhatu Shankar Deity also, and the temple attracts a huge crowd of devotees.
Devi Temple Ramnagar
It is situated in Ramnagar in Meja, 10 km north from Meja road, and is said to be 150 years old. A fair is held here every Monday and Friday.
Khema mai Temple
It is situated in Chowk Gangadas and has a black stone Deity of goddess Sheetala. There is an ancient and huge neem tree in its precincts and it is said that the goddess had appeared from this tree.
Veni Madhav Temple
It is situated in baia ka Bagh and is maintained by the Scindia Dev Sthan Trust. It was built by the the Maharaja of Gwalior in 1833, and has Deities of Veni and Madhav and many others.
Shri Rishabahdev Swami Jain Shwetambar Temple
It is situated in Bai ka Bagh and has a white marble Deity of Adinath Tirthankar and other Deities. It is said to be 150 years old and is among the main pilgrimages of the Jain community.
Shri Ram Temple Bajaha
It is situated about 30 km from Allahabad on the highway to Kanpur and falls in the Kaushambi district. There is a grand Ram temple and a dharamshala.
Nibahara Sheetala Mata
This old temple is situated in Saidabad in Handia tehsil and is revered by the local people.
Belnath
This Shankar temple is near the Bhiti railway station and devotees offer milk at the Shivling. Devotees throng it every Monday.
Samayamai Temple
This ancient temple is situated in Kareli locality and the devotees offer obeisance here then go to the Amilia Sheetala Devi temple.
Shri Venkatesh Temple
It is situated in the Vaishnav ashram in Daraganj and has a grand Deity of Lord Venkatesh.
All Saints Cathedral
It is situated iin Civil Lines in the center of the city. It was built by the British architect Sir William Emerson in 1871 and completed in 1891. It is highly revered by Protestant Christians and is said to be the best cathedral in India on account of its excellent design. Its tower is known as Victoria Tower. Commonly known as the Patthar Girja, it has a capacity of 600 people.
Jama Masjid
This well known masjid is situated on old GT road opposite the Kotwali in Chowk area. It is said to have been built in the era of Shershah Suri but then it was shaped differently. It is a well-built and huge structure and its height from the ground up to the spire is 91 feet. It is maintained by the Sunni Waqf Board.
Gurudwara Pakki Sangat Ahiyapur
This is the oldest and most revered Gurudwara of Allahabad and is located in the Ahiyapur locality. Earlier it was covered with khaprail tiles and was renovated about 30 years ago. It is an impressive structure with a huge courtyard. It is said that Shri Guru Teg Bahadur had visited Prayag in 1666.
Besides the above, there are several other temples, masjid, churches and ruins that are revered and attract devotees from far and wide. These are symbols of faith, and need to be preserved and maintained for posterity.
Sangam
The confluence of the ganga, Yamuna and the invisible, mythical Saraswati, is not only a breathtaking sight but is also a holy spot.
The Fort (or Qila)
The foundation for this historic fort was laid by the emperor Akbar in 1583. According to some people, Emperor Ashoka the Great started its construction and later on Akbar only completed it. It has about 983 constructions. It was completed in 45 years, 5 months and 20 days, at a cost of rupees 6,17,20,214. It comprises 23 palaces, 3 bedrooms, 25 courts, 23 spirals, 27 buildings, 186 stores, 2 special courtyards, 77 basements, 1 open verandah, 20 stables, 1 baoli and 5 wells. The Rani Mahal is divided into 16 parts for 16 queens. There is a special wing for the emperor himself that is divided in three sections with 16 rooms each. There is a pond in the lower section. It is known as the Kuwara (bachelor) Qila as it never saw a war being fought in or around its sportals. At present it is under the control of the Army.
Patalpuri Temple
This temple can be seen while entering the Qila from the eastern gate. Its length on the east-west side is 84 ft., and width on north-south side is 49.5 ft. Its roof rests on 100 pillars and it has 12 main doors on the west side. There are 43 statues of different deities in it.
Ashok Pillar
It was built by Emperor Ashoka in 230 B.C. Its length is 35 ft, diameter is 3 ft and it weighs 493 mann. The diameter of the upper side is 2 ft 2 in. Six instructions of Emperor Ashok in Prakrit and Brahmi script are engraved upon it. Feroz Shah brought it here from Kaushambi.
Saraswati Well
This well is inside the Qila and the water in it is supposed to be drawn from the Saraswati. There is a temple here.
Bade Hanumanji Temple
This is an ancient temple under the Baghambari sect. It has a huge statue of Hanuman in a reclining position, and can be seen while returning from Qilaghat. A Katha Park is being built here.
Prayag Vishweshwar
This temple has been set up in Kumbh 2001, and it has statues of Hanuman, Surya, Ram, Lakshman, Sita.
Shankar Vimanan Mandapam
This is a unique structure built by the Shankaracharya of Kanchi Kamakoti on the Triveni bundh. This holy place has Meenakshi Pariwar and Shivling as the chief deities.
Nag Vasuki
This temple is situated at Daraganj and can be reached by taking the newly-built road below the Triveni bundh, Bakshi bundh and below the bundh. This temple has a huge statue of Naagraj and Bhishm Pitamah.
Pratishthanpur
This is the ancient name of Jhusi, an interesting site said to be the capital of the Chandravanshi kings. At the Dayaram Kote here, Guru nanak, Sheikh Taqi and Kabir had met to promote communal harmony. There are some caves here for the purpose of meditation and it gives an excellent view of the Sangam.Among the places to see in Jhusi are Samudrakoop, Urvashi Kund, Ved Vyas Pathshala, Tapokund, Shankhmagh and Ramphal temple, Birla guest house, Hari Chaitanya Brahmachari Ashram, Prabhuadatt Brahmachari Ashram, Yog Kendra of Yogi Satyam, ancient Madhavanand Ashram, Kailash Tikri, Parmanand Ashram and Ganguly Shivala.
Durvasa Ashram
It is located about 30 km from Prayag and maharishi Durvasa had done his meditation here.
Lakhagrih
This is located near Handia. Legend has it that Duryodhan had got this Lakhagrih made to invite the Pandavas during their exile, and had later conspired to get it burned down to eliminate them.
Hanskoop
It is a dilapidated structure located on the bank of the Ganga towards the west of the railway line. Its mention is found in the Matsya Purana, which says that anyone who bathes in this pond and drinks its water gets salvation.
Ram Mandir at Sahson
It is located 20 km away and was built by a philanthropist named Bhola Kesarwani.
Kaushambi
It was earlier in in Allahabad district but in 1997-98 it was established as a separate district. Kaushambi is about 60 km away, and it used to be the capital of the Kingdome of Vast. Lord Buddha and Jain Tirthankar had done meditation here. Excavations have revealed several interesting finds that are preserved at the museum of the Allahabad University's ancient history department. After crossing the Yamuna from here one can reach Chitrakoot. At Rajapur there is the birthplace of Goswami Tulsidas and the Ayodhya Kand of Ram Charitmanas handwritten by him is preserved there. There is a Sankatmochan temple also.
Kada
It is located about 60 km from Prayag in the west-north corner. In ancient India it used to be among the nine holiest places. There is a Kaleshwar Mahadev temple as well as Sheetala Ma temple. The great sage Sant Malook was born here in 1631 A.D., and he was a disciple of Baba Vithaldas. His Samadhi is still there.
Sights across the Yamuna
A large tract beyond the Yamuna falls within the Panchkosi of which Arail is the first stop. It is the center of the Ballabh sect and the seat of Ballabhacharya is located here, drawing pilgrims from far and near.
Other interesting sights in Arail are Sachcha Baba Ashram, Someshwar Mahadev, Maharishi Mahesh Yogi, Vidyapeeth, Shool Kanteshwar etc. In ancient times it was known as Alarkpuri, after a king named Alark. He is famed to have donated his eyes in search of the truth. It is also said that this place was inhabited by the name of Ila whose descendants became the Chandravanshi kings of Pratishthanpur. Chapter 108 of Matsya Purana mentions two places Kambal and Ashwatar. In chapter 37 of Karm Purana, two banks are mentioned on the southern side of Yamuna. It appears to be the present-day Arail. During the time of Alauddin Khilji, it was ruled by king Raisen. Emperor Humayun had come here after getting defeated from Gorkhas at Chunar. At that times it was ruled by Veer Bhanu Baghel. At some point of time Chaitanya Mahaprabhu had also stayed here.
Bhita
Interesting places here are the Garhwa fort, Mankameshwar Mahadev, Imliyan Devi temple, and 80 km across Prayag in the Mirzapur district, there are Goddess Vindhyavasini and Ashtabhuji temple and Yogiraj Deoraha Baba's Ashram. There are several industrial establishments here. A spot named Triveni Pushp is being developed here.
Places to see in the City
There are ample temples and interesting sights in Allahabad city, and many more have vanished. Those that still exist in ruins need to be discovered.
Ramanand Birthplace
The only Acharya from north India, Acharya Ramanand, was born in Rambagh, but his birthplace continues to obscure.
Kumaril Bhatt
Kumaril Bhatt had advised Adi Shankaracharya to go ahead and have a discourse with Mandan Mishra. Bhatt's ashram and his traditions need to be explored.
Tirth and Kund
There is wide mention of several Tirth (holy places) and kund (bathing ponds) in the Puranas. Their present location needs to be researched.
Minto Park
It is located in the west on the bank of the Yamuna river. In 1858, the then Viceroy Lord Canning had read out the Declaration of the British Queen Victoria here. It is engraved on a marble pillar. In 1910, the then Governor General Lord Minto laid the foundation stone of the park and later, this 13.5-acre park became Mahamana Madan Mohan Malaviya park. Close by are the Saraswati Ghat and Mankameshwar temple. Since 1994, the All India Mahamana Madan Mohan Malaviya Society has been organizing the "Deep daan" here on Ganga arti in Kartik month. In Magh, a Prayag Parikrama and Ganga Janmotsav have already been started.
Alfred Park
In 870, Alfred Duke of Edinburgh, the uncle of King George V, had come to India. At that time the Lt. Governor Sir William Muir invited him to Allahabad and laid the foundation of the park in memoriam. At present it is known as the Chandra Shekhar Azad park and is spread over an area of 2-3 bighas. Earlier the Mewati villages used to abound here and the British officials had uprooted the village to make the park. An old Public Library, Ganga Nath Jha Kendriya Sanskrit Vidyapeeth, Sangit Samiti, Hindustani Academy, Madan Mohan Malaviya Stadium, Gyan Vriksh Ashram and many more continued frozen kaushikal On the orders of the High Court the entire premises are being cleaned up and beautified. Some offices too have been identified.
Prayag Museum
It was inaugurated in 1931 in two rooms in the Municipal Board., and in 1954 it was shifted to Company Bagh (Chandra Shekhar Azad park). For the last 10 years, it has been functioning as the Central Museum. Among the objects displayed here are the 12th century dancing apsara, ancient stone statues dating from 3rd to 12 century BC, Royal declaration from the Mughal rule, rare paintings of the Rajasthani, Mughal and Pahari schools, and rare material belonging to Pandit Nehru.
Prayag University
This center for higher learning was opened in 1872 and it got the University status during 1987. The Senate Hall, the clock in the background, Muir Central College building are worth seeing. The construction of several new departments and buildings in the arts and science faculty has been completed recently. Known as the Oxford of the East, it has thousands of students on its rolls.
High Court
The Allahabad High Court building is a historical structure worth seeing.
Anand Bhawan
It is a historical building. Pandit Motilal Nehru had purchased it for Rs 1900 from Parmanand of Raja Moradabad in the year 1900. It was at the center of India's freedom struggle and all major leaders of the country have been coming here. This building is now divided into two parts, Swaraj Bhawan and Anand Bhawan. Swaraj Bhawan has been converted into a museum in the memory of the late Indira Gandhi and Anand Bhawan has on display rare articles belonging to the Nehru family.
Khusrobagh
It is an interesting sight of Allahabad. Prince Khusro was the son of Shah Begum, wife of the Mughal kiing Jahangir. He died in Burhanpur in 1622 and he was buried in this park. The park has been named after him. It has been made a rectangular structure with big stone boulders and the area of the park is 115 bigha (64 acres). It is built somewhat like a fort, its doors are 60 feet high. Its construction was started in 1625 and was completed in 1932.It is in a dilapidated state on the G.T. Road side.
Hindi Sahitya Sammelan
There are two institutions engaged in the development of Hindi. One is Hindustani Academy, located in Company Bagh. The other is Hindi Sahitya Sammelan, located on Sammelan Marg. It was established in 1910 with the efforts of Rajrishi Purushottam Das Tandon. Its library is full of rare books, and the Rajrishi Tandon Mandapam is a unique gift to the city.
Hanuman Temple
The Civil Lines Hanuman temple is a unique gift to city made with the efforts of the late Ram Lochan Brahmachari. It has statues of hanuman, Ram, lakshman, Sita, Bhagwati Durga and Shiva. Besides, huge crowds also throng the Hanuman temples at Rambagh, High Court and Tripolia.
Shiva Temple
The main Shiva temple is at Mankameshwar where the ashram of Jagadguru Shankaracharya Swaroopanand. Others are at Hatkeshwar Mahadev on Zero road, Darveshwar Mahadev at Johnsonganj, Loknath Mahadev at Loknath and Shiva temple at Shivkuti. It is said that while returning to Ayodhya after killing the demon king Ravana, Ram had established a Koti Shiva to absolve himself of the sin of killing a Brahmin. Close to it a Shiva temple built by the Nepalese royal family that contains hundreds of Shivling.
Devi Temple
Bhagwati laita is the presiding goddess of Prayag. Legend has it that Lord Shiva, enraged after the Daksh yagna got disrupted and Sati's demise, ran with Sati's body. He cut the body with his Sudarshan Chakra into many pieces. Shaktipeeth were established wherever the body parts fell, and there are 51 such peeth in the country. Her fingers were said to have fallen in Prayag, and here goddess Lalita is installed along with Lalit Har Mahadev. Temples are located in Mirapur as Lalita and as Kalyani Devi in Kalyani. It is believed that in ancient times, Lalita's domain extended from Mirapur to Kalyani. Another Devi temple is at Alopibagh by the name of Alop Shankari.
Sant Samaj
The community of sages and saints is spread all over Prayag. Some ashrams are located near the Triveni bundh, while others are in the city itself. Daraganj is the center of Niranjani Akhada and Jooni Akhada, while Nirmal, Bada Udasin and Chhota Udasin are located at Kydganj. Shivkuti ashram is located at Shivkuti while followers of Prabhupad are building an Iskcon temple at Baluaghat.
Higher Education Institutions
In addition to Prayag University, there are institutions like Rajrishi Tandon Open University, Institute of Information Technology, Motilal Regional Engineering College, Motilal Nehru Medical College etc.
Source: Adapted from material provided by the Government of Uttar Pradesh