Sri Garuda, Part 8
BY: SUN STAFF - 9.9 2021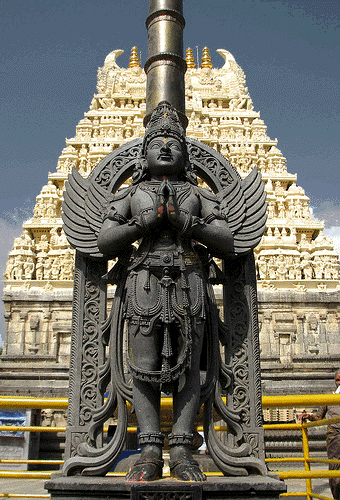 Sri Garuda, Channakeshava

The last in a serial exploration of Sri Garuda, the transcendental carrier of Lord Visnu.
Garuda in Belur
We close this Garuda series today with a look at two very well-known stone sculpture murtis from Halebid and Belur, and a few lesser known examples from Rajasthan and Central India.
The town of Belur is in the Hassan District of Karnataka, once the capital of the Hoysala empire. The Hoysala king Vishnuvardhana built the Channakeshava temple, which is famous for its exceptional architecture and beautiful devotional sculptures and ornamentation.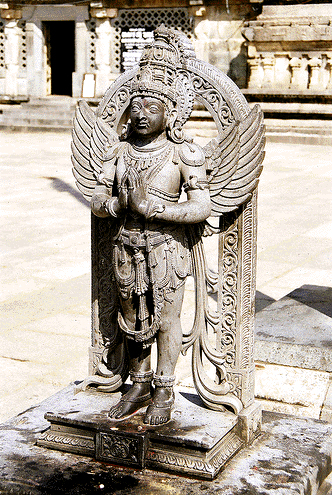 Sri Garuda, Channakeshava
In the broad temple complex around Channakeshava is the Sri Keshava temple, along with the temples of Soumyanayaki and Ranganayaki. A beautiful Garuda-gambha and a Garuda statue (shown above) face the Sri Channakeshava temple. Sri Keshava temple's carvings include images of Venugopala, Laksmi-Narayana, Saraswati, Ganapati, and Chamundeshwari. From the eastern doorway is a Kalinga-mardana Krsna, along with Visnu, Hanuman and Garuda.
Vishnuvardhana built the Channakeshava temple as an offering after he accepted Vaishnavism, as advised by Sri Ramanujacharya. The 13th century stone murti of Sri Garuda overlooking Channakeshava is an exceptionally beautiful piece. We show several images of it here because the murti is even more appreciable when seen in perspective of the temple complex surroundings.
Garuda in Halebid
Another very well known stone murti of Sri Garuda is found on the highly sculptured walls of Hoysaleshvara temple, in Hassan District of Halebid, Karnataka. Like the Belur temple, this 12th century temple construction was considered part of the Hoysala empire's capital region.
Hoysaleshvara temple is laid out on a double plan, as if the two temples were joined side by side. Both temples open to the east, resting on star-shaped foundations. The temples have no gopuras or towers, but are instead highly ornamented by the exquisite stone sculptures that encompass the temple complex.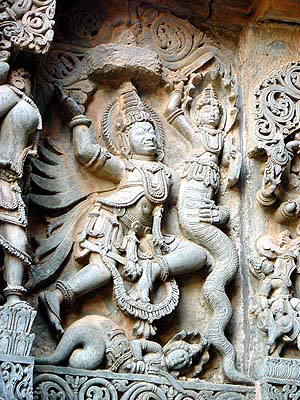 Garuda Fighting the Nagas
Sri Garuda is joined here by a host of transcendental personalities, including numerous Forms of Sri Krsna in His various incarnations like Varaha, Nrsimhadev, Trivikrama, along with Harihara, Lord Brahma, Lord Shiva, Sarasvati, Ganesh, Bhairava, Durga, Kali, Chammunda, Dvarapala, and others. Two murtis of Nandi are positioned on the two outer pavilions that face the shrines. Inside are various Shiva lingas and sculptures of Lord Shiva.
Chloritic Schist (soapstone) was used to construct the temples and carvings, which cover it from end to end, with no duplication of images. Although the temple complex was under construction for over 85 years, it was never completed. Today it is dilapidated and falling into ruin, and hopefully the state archeology officials will see to its preservation.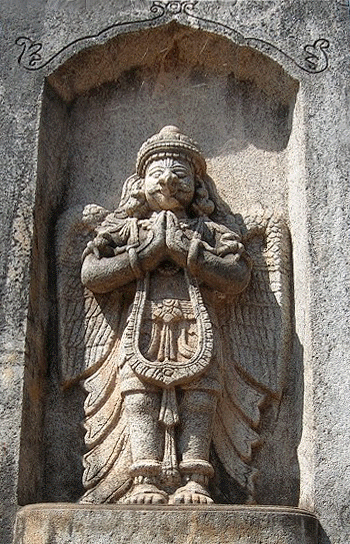 Garuda on a Goa Pillar
Garuda in Goa and Hampi
At the 16th century Vittala temple in Hampi resides a beautiful sculpted figure of Sri Garuda. Work on this temple complex began during the reign of Krishnadevaraya (1509-29) and although it was never completed, the incredible stone sculptural work here is a fine example of Vijayanagar art. The image of Garuda below appears on the large stone chariot in the temple compound.
Also found in Goa, at the Shirr Purchevo Ravalnatha temple in Mandrewm village is a medieval murti of Sri Garuda in half-man, human-bird form, dressed as a soldier. And at the Key Gallery, part of Goa's famed Archaeological Museum, is an intricately carved 13th century standing sculpture of Lord Visnu, flanked by Laksmi Devi and a winged Garuda.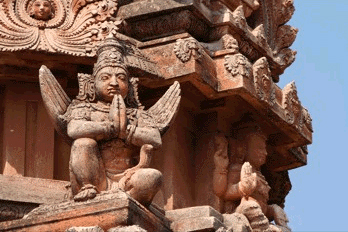 Hampi Garuda
Garuda in Rajasthan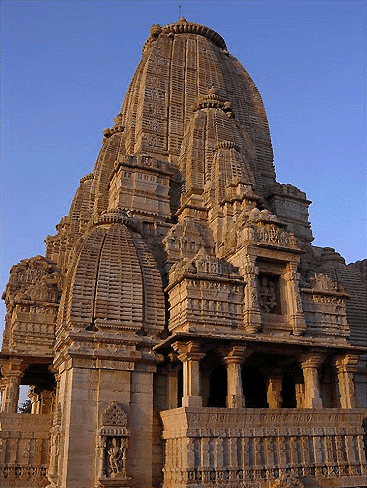 Kumbha Shyam Temple
Ending this journey in Rajasthan, a beautiful murti of Sri Garuda is found at the Chittogarh Fort complex, which houses the Kumbha Shyam and Meera temples. Kumbha Shyam temple, built sometime in antiquity, was significantly renovated by the Rana Kumbha, in 1448 AD. The temple was originally dedicated to Lord Varaha, and the presiding Deities of the temple are Sri Sri Radha-Krishna and Lord Vishnu.
In the front of the temple is this excellent murti of Garuda, who is positioned in front of the temple, under a canopy supported by four pillars. Carved in what appears to be black chlorite, Garuda is shown in his half-man, half-bird form with relatively small wings. Offering pranams to his Lord Visnu, Garuda's hands rest upon the head of a naga.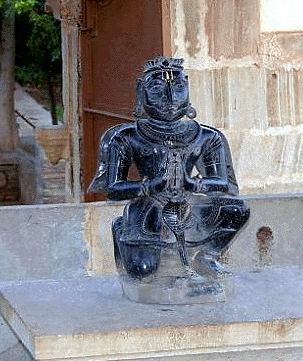 Kumbha Shyam Garuda
All glories to Lord Visnu, and His most stalwart servant, Sri Garuda!