The Bhakti Movement in North India
BY: SUN STAFF - 1.10 2019
Sant Navdev
A serial presentation of the Bhakti Movement's development in India.
In the last segment of this series, we began our survey of the Bhakti Movement in Maharashtra with Sant Janeswar (1275-1296 A.D.), a mystic poet and philosopher in the Nath tradition. His commentary on Bhagavad-gita, known as the Janesvari, is one of the earliest and best known works of Marathi literature. However, Janeswar was not the only Maharashtrian Bhakti leader of that period.
Sant Namdev, also known as Bhagat Namdeo (1270-1350 A.D.) was born in Maharashtra state, in the village of Narasi-Bamani in Hingoli district (presently called Narsi Namdev). His father, a calico printer/tailor, was named Damasheti Relekar, and his mother's name was Gonabai (Gonai). Soon after his birth, the family moved to Pandharpur where the prominent temple of Lord Vitthal (Sri Krsna Vithoba) is located.
Namdev's preaching in the bhakti cult represents a primary link between the Maharashtrian Bhakti Movement and the North Indian monotheistic movement. In Maharashtra, he is considered to be in the line of the varkari Vaishnava tradition, but in the North Indian monotheistic tradition he is remembered as a nirguna saint.
Sant Namdev was one the earliest writers producing works in the Marathi language, and he was the first biographer and auto-biographer in Marathi. He was also one of the foremost proponents of Bhagavat-dharma in Maharashtra, and propagated the bhakti teachings throughout the Punjab.
Also composing hymns in Hindi and Punjabi, Namdev became famous for his depth of devotion and talent in delivering kirtan to the people. So nectarian were his kirtans that even Lord Pandurang is said to have swayed to his tune.
A well known preacher throughout the Punjab, a number of Namdev's Bhakti songs were included in the Sikh sastra, Adi Granth. To this day, the Sikh community holds Navdev in very high regard as a spiritual leader.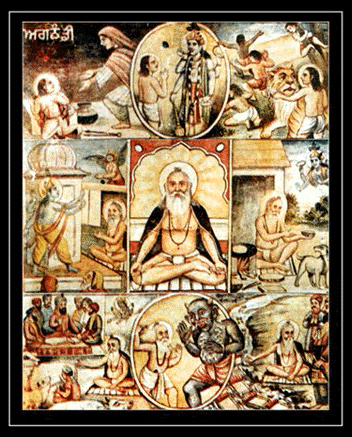 The Pastimes of Sant Namdev
Saint Namdev spent the better part of his life, which spanned eighty years, at Pandharpur. His parents were devotees of Lord Vithoba, and their child Namdev was known for showing little interest in the family profession. Even as a child, he displayed an extraordinary devotion to Lord Vitthal. Spending day and night engaged in devotional service to Vithoba, he sometimes considered Vithoba to be his dearest brother or playmate.
It is said that when Namdev was five years old, his mother gave him some bhog preparations to be offered to Vithoba. Namdev delivered the offerings to the Pandharpur temple, placing them before the Deity and asking Him to receive them. When it appeared that his request was not being met, Namdev announced to Vithoba that he would kill himself if the Lord continued to ignore the offerings. Vithoba then appeared before him and ate the offerings.
At the age of eleven, Namdev was married to Rajai. The couple produced four sons – Narayana (Nara), Vitha, Gonda and Mahada -- and a daughter named Limbai. His elder sister Aubai also lived with them, and altogether there were fifteen people in the household. Later, Namdev would preach with an emphasis on grihasta life as a firm foundation for attaining love of God.
In 1291, at the age of twenty-one, Namdev experienced a great turning point in his spiritual life, when he met another Maharashtrian saint – Janeswar.
REFERENCES:
Paraphrased and excerpted from 'The Pearson Indian History Manual' by Singh; the writings of Chenthil Kumar das; and Wikipedia.