The Brilliance of Baladeva Jew Temple
BY: SUN STAFF - 14.3 2022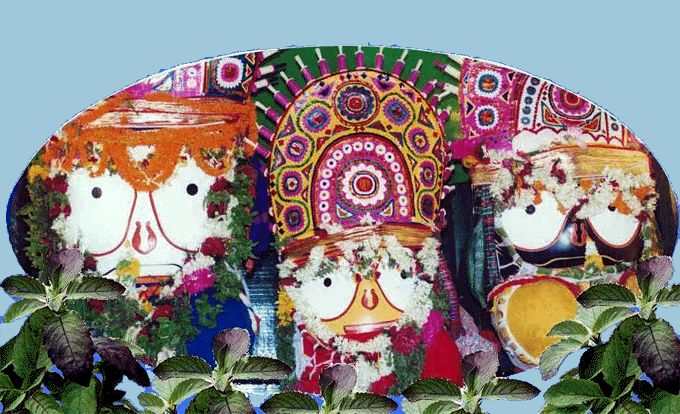 Lord Baladeva, Jagannath and Subhadra, Baladevjew Temple
We continually remember Lord Balabhadra, Lord Jagannath's divine sibling who joins Him on the Ratha chariot. This all-attractive Form of Sri Krsna's brother Balarama, who is Lord Nityananda in Chaitanya-lila, is fittingly worshipped in His beautiful abode at Kendrapara, Orissa. In a past article entitled "Balabhadra Upasana and Tulasi Kshetra", author Er. Nirakar Mahalik described the worship of Sri Balabhadra in the region around Puri Dham and elsewhere in North India. Mahalik mentioned that Lord Chaitanya visited this temple, remaining there for five days.
Baladev Jew Temple, situated in Ichhapur (Tulasi Khetra), Kendrapara, is a famous temple dedicated to the worship of Baladeva. Of course, Lord Jagannath and Devi Subhadra are also worshipped in the Ratna Sinhasan in the main temple. An image of Tulasi Devi in a seated position is also found, after one crosses the sacred seven steps.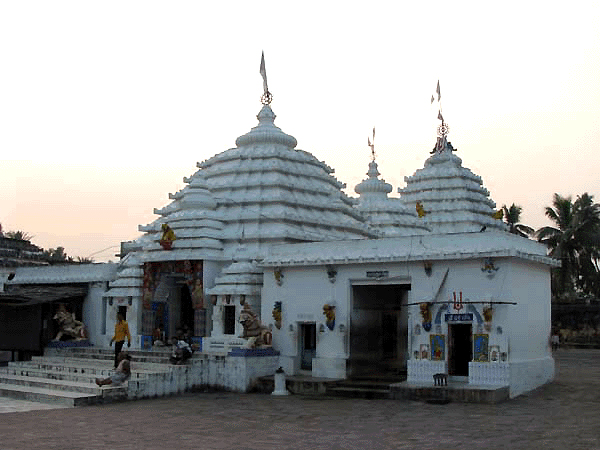 Baladeva Jew Main Temple
Baladeva Jew Temple covers 2 acres land, and is situated in two parts. In one section are four main temples, and in the other is a beautiful garden. There is a 14 foot tall wall around the temple complex.
The four mandirs residing within the Baladeva Jew Temple complex are:
Bada Deula or Sri Mandir
Majhi Mandir or Bhog Mandap
Jagamohan or Natya Mandir
Bata Mandir or Mukhashala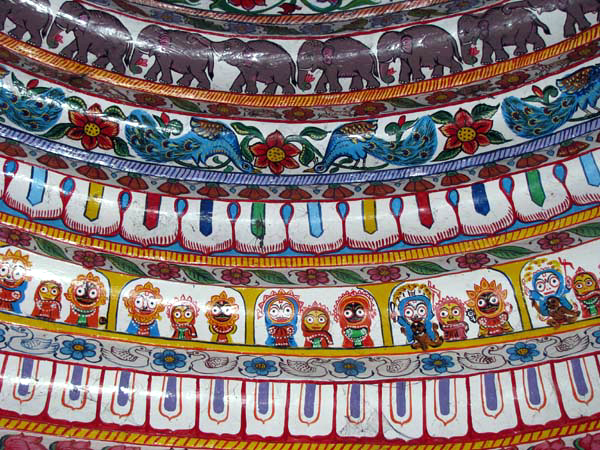 Ceiling of Jagamohana
The main temple has a 7-step plan with heavy baulamalia stone used in theconstruction. All the temples have beautiful architecture and are constructed in a traditional design.
The other important parts of the temple include Garuda Stambha, Ratna Bhandar, Snana Mandap, Mukti Mandap, Jhulan Gruha, Laxmi Mandira, Anand Bazar, Bhairabi Mandir, NabaGraha Mandir, Kasi Biswonath, Astasambhu Mahadev, Sri Ram Mandir, Sidheswar Mahadev, Mukti Mandap, Ganesh Mandir and Adhistati Devi Tulasi Temple .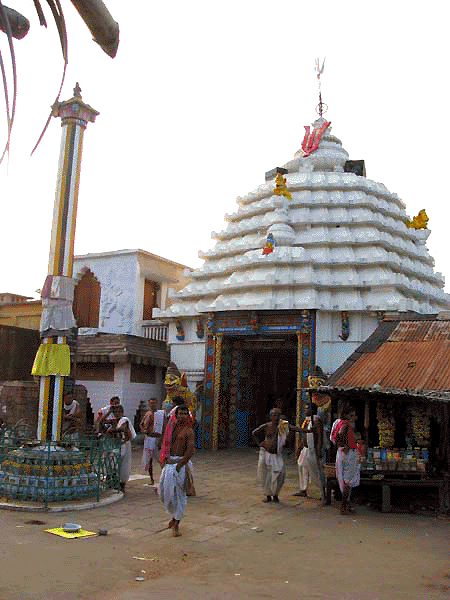 Entrance in Pidha Order
Rituals Followed in Baladev Jew Temple
The deities of Lord Baladevjew, Lord Jagannath and Goddess Subhadra wear different costumes and are decorated in different ways during different important festivals. This tradition is known as Besha (alankara). The Rath Yatra here is famous for the Brahma Taladhwaja Rath.[3]
Among the important alankara or veshas (ornamented outfits and paraphernalia) are:
Sri Raghunatha vesha on Chaitra Purnima Festival
Padma vesha on Kartik Purnima Festival and Tulsi Vivah in Kartik
Gamhabhisheka vesha from Shraavana Sukla Dashami to Purnima, holy Srinakshatra ceremony of Lord Balarama
Pushyabhisheka vesha on Pausha Purnima festival
Kanchi Kaveri vesha on Vasant Panchami festival
Suna vesha (Bali Vamana vesha) on Bhadrapad Dwadashi day
Krishna Balarama Besha on Phalguna Purnima festival
Dwibinda Banara vesha, offered by Pandit Binod Behari Dash, a famous Sanskrit scholar of Ichhapur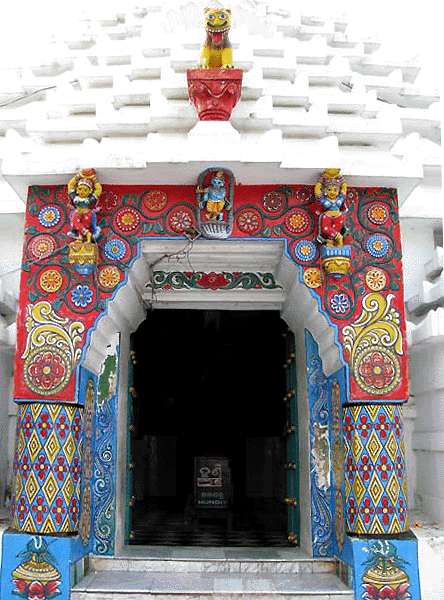 Front of Jagamohana
There are three main naivedya offerings (dhupa) and 3 minor offerings (abakasha) for the Deities each day:
Morning offering (Sakala dhupa)
Offering at pre-noon (Madhhyanna dhupa)
Rice offering ( Dwiprahara Dhupa/ Anna dhupa)
Offering at evening ( Sandhya Aarati dhupa)
Rice offering ( Nisankhudi dhupa)
Offering at night ( Badasinghar dhupa)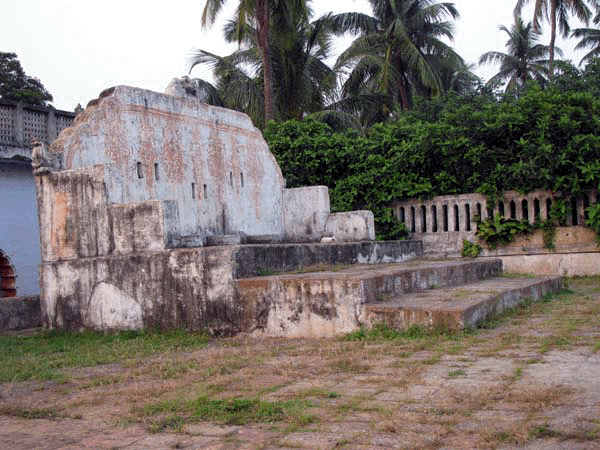 Snana Mandapa (bathing platform)
Different types of bhoga offerings are made by traditionally trained families, known as Supakara and Mekap, who are engaged solely in seva to the Deities. There are many historically famous preparations offered, among others, including:
Baula Gaintha, Upana Pitha, Mithei, Chaurashi Vyanjana (84 vegetable curry), Makara Chaula, Bhaja,Ghia Anna, Dali, Phalamula (fruits), Dry sweets, Ghanavarta, Pura Kakara, Rasabali, Potali Pitha, Chipa Kakara, Karanji, Khaja, Magaja Ladoo, Dalimba, Khuduma, Nishkudi, Mutha Gaja, Tala, Chhena Chakata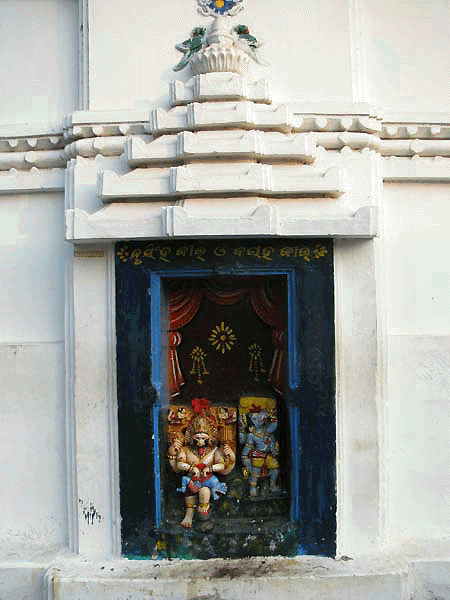 Parsvadevata Niche
The Ratha Chariot
The chariot on which the three Deities of Baladev Jew Temple go out on Their yearly car festival is known as Brahma Taladhwaja Ratha. This is said to be the biggest chariot in the world. Every year, some parts of the chariot are built anew, unlike the chariots of Puri Car Festival, which are completely rebuilt each year. When Sri Brahma Taladhwaja Ratha rolls out, it appears like a grand temple on wheels.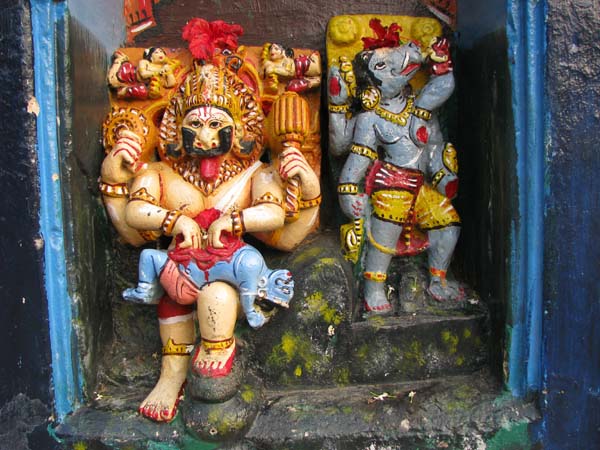 Parsvadevatas - Lord Narasimha and Lord Varaha
Here are some of the specifications of the Chariot:
Total no. of wheels: 14, which signifies the 14 universes (bramhanda)
Height of the wheels: 6 feet 6 inches
Total no. of log pieces used: 1013
The height of the chariot: 65 feet
Height of simhasana from ground level: 12 feet 6 Inches
No of Axels (akha): 7, which signifies the 7 elements
No. of horses: 4 (2 black and 2 white)
Names of the horses: Teevra, Ghora, Dirghashrama & Swarnanabha
Rope of the Chariot: Vasuki
The covering of the chariot is of seven colours
Total no. of ropes: 7, of 40 feet each
The name of flag (neta): Unnani
Divine attendants in front of the Chariot: Garuda & Hanuman
Gatekeepers ( Dwarapalas): Surya & Chandra
In murdhi: Ketuprabha
At the door: Rudra
Chariot Keeper (rakshak): Vasudev Sankarsan
Side deities (parshwa devata): Harihar, Tripurari, Laxman, Siddha Vinayak, Nrusingha, Basudev, Chamunda, Bhadrakali, Mangala, Banimangala, Bhairavi, Chakra Basulai, Natambar, Durga, Shesadeva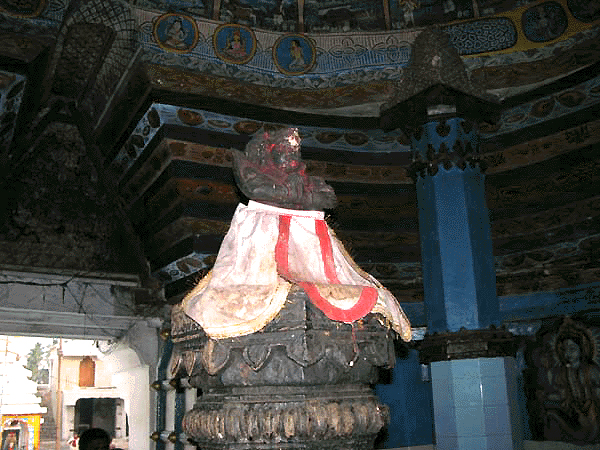 Garuda Stambha