The Holy Places of Jaiva Dharma: Bhagirathi
BY: SUN STAFF - 12.7 2019
Rudra's Tandava Dance
Kalyana Kalpataru
A serial presentation of the holy places mentioned in the Jaiva Dharma of Srila Bhaktivinoda Thakur - Part 22.
Although the Bhagirathi River is generally known as the Ganga once it reaches Dev Prayag, the confluence of the Bhagirathi and Alakananda, it is still called by the name Bhagirathi even as far south as Calcutta. One example of this is found at Calcutta's famous Kalighat Temple. The Bhagirathi features in the temple historical record and is manifest in the waters residing in the modern temple tank.
The Kalighat Temple is a 200 year-old tirtha from which the city takes its name. The Kalighat is regarded as one of the 52 Shakti Peethams of India, where the various parts of Sati's body are said to have fallen during the course of Shiva's Rudra Tandava. Kalighat represents the site where the toes of the right foot of Sati (Shakti) fell. Kali Ma is worshipped here and at many other temples in Bengal.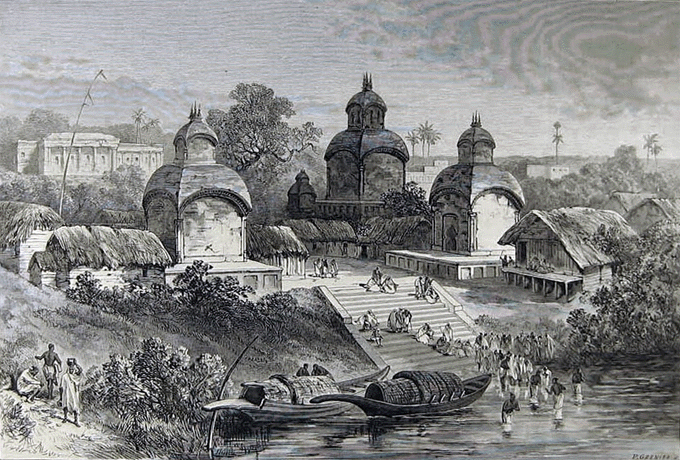 Kalighat Kali Temple of Kolkata
Engraving, c. 1887
While the present temple structure is only about 200 years old, the Kalighat Temple is mentioned in the 15th Century Mansar Bhasanand in the 17th Century Kavi Kankan Chandi.
The temple record states that a devotee discovered a luminous ray of light coming from the Bhagirathi's riverbed. Searching out the source of the light, he discovered a piece of stone carved in the form of a human toe, along with the svayambhu-lingam of Nakuleshwar Bhairav (Shiva). Since that time, Shiva's consort Kali was worshipped in the midst of the thick jungle.
The sacred tank at Kalighat is situated in the southeast corner of the temple compound, outside the boundary walls. The tank presently measures approximately 10 cottahs (1/6 acre). It was bigger in the past, and was then known as the Kaku-kunda. The tank is also known as the site where the sati-ango (right toe of Sati) was discovered, and this is perhaps due to the river's movement over the centuries. Even today, the water in this tank is considered to be the water of the Bhagirati. Efforts to drain the tank for cleaning have failed, indicating that Adi Ganga is the subterranean source of the tank waters.
Bhagirathi's waters at Kundupukur - Kalighat Temple Tank