The Shelter of Caves, Part 5
BY: SUN STAFF - 13.1 2023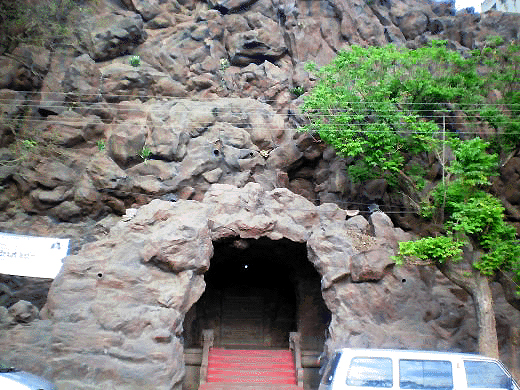 Govardhana Kshetra, Bangalore
A study of famous caves in ancient Bharat.
Govardhana Kshetra
Thus far in our series we have seen both natural caves sunk deep in the earth, and more shallow rock-cut cave temples carved into existing stone faces in ancient times. Today we discover a third category: an entirely man-made cave, crafted to appear natural and ancient.
Govardhana Kshetra is located very close to the Dodda Basavana Gudi, or 'Big Bull' temple in Basavangudi, South Bangalore. ('Basava' refers to Nandi in Kannada.) Because Govardhana Kshetra is managed by the Puthige matha of Udipi, it is also known by that name, Puthige Mutt, as well as Govardhana Giri Temple.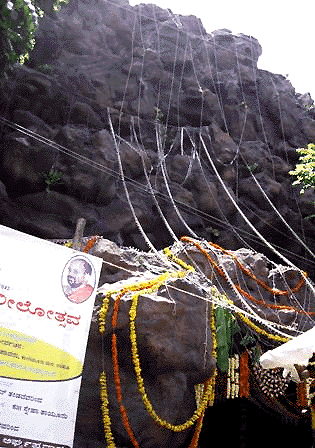 The temple was constructed as a replica of Govardhana Hill, built around an existing hill. In place of the traditional sanctum sanctorum, residing in the cave's interior is Sri Krsna holding Govardhana.
As you enter and proceed, you find the small cave temple beautifully ornamented with carvings depicting scenes from the Mahabharata and Lord Krishna's Vraja-lila. Most beautiful is the statue of Sri Krishna lifting Govardhana, for which the temple is named. Dim lights and lifelike colors and textures very successfully replicate a natural ancient cave temple.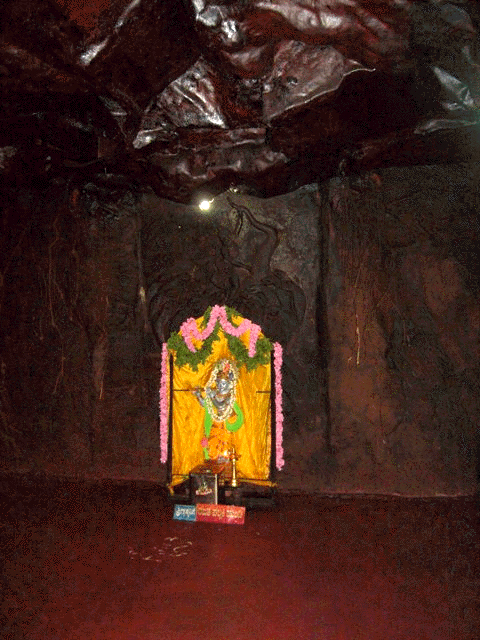 Sri Krishna under Govardhan; Kaliya-daman on wall behind
The temple inauguration plaque states:
"A unique, beautiful and first of its kind temple was dreamt, designed, developed and dedicated to the world of Sri Krishna Devotees by His Holiness 1008 Sri Sri Sucunendra Theertha Swami, the 30th Peethaadhipathi in the 750 years old illustrious and everlasting Indian Vedic tradition of Jagadguru Sri Madhvachaarya Moola Mahaa Shreemadupendra Theertha Peetham, Sri Puthige Matha, Udupi on 4.3.2004 for the cause of the world peace, progress and prosperity of the mankind and for the propagation of sacred and precious Sri Krishna Bhakti all over, with the wholehearted support of His ardent devotee Dr. Nalini Rao, who offered her exemplary seva to this Temple in the name of her beloved parents and brother Smt. Parvathamma, Shri YV. Subrahmanyam …"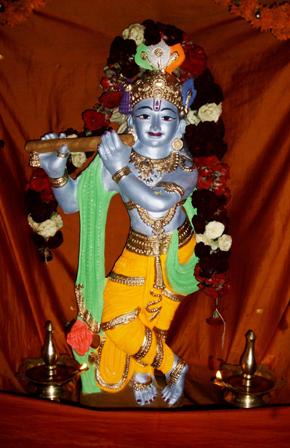 Sri Govardhana Krishna
Sri Krishna Janmasthami is celebrated here with great pomp, along with various other religious observances. An astrologer determined that in ancient times, the Govardhana Kshetra cave once housed a temple of Durga devi, consequently, the Puthige Mutt has arranged for Durga Namaskara pooja to be conducted here every year. At the top of the hill there is a mantap (hall) for devotee gatherings. Nearby is another famous rock-cut temple, the Gavi Gangadareshwara Shiva temple, and pilgrims visiting there now also come to see Govardhana Kshetera.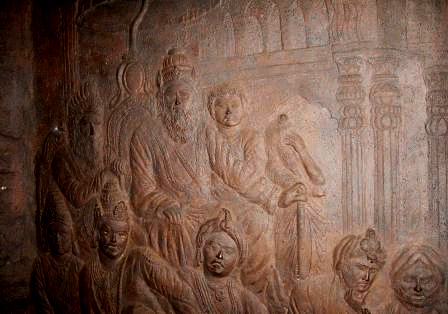 Wall carving