The Shelter of Caves, Part 8
BY: SUN STAFF - 18.1 2023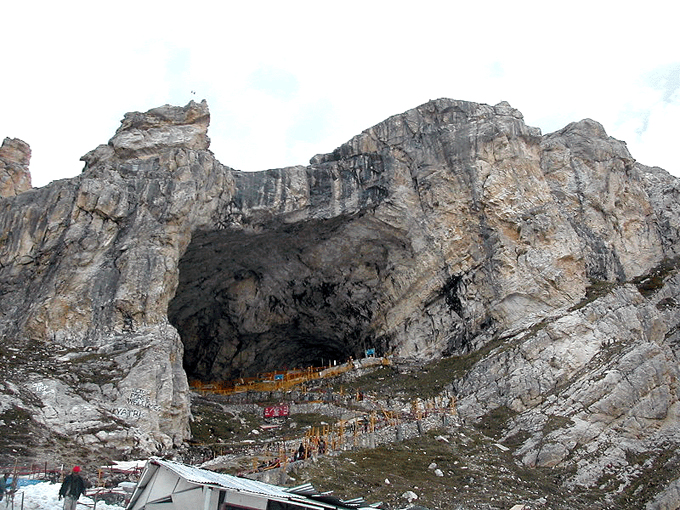 Cave Temple of Amarnath
A study of famous caves in ancient Bharat.
Shree Amaranth Cave
One of the most famous caves of ancient Bharat is located in the Indian part of Jammu and Kashmir state. Amaranth Cave is mentioned in the Bringesha-samhita, written by the Kashmiri sage Bringesh. The rishi instructed his disciples to travel to the cave and get darshan of a sacred ice-lingam residing there. Because pilgrims were being harassed on their way to the cave by the rakshashas, Bringesh prayed for Shiva's protection and was awarded scepters to ensure safe journey. Still employed today, the scepters are known as Chhari Mubarak.
Every year at Rakhsha Bandhan Purnima, in the month of Shravan (July - August), a traditional yatra goes out to the cave, with a large number of pilgrims and sadhus chanting mantras and accompanied by the protective Chhari. The cave is snow covered most of the year, but is open and accessible for a short time.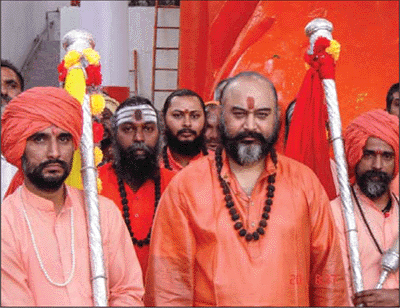 Chhari Mubarak going out on yatra

Shree Amaranth Cave is situated 13,000 feet above sea level in a narrow gorge at the far end of the Lidder Valley, approximately 140 km. from Srinagar, the capital of Jammu/Kashmir, and 45 kms. from Pahalgam, a destination spot in Kashmir.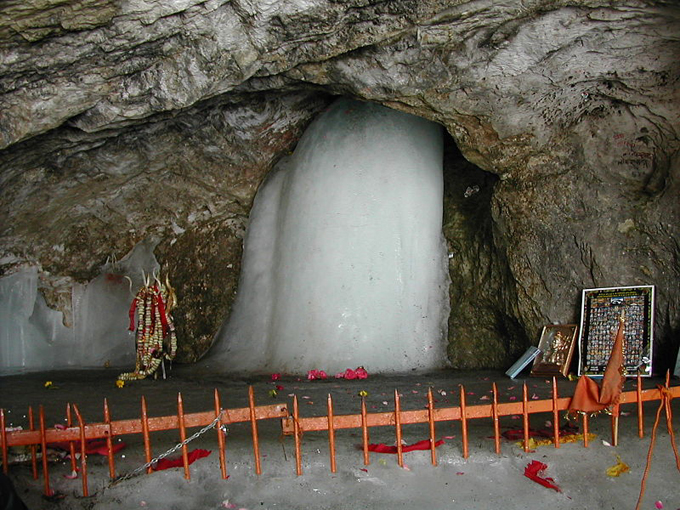 Ice-lingam at Shree Amaranth Cave
Amaranth Cave is quite large, its entrance measuring forty yards across and 75 feet high. The cave slopes 80 feet deep down inside the mountain. Deep in the cave is an ice-lingam measuring approx. five feet high, its top forming a cone. To the left of the lingam is a small ice block that represents Lord Ganesha, and to the left of that is a still smaller ice murti representing Parvati Devi. These ice formations repeatedly form during the summer days, waxing and waning along with the moon in May to August, as the Himalayan snow melts and water seeps into the cave. On the full moon day they are complete in form, whereas on moonless days they vanish altogether.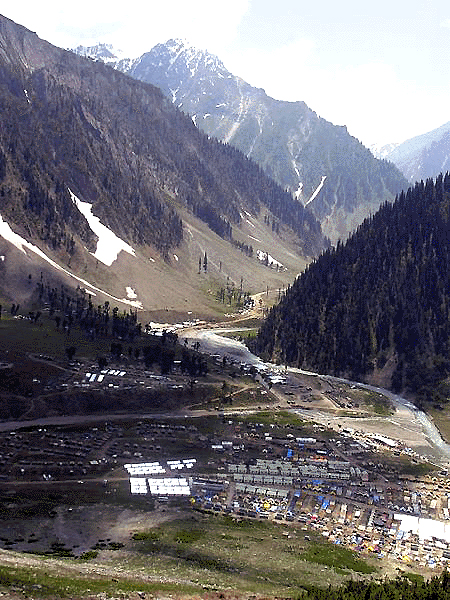 Amarnath Yatra Camp
Bhole Shankar's Amar Katha
The Amarnath Cave was chosen by Bhole Shankar (Shiva) as the shelter in which to narrate the secrets of immortality and the universal creation to Parvati. Parvati had inquired of Shiva why and when He began wearing a necklace of skulls (mund mala). Bhole Shankar replied, whenever you are born, I add one more head in my beads. Parvati Devi replied, "My Lord, my body is destroyed every time and I die again and again, but you are Immortal. Please let me know the secret of this." Bhole Shankar replied that it is due to Amar Katha.
Parvati Ma insisted that she may be told the secret, although Shiva delayed long in the telling of it. Finally he submitted to her demands, but first travelled with her to a place so remote, that no one could overhear. For that purpose, he chose Shree Amarnath Cave. Leaving Nandi to keep watch at Pahalgam (Bail gaon), at Chandanwari, Shiva released Chandra (the Moon) from his hairs (jataon). On the banks of Lake Sheshnag He released many snakes . He stationed his son Ganesa at Mahagunas Parvat (Mahaganesh Hill), and at Panjtarni, he left the Five Elements.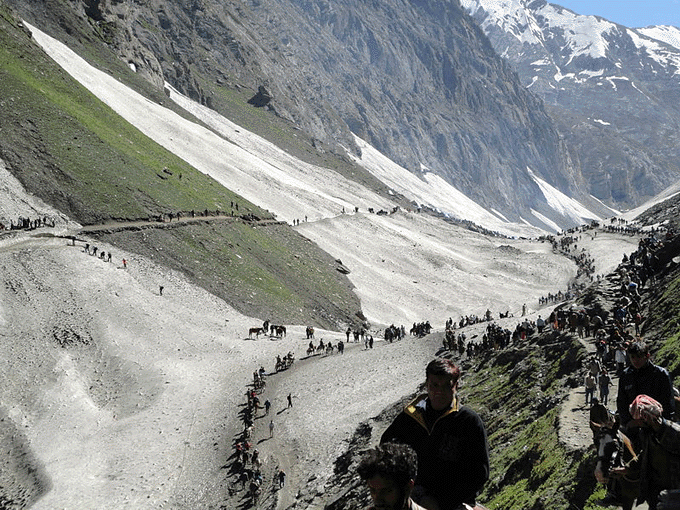 Pilgrims on Amarnath Cave Yatra
Having left all these behind, Bhole Shankar accompanied by Parvati Devi entered the holy Amarnath Cave. Spreading out his deerskin, he sat down and created a Rudra expansion named Kalagni, ordering Him to spread fire all around, thus eliminating every living thing in and around the great cave. He then began narrating the secrets of immortality to Maa Parvati.
However, one small egg remained under the deerskin. The non-living thing, protected by Shiva-asana, was not destroyed by fire, thus a pair of pigeons were born from the egg. They became immortal themselves, having listened to the secrets disclosed by Bhole Shankar (amar-katha). Many pilgrims report seeing this pair of pigeons when they make the arduous trek to Shree Amaranth Cave.
Other Historical Records
There is another ancient legend about a Muslim shepherd named Buta Malik who was once given a sack of coal by a sadhu. Upon reaching home he discovered that the sack contained gold. Overjoyed by his good fortune, Buta Malik rushed back to look for the sadhu and thank him, but on the spot of their meeting he instead discovered a cave, which eventually became a place of pilgrimage. To this day, a percentage of the donations received from pilgrims going to Amaranth Cave are given to the descendants of Malik. The remaining funds go to the trust which manages Amaranth tirtha.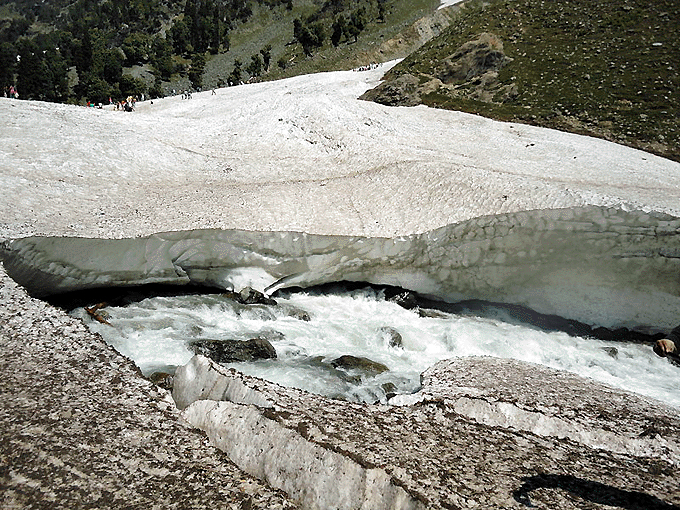 Glacier over Lidder River, Chandanwari
Mention of Shree Amaranth Cave is found in the Rajtarangini of Pandit Kalhana (VII v.183), which refers to Amareshwara or Amarnath. It says that King Ram Dera imprisoned a debauchee king named Sukh Deva there, then drowned him in the Lidder River flowing through the mountains of Amarnath. It also states that King Sandimati (or King Aryaraja) (34/32 B.C. to 17 B.C.) is said to have visited the sacred ice-lingam, and that that the sacred cave of Amar Nath Ji was known to people in early times.
In the 11th Century, Queen Suryamathi made a gift of trishuls, banalingas and other sacred emblems to Amaranth Cave tirtha. The Rajavalipataka of Prjayabhatta has detailed references to the pilgrimage to Amarnath Cave. The tirtha of Amarnath has also been mentioned in the old chronicles of Amaresbara, which say that Sultan Zain-ul-Abdin, a pious ruler of Kashmir paid a visit to the sacred cave.