Vyasaraja Brindavana Rebuilt
Vyasaraja Brindavana Rebuilt in 32 Hours by Thousands of Devotees
BY: MADHAVANANDA DASA - 22.7 2019
NOTE: Brindavana means Samadhi of the Acharya, but Madhvas consider the word Samadhi to be offensive and derogatory. They always use the word Brindavana for the Samadhi of all Acharyas and sannyasis and hence we are using the term Brindavana.
In an unprecedented devotional effort, over 5,000 Madhva Brahmins headed by all the seers of the various Madhva maths, volunteered and rebuilt the Brindavana of Vyasaraja Tirtha within 32 hours after some miscreants desecrated the holy site.
Prima facie, Police suspect that the vandals had come for treasure hunt, but the real motive would get uncovered after they are nabbed. Over 75,000 people gathered at the site to express grief and protest against the heinous act. Massive protests were also staged in various cities of Karnataka including Bangalore, Mysore, Hubbali and Davanagere.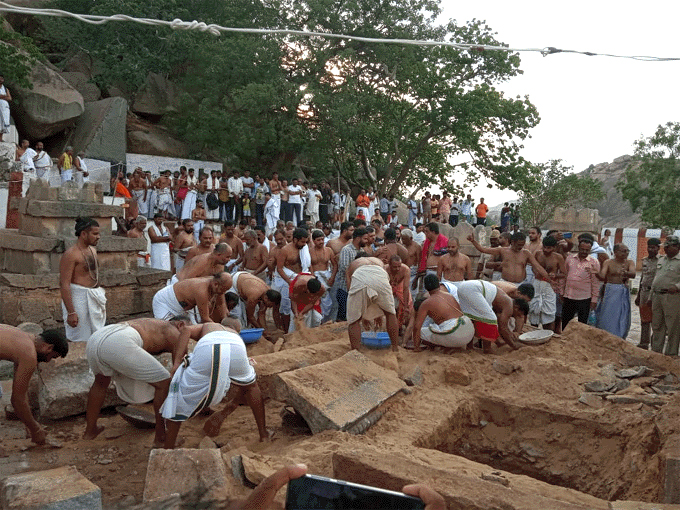 Subudhendra Tirtha of Mantralaya Raghavendra Swamy Mutt, Sosale Vyasaraja Mutt seer Vidyadheesha Tirtha, junior seer Vidyamanohara Tirtha Satyatma Tirtha of Uttaradi Mutt and Vishwesha Tirtha of Pejawar Adhokshaja Mutt, Udupi, took part in the consecration of the Brindavan of one of the most venerated saints of the medieval period.
The Brindavana was rebuilt without using cement or concrete. The devotees used jaggery water, lime, sand and traditional construction materials. The reconstruction work and religious rituals began at 6 am under the guidance of more than 50 monks.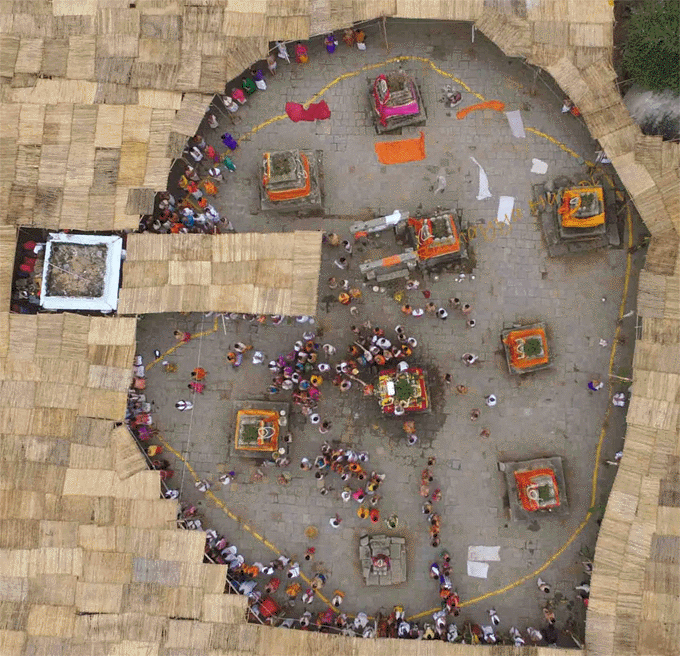 Mumbai-based architect Neeraj Kulkarni, who has studied the monuments around Hampi, guided the reconstruction work. A team of special architects from Velur, Tamil Nadu, carved the embellishments around the Brindavana.
For more details, please see www.opindia.com