When terrorists beg for sympathy?
By Purushottam Kumar - 25.9 2019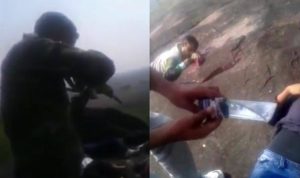 When 8 SIMI terrorists were gunned down by the MP police then the usual suspects – the liberal secularists – started shedding gallons of tears.How can the police so cruelly kill the "innocent" terrorists? They asked. Don't they have heart? Would they have not shown compassion towards them?Wiping their tears they discussed with their secular friends that all the 8 activists (according to The Hindu) who had fled the jail at around 2:30 in the morning after murdering head constable Ramashankar Yadav by slitting his throat would have been hungry.
So, as a secular country the government should have first arranged for their morning refreshment. But the communal Indian government and MP government decided to kill them. So horrible! So shameful! All the police personnel who were part of this operation should be immediately suspended, arrested and tried for murder.
These murderers never showed any sympathy while killing others and bombing innocent men, women and children but today their admirers in the media, in the political parties and the Human Rights Organizations are asking why sympathy was not shown to these dreaded terrorists. Whether they were killed in a fake encounter or not needs to be properly investigated first. But the left liberals have already declared that the encounter was fake. They had also previously declared Ishrat Jahan an innocent girl and the Batla House encounter as fake.Criminals (and their admirers too) since eons have always sought sympathy and talk eloquently about righteousness as soon as they realize that they have been cornered and their end is near.
In Mahabharat we see how Karna upon facing inevitable death was talking about morality. But he had forgotten that he had willingly or unwillingly supported all the evil plans of Duryodhana. Duryodhana had tried to burn the Pandava brothers along with his old mother Kunti alive and later had tried to publicly shame Draupadi. Karna along with Duryodhana had also killed unarmed Abhimanyu mercilessly who was so young.
However this is not to suggest that Karna or Duryodhana were like these dreaded terrorists. These terrorists are zillions times worse than many despicable characters mentioned in Vedic books.Whether the encounter was fake or real but one thing is sure that today billions of Indians are feeling relived after hearing the elimination of these terrorists. Only if the Indian judiciary would have been effective then there would have been no need of any encounter – fake or real. But our judiciary drags the case not for years but for decades.
And during these period the innocent men, women and children live in fear because no one knows when these enemies of humanity may break the jail, hijack the plane or bomb the train. And the most disgusting part is that there powerful sympathizers are ever ready to come to defend them.