Worship of Lord Narasimha in Maharastra and Goa, Part 2
BY: SUN STAFF - 26.3 2020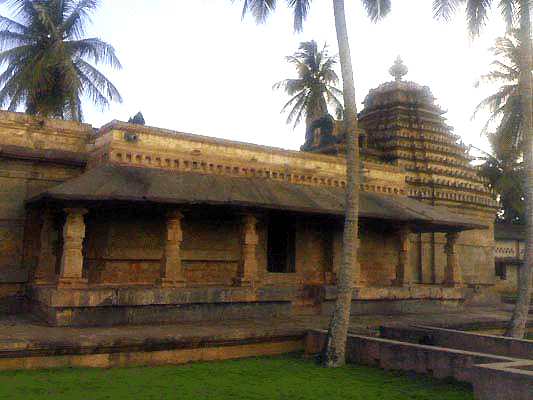 Mahadev Temple, Goa
A serial presentation of West Indian temples dedicated to the worship of Lord Nrsimhadeva.
Today there are few remaining temples dedicated to Lord Narasimhadeva in Goa, and none of the antiquity of the Shri Laxmi Narsimha Temple featured in our opening segment. Nonetheless, Goa has a long history associated with Nrsimha worship.
The Kadamba Dynasty ruled Goa from the 10th to the 14th Century A.D. The Kadambas took control of territories that had previously been under the rule of the Silaharas. They were centered first at Chandor in south Goa, and later at Gopakapattana, one of Goa's prominent port cities. During that time Lord Nrsimha was a tutelary Deity of the Kadambas, and this is the primary reason for the Lord's pervasive influence in Goa state.
Similarly, Lord Nrsimhadeva was a tutelary Deity for the Imperial Gangas of Orissa, as well as certain of the Vijayanagar kings of India.
Although the modern descendants of the Kadambas still live in Goa, unfortunately the ancient Nrsimhadeva temples there have not survived. In fact, the only remaining Kadamba-era temple left standing in Goa is the Mahadev Temple. Located in Sanguem Taluk, at the foot of the ghats at Tambdi Surla, the Mahadev Temple is the only Kadamba–Yadava architecture that remains from the 13th Century. Build in basalt stone, the well preserved temple is situated on the road from Sanvordem.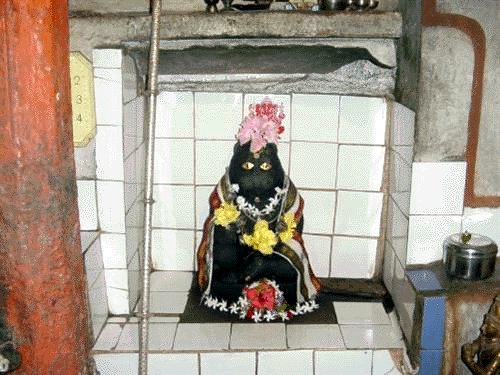 Lord Nrsimhadeva at Halasi
While not in Goa state, there is an ancient temple of Lord Nrsimhadeva built by the Kadambas in the ancient town of Halasi (Halshi), Belgaum district of Karnataka. Halasi was the second capital city of the early Kadambas and later a minor capital, around 980 to 1250 A.D., prior to their establishment of the Goa capitals. Halasi, about 120 km. northeast of Goa, was renowned as a centre of confluence of Vaishnavism, Shaivism and Jainism during the early Kadambas' reign.
The Lord Nrsimha deity pictured above resides at the Kadamba's Bhu Varaha Narasimha temple. The Deity is swayambhu, self-manifesting ( udbhava), and was worshipped as the Goan Kadamba's ista-devata. ( Ista-devatas refer to family or state deities.)
The Kadambas established their own unique style of temple architecture, which emerged around the 4th Century A.D. The Mahadev Temple gives us a good indication of the style of Nrsimha temples that once stood in Goa. The temple is quite small in size compared to most Goan temples that followed it. The top portion or sikhara was never completed.